design
---
Milan Design Week: the INHABITS event at Parco Sempione presents mobile living units and lighweight structures for business, hospitality, wellness and catering
Marker
---
At Milan Design Week 2018, MAD Architects have created a fascinating temporary installation for Audi consisiting of five artificial islands set amid a large water mirror
Marker
---
For the Milano Design Week 2018, the Lambrate district presents a number of events located in the area between via Massimiano, via Ventura, via Conte Rosso.
Marker
---
Milano Design Week 2018: Ventura Centrale – the exhibition event located in the central station's former warehouses – is back for its 2nd edition
Marker
---
During the 2018 Milan Design Meek, the FLOS showroom features 'Jewels after Jewels after Jewels", a light installation created by Michael Anastassiades
Marker
---
Milan Design Week | "If you are not curious, forget it": an exhibition at the flagship store of FLOS celebrates the anniversary of Achille Castiglioni
Marker
---
---
architecture
---
The Salone's city-based technological project "Living Nature. La Natura dell'Abitare" will be in Piazza del Duomo, Milano, from 17th to 29th April, 2018
Marker
---
In this interview by our media partner PLANE-SITE, Daniel Libeskind talks about time, architecture, memory, and his projects for the Jewish Museum in Berlin and Ground Zero
Marker
---
Designed by Diller Scofidio + Renfro, the Berkeley Art Museum & Pacific Film Archive, or BAMPFA, is a visual art museum and archive part of the UC Berkeley
Museum
---
At the Venice Architecture Biennale 2018 the Pavilion of Turkey presents "Vardiya"(the Shift 1) curated by architect Kerem Piker
Marker
---
In this interview, Moshe Safdie goes into various aspects of architectural design, including how architecture can be timeless and the way his design approach has changed over time
Marker
---
Venice Architecture Biennale 2018 – Themes, national pavilions, major exhibitions and events of the the 16th edition of the Architecture Biennale, taking place from 26 May through 25 November, 2018
Special
---
---
---
art & miscellanea
---
From April 29, the Fondation Beyeler will be presenting two extraordinary protagonists of modern art: Alberto Giacometti and Francis Bacon.
Marker
---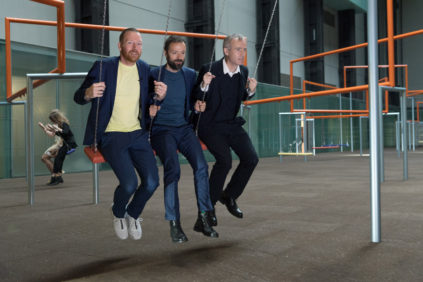 Until April 2, the Turbine Hall of the Tate Modern hosts an installation, designed by the Danish collective Superflex, entitled "One, two three Swing!"
Marker
---
Until July 2018, the 'Fashion Drive. Extreme Clothing in the Visual Arts' exhibition at the Kunsthaus Zürich presents how artists have viewed fashion through the centuries
Marker
---
Schaulager and The Museum of Modern Art New York, present the first comprehensive retrospective of the work of Bruce Nauman (b. 1941) in over two decades.
Marker
---
From 12 October 2017, the 'velum', a large canvas painted by Keith Haring in 1986, is on display again at the Stedelijk Museum in Amsterdam.
Marker
---
The Tate Modern, stages MODIGLIANI, a comprehensive exhibition bringing together a wide range of his iconic portraits, sculptures and nudes.
Marker
---
recently-added to mymuseum
---
The necropolis "Banditaccia" in Cerveteri, near Rome, is an UNESCO World Heritage Site and the world's largest Etruscan archaeological site
---
The Galleria Nazionale di Parma is an art museum, most known for its old masters' paintings, housed in the Palazzo della Pilotta palace in Parma, Italy
---
Palazzo Medici Riccardi is a Renaissance palace in Florence, once residence of the Medicis, and a museum also known for the Magi Chapel by Benozzo Gozzoli
---
The Medici Chapel in Florence (Italian: Museo delle Cappelle Medicee) is a museum most known for featuring the Sacrestia Nuova mausoleum by Michelangelo
---
An UNESCO World Heritage Site, the Ducal Palace of Urbino is a monumental Renaissance building and the seat of the "Galleria Nazionale delle Marche" museum
---
Santa Maria delle Grazie is a church and a convent in Milan, world-known for housing The Last Supper wall painting by Leonardo da Vinci
---