Latest museums and galleries
The Archipelago Art Center in the Azores, by Menos é Mais Arquitectos Associados + João Mendes Ribeiro, exceptionally combines…
Case Study
The permanent exhibition of the Urban Center of Bologna, designed by RP Studio, is dedicated to present the city's urban development
Case Study
The Silesian Museum in Katowice is a fascinating museum complex by Riegler Riewe Architekten, located in a former coal mine…
Case Study
The new MUDEC – Museum of Cultures opens in Milan on March 26, 2015. The museum, located in the Ansaldo area, is designed by…
Case Study
Do you dare visiting the site of the hibernated Messner Museum Corones by Zaha Hadid on an Alpine peak 2,275 meters high?
Case Study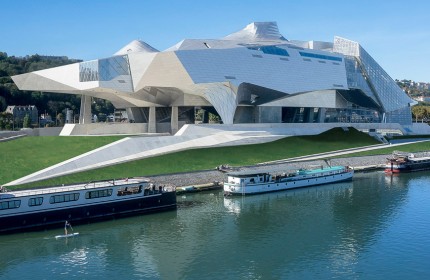 The Musée de Confluences (Museum of Confluences) is a innovative science museum designed by CoopHimmelb(l)au…
Case Study
Latest exhibitions
Milan. Irori is an installation by Kengo Kuma composed of a pure-white tunnel, made of paper strips, housing an innovative kitchen…
Case Study
The photos we made at the Milan Furniture Fair 2015 of some of the exhibition stands presented by the design companies…
Case Study
With his "The Walk" ( La passeggiata) Michele de Lucchi invites us to a different vision of working through a "peripatetic" meditation
Case Study
The exhibition Arts & Foods. Rituals since 1851, the 1st section of EXPO 2015 to open, investigates the relationship between food, art …
Case Study
An investigation on the best designs for lightweight, sustainable and low-impact transitory and ephemeral exhibition spaces
Case Study
"Worlds in Milan" is one of opening exhibitions of the new MUDEC museum and depicts how non-European cultures have influenced…
Case Study
Urban and open air exhibitions
Energy for Creativity is a design and architecture exhibition hosted until May 28, 2015, at the University of Milan…
Case Study
Favilla. To every light a voice, in Piazza San Fedele in Milan, is an immersive tale made of light and a narrator's voice …
Case Study
Camera Chiara is an installation, designed by Annabel Karim Kassar inspired by the culture of Lebanon…
Case Study
The lawn inside the "Farmacia" courtyard has been invaded by the red planes of the Future Flowers installation by Daniel Libeskind.
Case Study
Culture and technology
"Feeding the Planet, Energy for Life" is the title of the EXPO 2015 and a main theme that will be unfolded through international …
Seed
How a major touring exhibition is conceived and adapted to different contexts? The example of MING: The Golden Empire by Nomad…
Seed
On Broadway is an interactive installation, located until January 2016 at the New York Public Library, and a digital portrait of Manhattan
Technical
The architecture of the ArtA museum by BIG Bjarke Ingels Group is our first example of ground-breaking visions for unbuilt museums
Seed