Latest museums and galleries
The Pingtan Art Museum in China, by MAD architects, is an impressive floating island which architecture is inspired by fractal principle…
Case Study
The architecture of the Joanneumsviertel district, the cultural core of Graz, by Nieto Sobejano and eep architects…
Case Study
The Caixaforum Barcelona by Arata Isozaki is an example of the coexistence of different architectures in a single place…
Case Study
The Zeitz Museum of Contemporary Art Africa (MOCAA) in Cape Town, South Africa, by Heatherwick studio is one of the most interesting…
Case Study
The Nadir Afonso art center by Louise Braverman is a very good example of how architecture does not need to be "extreme" to be…
Case Study
The architecture of the extension for the Unterlinden Museum in Colmar, designed by Herzog & de Meuron architects…
Case Study
Latest exhibitions
"The Rules of the Game": 18 contemporary artists cope with the work of great Italian designer Achille Castiglioni at a fascinating exhibition in Milan
Case Study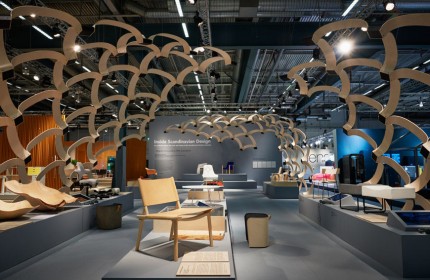 The exhibition "Inside Scandinavian Design", takes place in the context of the Stockholm furniture end light Fair : 3-7 February 2015.
Case Study
The amazing project "In Orbit" by Tomás Saraceno in Düsseldorf makes the dream of walking in the air real…
Case Study
"Musings on a Glass Box" is the exhibition created by Diller Scofidio+Renfro for the "Fondation Cartier pour l'Art Contemporain".
Case Study
Two exhibitions currently running in the fascinating spaces of the Maritime Museum of Barcelona: Voyage Overseas…
Case Study
The great exhibition "Alvaro Siza. Inside the human being" is running until February 2015 at the MART museum in Rovereto
Case Study
Urban and open air exhibitions
London. In the ground facing the Serpentine Sackler Gallery there's a large scale fountain made of garden hoses…
Case Study
The pavilion of France at EXPO 2015 resembles a covered market where present and future of food production are presented…
Case Study
The timber pavilion of Latvia at EXPO 2015 Milan by MADE arhitekti testifies the attention of the country to environmental…
Case Study
The China pavilion at EXPO 2015 Milan designed by Tsinghua University-Studio Link-Arc is an intriguing vision of a "Land of Hope" …
Case Study
Culture and technology
12 museums are among the 40 works shortlisted for the 2015 Mies van der Rohe Award…
Seed
"Feeding the Planet, Energy for Life" is the title of the EXPO 2015 and a main theme that will be unfolded through international …
Seed
The Smithsonian's National Museum of Natural History has made available its new free app "Skin and Bones"
Technical
On 24 November 2014, the Kunstmuseum Bern officially announced that the Gurlitt collection will be held on deposit at the museum.
Seed