Venice Art Biennale 2017 – info, program, exhibitions, and events
56th International Art Exhibition of La Biennale di Venezia (2015). installation by Marzia Migliora, photo © Inexhibit, 2015
The 57th International Art Exhibition of La Biennale di Venezia will take place in Venice from May 13th through November 26th 2017. The title chosen by the curator of this year's edition, Christine Macel, is "Viva Arte Viva"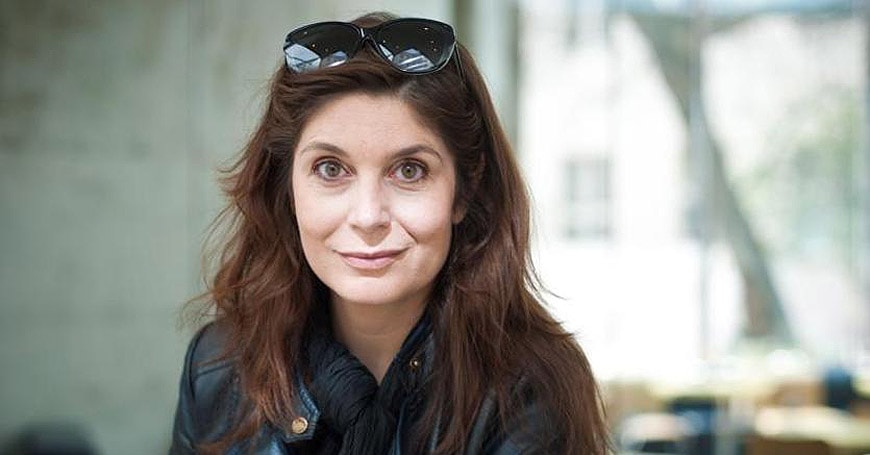 Portrait of Christine Macel, curator of the 57th International Art Exhibition of La Biennale di Venezia
Viva Arte Viva – Core exhibition at Arsenale and Giardini
Christine Macel (1969) – since 2000 chief curator of the Musée national d'art moderne – Centre Pompidou in Paris / department of "Création contemporaine et prospective" – explained her project as follows:  "In a world full of conflicts and jolts, in which humanism is being seriously jeopardized, art is the most precious part of the human being. It is the ideal place for reflection, individual expression, freedom and fundamental questions."
"Viva Arte Viva" will be a Biennale designed with the artists, by the artists and for the artists. It deals with the forms they propose, the questions they pose, the practices they develop and the forms of life they choose.
Located as usual both in the Central Pavilion at Giardini, and in the Corderie at the Arsenale, the curator's exhibition will feature 120 international contemporary artists, from well established – including Olafur Eliasson, Franz West, Cerith Wyn Evans, Takesada Matsutani, Ernesto Neto, Gabriel Orotzco, Philippe Parreno, Eileen Quinlan, Sam Gilliam, Rasheed Araeen, and Karla Black – to young and emerging ones.
While, intentionally, the core exhibition doesn't present a single theme. Macel sorted the works on view into nine chapters, which she calls Trans-Pavilions, each featuring a trans-national selection of different artists based on similarities and consonances in approach, personality, influences, and creative vision, thus focusing more on art and artists than on a theoretical, superimposed curatorial subject.
Overall, the nine "pavilions" are aimed to create a continuous narration similar to the chapters of a book.
Two chapters, entitled The Pavilion of Artists and Books and The Pavilion of Joys and Fears are located at Giardini. while the seven at the Arsenale are : The Pavilion of the Common, The Pavilion of the Earth, The Pavilion of Traditions, The Pavilion of the Shamans, The Dionysian Pavilion, The Pavilion of Colours, and The Pavilion of Time and Infinity.
Every day, during the weeks before the opening of the Exhibition, a video will be posted on the Biennale official website, giving the opportunity to uncover the artists even before the Exhibition.
National exhibitions and featured artists – Giardini
AUSTRALIA – My Horizon . Exhibitor: Tracey Moffatt
AUSTRIA – Brigitte Kowanz, Erwin Wurm . Exhibitors: Brigitte Kowanz and Erwin Wurm
BELGIUM – Dirk Braeckman . Exhibitor: Dirk Braeckman
BRAZIL . Exhibitor: Cinthia Marcelle
DENMARK – Influenza: Theatre of Glowing Darkness . Exhibitor: Kirstine Roepstorff
CZECH and SLOVAK (Republic) – Swan Song: Now . Exhibitor: Jana Zelibska
EGYPT – The Mountain . Exhibitor: Moataz Mohamed Nasr Eldin
FINLAND (Pavilion Alvar Aalto) – The Aalto Natives . Exhibitors: Erkka Nissinen and Nathaniel Mellors
FRANCE – Studio Venezia . Exhibitor: Xavier Veilhan
GERMANY – Anne Imhof / New production for the German Pavilion . Exhibitor: Anne Imhof
GREAT BRITAIN – Exhibitor: Phyllida Barlow
GREECE – Laboratory of Dilemmas . Exhibitor: George Drivas
HUNGARY – Peace on Earth . Exhibitor: Gyula Várnai
ISRAEL – Sun Stand Still . Exhibitor: Gal Weinstein
JAPAN – Turned Upside Down, It's a Forest . Exhibitor: Takahiro Iwasaki
KOREA (Republic of) – Counterbalance: The Stone and the Mountain . Exhibitors: Cody Choi, Lee Wan
NORDIC COUNTRIES (FINLAND – NORWAY – SWEDEN) – Mirrored . Exhibitors: Siri Aurdal, Nina Canell, Charlotte Johannesson, Jumana Manna, Pasi "Sleeping" Myllymäki and Mika Taanila
NETHERLANDS (The) – Cinema Olanda . Exhibitor: Wendelien Van Oldenborgh
POLAND – Little Review . Exhibitor: Sharon Lockhart
ROMANIA – GETA BRATESCU – APPARITIONS . Exhibitor: Geta Bratescu
RUSSIA – Theatrum Orbis . Exhibitors: Grisha Bruskin, Recycle Group, Sasha Pirogova
SERBIA – ENCLAVIA – Painting, consequence of this kind of life . Exhibitors: Vladislav Šcepanovic, Milena Dragicevic, Dragan Zdravkovic
SPAIN – "Ciudad de bolsillo" ("Pocket city") . Exhibitor: Jordi Colomer
SWITZERLAND – Women of Venice . Exhibitors: Teresa Hubbard / Alexander Birchler and Carol Bove
UNITED STATES OF AMERICA – Tomorrow is Another Day . Exhibitor: Mark Bradford
URUGUAY – The law of the funnel . Exhibitor: Mario Sagradini
VENEZUELA (Bolivarian Republic of) – Formas escapándose del marco . Exhibitor: Juan Alberto Calzadilla Álvarez
Map of the National pavilions at Giardini. image LaBiennale / Inexhibit (click for a larger version)
National exhibitions and featured artists – Arsenale
ALBANIA – Occurrence in present tense . Exhibitor: Leonard Qylafi
ARGENTINA- The horse problem . Exhibitor: Claudia Fontes
CROATIA – Horizon of Expectations . Exhibitors: Tina Gverovic, Marko Tadic
CHINA (People's Republic of) – Continuum-Generation by Generation . Exhibitors: Tang Nannan, Wu Jian'an, Wang Tianwen, Yao Huifen
CHILE – Werken . Exhibitor: Bernardo Oyarzun
CANADA . Exhibitor: Geoffrey Farmer
GEORGIA – Living Dog Among Dead Lions . Exhibitor: Vajiko Chachkhiani
INDONESIA – 1001 Martian Homes . Exhibitor: Tintin Wulia
IRELAND – Tremble Tremble . Exhibitor: Jesse Jones
ITALY . Exhibitors: Giorgio Andreotta Calò, Roberto Cuoghi and Adelita Husni-Bey
KOSOVO (Republic of) – LOST AND FOUND . Exhibitor: Sislej Xhafa
LATVIA – What Can Go Wrong . Exhibitor: Mikelis Fišers
LEBANON – ŠamaŠ . Exhibitor: Zad Moultaka
MALTA – HOMO MELITENSIS – An Incomplete Inventory in 19 Chapters . Exhibitors: Adrian Abela, John Paul Azzopardi, Aaron Bezzina, Pia Borg, Gilbert Calleja, Austin Camilleri, Roxman Gatt, David Pisani, Karine Rougier, Joe Sacco, Teresa Sciberras, Darren Tanti and Maurice Tanti Burlo' and artefacts from Heritage Malta's National collection, Ghaqda tal-Pawlini, private collections and various archives
MEXICO – The Life in the Folds . Exhibitor: Carlos Amorales
NEW ZEALAND – Lisa Reihana: Emissaries . Exhibitor: Lisa Reihana
PERU – Land of Tomorrow . Exhibitor: Juan Javier Salazar
PHILIPPINES – The Spectre of Comparison . Exhibitors: Lani Maestro and Manuel Ocampo
SINGAPORE – Dapunta Hyang: Transmission of Knowledge . Exhibitor: Zai Kuning
SLOVENIA (Republic of) – Newsreel 63 . Exhibitor: Nika Autor
SOUTH AFRICA (Republic of) – Candice Breitz and Mohau Modisakeng . Exhibitors: Candice Breitz and Mohau Modisakeng
TURKEY – ÇIN . Exhibitor: Cevdet Erek
TUVALU – Climate Canary . Exhibitor: Vincent J.F. Huang
UNITED ARAB EMIRATES – Rock, Paper, Scissors: Positions in Play . Exhibitors: Nujoom Alghanem, Sara Al Haddad, Vikram Divecha, Lantian Xie, Mohamed Yousif
National exhibitions – other venues in Venice
ANDORRA – MURMURI. Exhibitor: Eve Ariza. Venue: Istituto Provinciale Santa Maria della Pietà, Castello 3701
ANGOLA – Magnetic Memory / Historical Resonance. Exhibitor: José António Oliveira "António Ole". Venue: Venice Art Space
ANTIGUA AND BARBUDA – FRANK WALTER, The Last Universal Man. Exhibitor: Frank Walter. Venue: Centro Culturale Don Orione Artigianelli
ARMENIA (Republic of) «Fiamma inextinguible», «The panters in my blossom garden», «Border no Border» Exhibitors: Jean Boghossian, Rafael Megall, Miro Persolja. Venue: Collegio Armeno Moorat-Raphael
AZERBAIJAN (Republic of ) Venue: Palazzo Lezze
BELARUS (Republic of) Exhibitors: Roman  Zaslonov, Viktar Labkovich, Sergey Talybov. Venue: Venezia, Fondamenta San Giuseppe
BOLIVIA- Essence. Exhibitors: Sol Mateo, Jannis Markopoulos and José Ballivián. Venue: Scuola dei Laneri
BOSNIA and HERZEGOVINA – University of Disaster. Exhibitors: Radenko Milak in collaboration with Roman Uranjek and international guests (Lamin Fofana, Sidsel Meineche-Hansen, Juan-Pedro Fabra Guemberena, Loulou Cherinet, Geraldine Juárez with Joel Danielsson, Nils Bech with Ida Ekblad). Venue: Palazzo Malipiero
CUBA – Tiempos de la intuición….Exhibitors: Abel Barroso, Iván Capote, Roberto Diago, Roberto Fabelo, José Manuel Fors, Aimée García, Reynier Leyva Novo, Meira Marrero & José Ángel Toirac, Carlos Martiel, René Peña, Mabel Poblet, Wilfredo Prieto, Esterio Segura, José Eduardo Yaque. Venue: Palazzo Loredan
CYPRUS (Republic of) – THE FUTURE OF COLOUR . Exhibitor: Polys Peslikas. Venue: Associazione Culturale Spiazzi
ESTONIA – If Only You Could See What I've Seen with Your Eyes .Exhibitor: Katja Novitskova. Venue: Palazzo Malipiero (2nd floor), San Samuele
GRENADA – The Bridge . Exhibitors: Jason de Caires Taylor, Asher Mains, Milton Williams, Alexandre Murucci, Khaled Hafez, Rashid Al Kahlifa and Mahmoud Obaidi. Venue: 417 Fondamenta Zattere
GUATEMALA – La Marge . Exhibitors: Cesar Barrios, Lourdes de la Riva (Maria De Lourdes De La Riva Gutierrez), Arturo Monroy, Andrea Prandi, Erminio Tansini, Elsie Wunderlich, El círculo mágico. Venue: Palazzo Albrizzi -Capello
ICELAND – Out of Control in Venice . Exhibitor: Egill Sæbjörnsson. Venue: Spazio Punch
IRAN – Tapesh: The Golden Reserve of Magmatic Thought . Exhibitor: Bizhan Bassiri. Venue: Palazzo Donà delle Rose,
IRAQ – Archaic . Exhibitors: Antiquities for the Iraq Museum, Francis Alys, Jewad Selim, Shakir Hassan al-Said, Sadik alFraiji, Sherko Abbas, Sakar Sleiman, Nadine Hattom, Luay Fadhil, Ali Arkady. Venue: Palazzo Cavalli Franchetti
IVORY COAST – Exhibitors: Ouattara Aboudramane dit Wats, Jem's Kokobi, Joana Choumali, Silue Kagnedjatou Joachim, Raimondo Galeano. Venue: Palazzo Dolfin-Gabrielli
KENYA – Another Country . Exhibitors: Richard Kimathi, Arlene Wandera, Peterson Kamwathi, Paul Onditi, Mwangi Hutter. Venue: Palazzo Clary
KIRIBATI – ARS LONGA, VITA BREVIS! / SINKING ISLANDS, UNSINKABLE ART . Exhibitors: Performance Group Kairaken Betio, Teroloang Borouea, Neneia Takoikoi, Tineta Timirau, TeetiAaloa, Kenneth Ioane, Kaumai Kaoma, Runita Rabwaa, Obeta Taia, Tiribo Kobaua, Tamuera Tebebe, Rairauea Rue, Teuea Kabunare, Tokintekai Ekentetake, Katanuti Francis, Mikaere Tebwebwe, Terita Itinikarawa Kaeua Kobaua, Raatu Tiuteke, Kaeriti Baanga, Ioanna Francis, Temarewe Banaan Aanamaria Toom, Einako Temewi, Nimei Itinikarawa, Teniteiti Mikaere, Aanibo Bwatanita, Arin Tikiraua. Visual Artist; Daniela Danica Tepes. Performance Group Ngaon Nareau; Teata Tetoki, Raakai Ianibata, Taorobwa Bakatokia, Tekaei Kaairo, Nabiri Kaaraiti, Abetena Itaaka, Bwobwaka Bwebwere. Venue: Palazzo Mora
LITHUANIA – R . Exhibitor: Žilvinas Landzbergas. Venue: Scuola San Pasquale at San Francesco della Vigna
LUXEMBOURG (Grand Duchy of) – Thank you so much for the flowers . Exhibitor: Mike Bourscheid. Venue: Ca' del Duca
MACEDONIA (Former Yugoslav Republic of) – Red Carnival . Exhibitor: Tome Adzievski
MONGOLIA – Lost in Tngri (Lost in Heaven) . Exhibitors: Chimeddorj Shagdarjav, Enkhtaivan Ochirbat, Munkhbolor Ganbold, Bolortuvshin Jargalsaikhan, Davaajargal Tsaschikher. Venue: Osservatorio
MONTENEGRO – COVJEK UOMO HUMAN . Exhibitors: Ivana Radovanovic and Adin Rastoder. Venue: Palazzo Malipiero
NIGERIA . Exhibitors: Peju Alatise, Victor Ehikhamenor, Quddus Onikeku. Venue: Scoletta dei Tiraoro e Battioro
PORTUGAL – Medida Incerta | Uncertain Mesure . Exhibitor: José Pedro Croft. Venue: Giudecca
SAN MARINO (Republic of) – Friendship project . Exhibitors: Priscilla Beccari, Giancarlo Frisoni, Giovanni Giulianelli, Sisto Righi, Patrizia Taddei, Marco Tentoni, Xing Gang, Lee Kuang Yu, Zhang Wang, Zhao Wumian, Yishan, Fu Yuxiang. Venues: Ateneo Veneto
SYRIAN ARAB REPUBLIC – Everybody Admires Palmyra's Greatness . Exhibitors: Asma Alfyoumi, Giuseppe Biasio, Lina Dib, Angelo Dozio, Franca Pisani, Anas Al Raddawi, Abdullah Reda, Patrizia Dalla Valle. Venue: Ex Cinema Chiesa del Redentore
THAILAND – Krung Thep Bangkok . Exhibitor: Somboon Hormtientong. Venue: InParadiso Gallery
TUNISIA – The Absence of Paths . Exhibitor: Anonymous.
UKRAINE – Parliament . Exhibitor: Boris Mikhailov
ZIMBABWE (Republic of) – Deconstructing Boundaries: Exploring Ideas of Belonging . Exhibitors: Sylvester Mubayi, Charles Bhebe, Dana Whabira and Admire Kamudzengerere. Venue: Santa Maria della Pietà
57th International Art Exhibition of La Biennale di Venezia
May 13th through November 26th 2017
Giardini di Castello+ Arsenale+ other venues in Venice
http://www.labiennale.org/en/art/
---
Our articles
---
---
our articles about Venice Art Biennale 2017 – info, program, exhibitions, and events
The Venice Arsenale medieval dockyard complex is a main venue of La Biennale, it accommodates the main curator's exhibition and various national pavilions
mymuseum
Built in 1807, the Giardini della Biennale (Biennale's Gardens) is the main venue of the annual art and architecture exhibitions of the Venice Biennale
mymuseum
More in Venice
Venice
---
---