architecture
---
Designed by Alvar & Aino Aalto in 1929, the Paimio Sanatorium in Finland is widely regarded as the first example of modern healthcare architecture
---
Due to the COVID-19 pandemic, the opening of the Venice Biennale of Architecture has been postponed to August 29, the organizers announced today
---
Designed by Shigeru Ban for artist Gregory Colbert, Nomadic Museum was a monumental traveling gallery made of shipping containers and paper
---
Johannesburg-based practice 'Counterspace', directed by an all-woman team, has been selected to design the 2020 Serpentine Summer Pavilion
---
The exhibition 'The State of the Art of Architecture – Milano' is an invitation to reflect on the new forms of contemporary architectural thought
---
The exhibition "Our Urban Living Room" Cobe's projects for Copenhagen, is on view until 29 April 2020 at the Aedes Architekturforum in Berlin
---
design
---
Design Studio we+, in collaboration with Shiseido Art Director Taisuke Kikuchi, has created the installation called "Beauty Innovation 2020"
---
CURA aims to improve the efficiency of existing solutions in the design of field hospitals, tailoring them to the current pandemic.
---
Inexhibit publishes the most intriguing works chosen among the 30 finalists of the annual Loewe Craft Prize.
---
Following the coronavirus outbreak in Italy, the organizers announced that the Milan Furniture Fair has been postponed to June 2020
---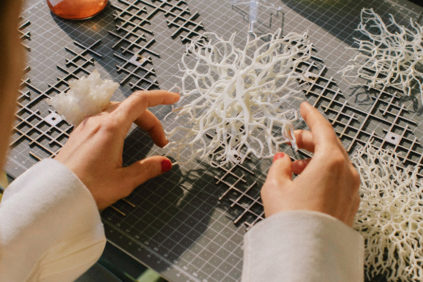 London-based fashion brand COS will return to the 2020 edition of Milan Design Week to present a collaboration with architecture and urban design practice ecoLogicStudio
---
With the exhibition 'Home Stories: 100 Years, 20 Visionary Interiors' the Vitra Design Museum reopens the conversation about the contemporary private interior and its evolution
---
---
---
art
---
VIAGGI DA CAMERA is an online project launched by the Fondazione Trussardi which publishes images, videos, and texts chosen by artists invited to narrate their own domestic space
---
Until May 4, 2020, the Poldi Pezzoli Museum in Milan hosts the exhibition 'Memos. On fashion in this Millennium'.
---
The 'Time machine. Vedere e sperimentare il tempo' (seeing and experiencing time) exhibition at Palazzo del Governatore in Parma is a journey into the world of moving images
---
Until 17 May 2020, the 'Fondation Beyeler' in Basel, features an extensive exhibition dedicated to Edward Hopper's iconic landscape paintings
---
The exhibition AGAINandAGAINandAGAINand at MAMbo in Bologna investigates into the theme of repetition and cyclicity in the present time
---
From the next 22 February, Palazzo Strozzi in Florence will host the exhibition 'Tomás Saraceno – ARIA'.
---
mymuseum - new
---
From 2017 the Museum of Villa Bernasconi is open in Cernobbio, on Lake Como. The Villa is not a traditional museum but a kind of 'talking house'
---
The Château de Montsoreau is a Renaissance-style castle and a museum of contemporary art in the Loire Valley with the world's largest collection of Art & Language movement
---
The DDR Museum in Berlin is a private museum in the Mitte borough that presents the 51-year-long history of East Germany
---
The Museo Soumaya is an art museum in Mexico City founded by Mexican business magnate Carlos Slim; its main venue is a futuristic building designed by Fernando Romero
---
The Biblioteca Ambrosiana in Milan is a library which also houses the Pinacoteca Ambrosiana art gallery with works by Leonardo, Botticelli, and Caravaggio
---
The Museo Galileo is a science museum in Florence, named after famous Italian scientist Galileo Galilei, housed in a medieval palace near the Uffizi Gallery
---
copyright Inexhibit 2020 - ISSN: 2283-5474