design
---
Milano Design Week 2018: Ventura Centrale – the exhibition event located in the central station's former warehouses – is back for its 2nd edition
Marker
---
Designed by Piuarch "Espaço" is a modular system which will be presented at Expo Revestir, the largest fair in Latin America dedicated to architecture
Marker
---
Seiko Watch Corporation announced that it will present its luxury watch brand Grand Seiko at the 2018 Milan Design Week, (April 17 / 22, 2018)
Marker
---
Milano Design Week 2018: new landscape of design, a preview of Ventura Future, the latest event by Ventura – Organization in Design.
Marker
---
The exhibition "INFLUENCES. WHO ARE WE NOW? A journey through life.The influence of environment" takes place at the B/E Gallery in Munich.
Marker
---
Until 1 May 2018, the National Gallery of Modern and Contemporary Art in Rome features the exhibition "Looking Forward. Olivetti. 110 years of imagination".
Marker
---
---
architecture
---
In this interview, Moshe Safdie goes into various aspects of architectural design, including how architecture can be timeless and the way his design approach has changed over time
Marker
---
Venice Architecture Biennale 2018 – Themes, national pavilions, major exhibitions and events of the the 16th edition of the Architecture Biennale, taking place from 26 May through 25 November, 2018
Special
---
Atelier(s) Alfonso Femia designed a new complex for exhibitions and education for the 40-year-old Italian race and sports car manufacturer Dallara.
Case Study
---
The V&A Dundee is a Scottish museum focused on design and applied arts, the museum's iconic building was designed by Japanese architect Kengo Kuma
Museum
---
The Salone's city-based technological project "Living Nature. La Natura dell'Abitare" will be in Piazza del Duomo, Milano, from 17th to 29th April, 2018
Marker
---
Mario Cucinella unveiled ARCIPELAGO ITALIA the Italian Pavilion at the 16th International Architecture Exhibition of the Venice Biennale (May/November '18)
Marker
---
---
---
art & miscellanea
---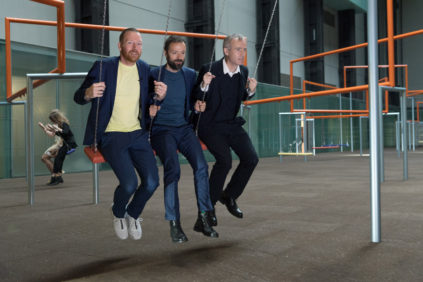 Until April 2, the Turbine Hall of the Tate Modern hosts an installation, designed by the Danish collective Superflex, entitled "One, two three Swing!"
Marker
---
Until July 2018, the 'Fashion Drive. Extreme Clothing in the Visual Arts' exhibition at the Kunsthaus Zürich presents how artists have viewed fashion through the centuries
Marker
---
Schaulager and The Museum of Modern Art New York, present the first comprehensive retrospective of the work of Bruce Nauman (b. 1941) in over two decades.
Marker
---
From 12 October 2017, the 'velum', a large canvas painted by Keith Haring in 1986, is on display again at the Stedelijk Museum in Amsterdam.
Marker
---
The Tate Modern, stages MODIGLIANI, a comprehensive exhibition bringing together a wide range of his iconic portraits, sculptures and nudes.
Marker
---
Until 4 february 2018, the Ala Ponzone Museum in Cremona features a major exhibition dedicated to Italian painter Luigi Miradori known as Genovesino
Marker
---
recently-added to mymuseum
---
The Galleria Nazionale di Parma is an art museum, most known for its old masters' paintings, housed in the Palazzo della Pilotta palace in Parma, Italy
---
Palazzo Medici Riccardi is a Renaissance palace in Florence, once residence of the Medicis, and a museum also known for the Magi Chapel by Benozzo Gozzoli
---
The Medici Chapel in Florence (Italian: Museo delle Cappelle Medicee) is a museum most known for featuring the Sacrestia Nuova mausoleum by Michelangelo
---
An UNESCO World Heritage Site, the Ducal Palace of Urbino is a monumental Renaissance building and the seat of the "Galleria Nazionale delle Marche" museum
---
Santa Maria delle Grazie is a church and a convent in Milan, world-known for housing The Last Supper wall painting by Leonardo da Vinci
---
The Galleria Nazionale d'Arte Moderna e Contemporanea – GNAM is a museum in Rome focused on 19th and 20th century modern and contemporary art
---