architecture
---
The exhibition "Our Urban Living Room" Cobe's projects for Copenhagen, is on view until 29 April 2020 at the Aedes Architekturforum in Berlin
---
The new plan for Lugano's waterfront – presented by CRA-Carlo Ratti Associati- increases the links between city and lake with a system of innovative public spaces
---
Bjarke Ingels Group unveils 'Toyota Woven City', the world's first urban incubator dedicated to the advancement of all aspects of mobility.
---
The MAXXI museum in Rome presents 'Gio Ponti, Loving Architecture'. The exhibition runs until 13 April 2020
---
MO Museum is a private museum of contemporary art in Vilnius, the capital of Lithuania; the building of the museum was designed by Daniel Libeskind
---
Designed by AOC architects, the Dřetovice stream footbridge was conceived as a "magic portal" between the land of the living and the realm of the dead
---
design
---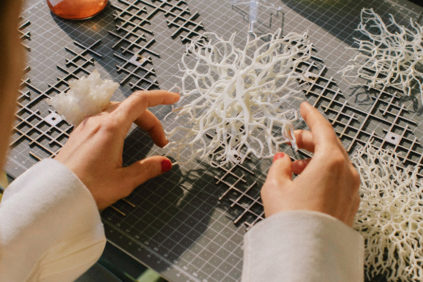 London-based fashion brand COS will return to the 2020 edition of Milan Design Week to present a collaboration with architecture and urban design practice ecoLogicStudio
---
With the exhibition 'Home Stories: 100 Years, 20 Visionary Interiors' the Vitra Design Museum reopens the conversation about the contemporary private interior and its evolution
---
A.I. by Kartell is the 1st chair conceived by artificial intelligence, created in response to input received from Philippe Starck, and from the company
---
The MAD-Musée des Arts Décoratifs in Paris continues its exploration into the relationship between fashion and body with 'Marche et démarche'.
---
Michael Anastassiades will be the "designer of the year" at the next edition of Maison&Objet Paris in January 2020.
---
Conceived in 1957 by Achille and Pier Giacomo Castiglioni, the iconic 'Bulbo' lamp is brought back to life today in a new edition by Flos.
---
---
---
art
---
The 'Time machine. Vedere e sperimentare il tempo' (seeing and experiencing time) exhibition at Palazzo del Governatore in Parma is a journey into the world of moving images
---
Until 17 May 2020, the 'Fondation Beyeler' in Basel, features an extensive exhibition dedicated to Edward Hopper's iconic landscape paintings
---
The exhibition AGAINandAGAINandAGAINand at MAMbo in Bologna investigates into the theme of repetition and cyclicity in the present time
---
From the next 22 February, Palazzo Strozzi in Florence will host the exhibition 'Tomás Saraceno – ARIA'.
---
Inexhibit suggests some of the most interesting temporary exhibitions on view in the Catalan capital from December 2019 to next Spring 2020
---
The CID at Grand Hornu features the exhibition 'Nature Morte/Nature Vivante': artistic and experimental researches in the relationship between man and nature
---
mymuseum - new
---
From 2017 the Museum of Villa Bernasconi is open in Cernobbio, on Lake Como. The Villa is not a traditional museum but a kind of 'talking house'
---
The Château de Montsoreau is a Renaissance-style castle and a museum of contemporary art in the Loire Valley with the world's largest collection of Art & Language movement
---
The DDR Museum in Berlin is a private museum in the Mitte borough that presents the 51-year-long history of East Germany
---
The Museo Soumaya is an art museum in Mexico City founded by Mexican business magnate Carlos Slim; its main venue is a futuristic building designed by Fernando Romero
---
The Biblioteca Ambrosiana in Milan is a library which also houses the Pinacoteca Ambrosiana art gallery with works by Leonardo, Botticelli, and Caravaggio
---
The Museo Galileo is a science museum in Florence, named after famous Italian scientist Galileo Galilei, housed in a medieval palace near the Uffizi Gallery
---
copyright Inexhibit 2020 - ISSN: 2283-5474