---
The exhibition of the Philippines at the Venice Biennale 2021 focuses on the idea of mutual support through architecture in the form of a small wooden building
---
Opened in 2020 at Paris Expo Porte de Versailles, with an area of 1.4 hectares / 3.5 acres, NU-Paris is the world's largest rooftop urban farm
---
At the 17th Venice Architecture Biennale, Turkey presents an iconic yellow-colored installation focused on how architectural imagination can shape a new way to sustainability
---
After a long wait the winner of the architecture competition of the new Sara Hildén Art Museum in Tampere, Finland, has been finally disclosed
---
The UK exhibition at the 17th Venice Architecture Biennale investigates how we will live together in a context of increasing privatization of public spaces
---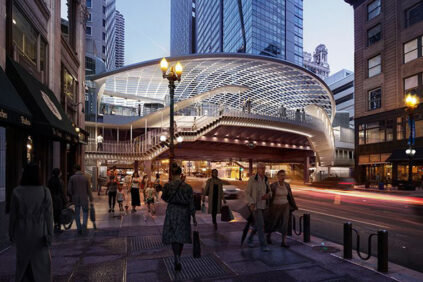 The project carried out by SOM – Skidmore, Owings & Merrill – and TranSystem includes wider and safer platforms and a large glass roof.
---
---
The four finalists of the 2020 Young Artists Award are featured in an exhibition, titled Materia, taking place at the CID at Grand-Hornu.
---
How and when did plants enter our homes? From the 17th century to the present day, a brief history of our relationship with houseplants
---
Chinese designers have recently developed a bike helmet, called Voronoi, which combines parametric modeling, bionics, and 3D printing
---
The history of Susan Kare, the artist behind the design of the graphical interface elements and fonts of the original Apple Macintosh
---
The Maat – Museum of Art, Architecture and Technology in Lisbon hosts the multisensory itinerary "Earth Bits – Sensing the Planetary"
---
Vitra Design Museum features the exhibition "Memphis 40 Years of Kitsch and Elegance" including works by Sottsass, De Lucchi, Graves, Radice, Shire, Du Pasquier, and Shiro Kuramata
---
---
---
---
Palazzo Te in Mantua presents the project Venus Divina. Harmony on Earth, comprising three exhibitions dedicated to the myth of Venus
---
LIFE by Olafur Eliasson, currently on view at the Beyeler Foundation in Basel, challenges our conventions of art, nature, and life
---
The Wound, a site-specific work by French artist JR, draws attention to cultural institutions opening issues in the age of Covid-19
---
More than 200 works on paper—including drawings, sketchbooks, and rarely seen watercolors—will be shown alongside a selection of related oil paintings
---
We point out some exhibitions that can be visited in the upcoming months in Milan and Venice; others will be added in the coming weeks.
---
"We Are Frying!" the recent work by Luzinterruptus is focused on the theme of climate change.
---
mymuseum - new
---
The Museu de Arte Contemporânea de Serralves is a contemporary art museum in Porto, Portugal, designed by famed architect Alvaro Siza Vieira
---
Zeitz MOCAA is a museum in Cape Town dedicated to contemporary art from Africa and housed in a historic grain silo refurbished by British architect Thomas Heatherwick
---
The Casa das Histórias Paula Rego is a museum of modern art in Cascais, Portugal, housed in an iconic building designed by architect Eduardo Souto de Moura
---
The Tower of London is a historic fortress and a museum in central London; it also houses the famous collection of the Crown Jewels of the United Kingdom
---
Musée Atelier Audemars Piguet is a watchmaking museum in Le Brassus, Switzerland, housed in an iconic spiral-shaped building by Bjarke Ingels Group
---
The Nadir Afonso Contemporary Art Museum is a museum in Chaves, Portugal, designed by Alvaro Siza and dedicated to abstract painter Nadir Afonso
---
copyright Inexhibit 2021 - ISSN: 2283-5474