---
architecture
---
MAD architects reveals "Mirage" a proposal which, by transforming it into a giant mirror, turns the Montparnasse tower in Paris into a huge optical illusion
Marker
---
The Louvre Abu Dhabi, the new mega museum designed by Jean Nouvel in the Emirates, will open to the public on November 11, 2017, the museum announced
Marker
---
Entitled "Make new History", the second edition of CAB – Chicago Architecture Biennial takes place from September 16, 2017, through January 7, 2018.
Marker
---
The tensile fabric roofed exhibition pavilion designed by Renzo Piano for the Château La Coste wine resort and factory near Aix-en-Provence, southern France
Case Study
---
The iconic architecture of the TIRPITZ Museum by BIG – Bjarke Ingels Group, built on the site of a former WWII bunker near Varde, on the Danish coastline
Case Study
---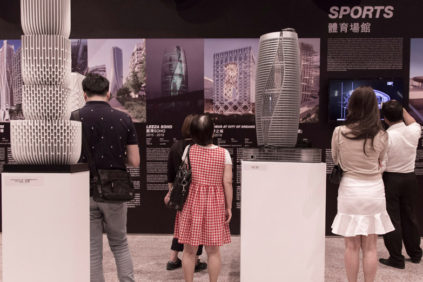 The Songshan Cultural and Creative Park in Taipei – Taiwan, hosts the exhibition Zaha Hadid Architects. Global Design Laboratory.
Marker
---
---
design
---
London Design Festival 2017: two landmark projects from this year's edition: Urban Cabin by Mini Living with Sam Jacob, and Studio Villa Walala by Camille Walala
Marker
---
"Play Parade" is the exhibition – running at the Vitra Design Museum from September 9 – dedicated to the toys designed by Charles and Ray Eames.
Marker
---
LDF continues its relationship with the Victoria and Albert Museum and, also for this edition, the program at the V&A includes installations and talks
Marker
---
The exhibition of the Beazley Designs of the Year 2017 will be open from October 18, 2017 through January 28, 2018 at the Design Museum in London
Marker
---
"Rebel and poet" is the title of the exhibition that Vitra Design Museum dedicates to Ettore Sottsass (1917 – 2007) for the centenary of his birth.
Marker
---
Light, strong and versatile: from July 15, V&A Museum presents the history of plywood in a new exhibition exploring a material that "made the modern world"
Marker
---
art & miscellanea
---
The Beyeler Foundation in Basel presents a major exhibition dedicated to Paul Klee, one of the most preeminent and beloved artists of the 20th century
Marker
---
From September 23, 2017 through January 1, 2018, MoMA – the Museum of Modern Art in New York features the exhibition Max Ernst: Beyond Painting.
Marker
---
At the Venice Art Biennale 2017, the Dutch pavilion presents Olanda, a video and photo installation by Wendelien Van Oldenborgh
Case Study
---
At the 57th International Art exhibition of the Venice Biennale, the Australian pavilion presents My Horizon, an engaging solo exhibition of Tracey Moffatt
Case Study
---
On view at MoMA from September 24, 2017 "Louise Bourgeois: An Unfolding Portrait" explores the prints and books of the celebrated sculptor
Marker
---
The exhibition of Russia at the Venice Art Biennale 2017 presents 4 installations by Grisha Bruskin, Recycle Group, Sasha Pirogova, and Dmitri Kourliandski
Case Study
---
recently-added to mymuseum
---
Notre Dame du Haut is an UNESCO-listed sacred site in Ronchamp, France, renowned for its chapel by Le Corbusier; it also includes a convent designed by Renzo Piano
---
The Pantheon in Rome is a monumental building, dating back to the Roman imperial period, a catholic church, and one of Italy's most visited cultural sites
---
A branch of the MET, The Cloisters is a museum of medieval art and architecture in New York, housed in an historical building in Upper Manhattan
---
The Frick Collection in New York is a museum of fine and applied arts from the Middle Ages to the mid-20th century located on Manhattan's Upper East Side
---
Centro Botín is a cultural center in Santander, the capital of Cantabria, north-western Spain, designed by Renzo Piano and primarily focused on visual arts
---
The Museo Archeologico Nazionale in Venice is an archaeological museum on St Mark's Square which holds a notable collection of Greek and Roman sculpture
---