Perot Museum of Nature and Science, Dallas
2201 N. Field Street
,
Dallas
Texas
,
United States
closed on: Tuesdays Museum Type: Natural history, Science & Technology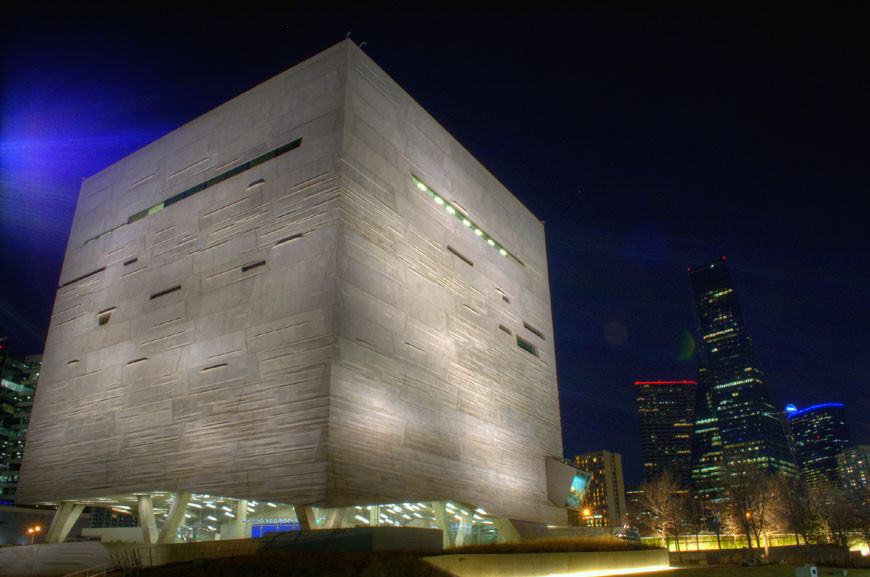 The Perot Museum is a fascinating Natural history and Science museum in Dallas, Texas. It is housed in an iconic building located in Victoria Park, with a satellite venue in Fair Park.
The museum takes its name from a donation by the Perot family that made it possible to build up a state-of-the-art new science museum in Dallas. In 2012 the 180,000-square-foot main building, designed by American architect Thom Mayne from the firm Morphosis, was opened to the public.
The museum's permanent exhibition is composed of 11 exhibition halls located on 6 levels of the building; it includes specimens, objects, models, videos, and interactive exhibits. From Paleontology to biodiversity, from geology and minerals to energy, from birds to the human body, from engineering to astronomy; the galleries feature a broad and diverse set of scientific matters. A special gallery is dedicated to children up to 5 years old. The outdoor space, recreating different Texas landscape environments, forms an integral part of the exhibition.
As mentioned earlier, a satellite branch, once the Dallas Museum of Natural History, is located on a separate site at Fair Park, it mainly features minerals and historical dioramas.
The Perot Museum of Nature and Science also organizes temporary exhibitions, family programs, special events, learning activities, and workshops for children and adults.
The museum building also accommodates a theater, a shop, and a self-service restaurant.
The museum is fully accessible to people with disabilities; wheelchairs are available free of charge.
Photos: cover by Brett Chisum; 1 by Stereometric (CC BY-NC-ND 2.0); 2 by Rodney (CC BY 2.0)
---
How our readers rate this museum (you can vote)
---
---
---
More in Dallas – Fort Worth
Dallas – Fort Worth
---
copyright Inexhibit 2022 - ISSN: 2283-5474