Morgan Library and Museum
225 Madison Avenue at 36th Street
,
New York
New York
,
United States
closed on: Mondays, Thanksgiving, Christmas, and New Year's Day Museum Type: Art, Music / Musical instruments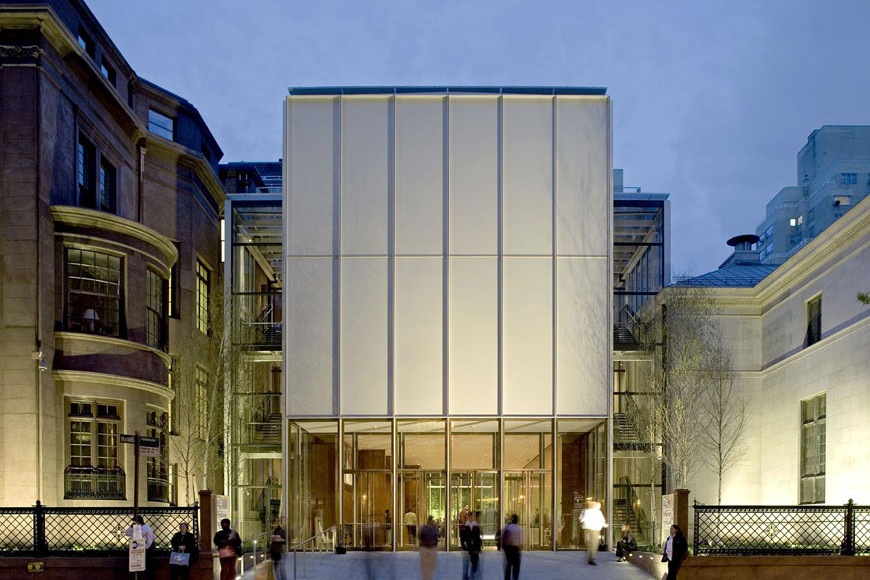 The Morgan Library and Museum in New York is a cultural complex located in Midtown Manhattan and world-renowned for its large collections of drawings, books, and manuscripts.
History and building
Founded in the early-20th century as the private library of Pierpont Morgan, the library became a public institution in 1924 on the initiative of his son J.P. Morgan, Jr.
The library was initially housed in an Italian-Renaissance style building adjacent to Morgan's residence, known as McKim's building, which has been thereafter enlarged with an annex building in 1928 and, in 2006, with a new 90,000 square-foot expansion designed by Italian architect Renzo Piano.
Piano designed a "centripetal" building, partially buried underground in order to cope with the tight space available for the expansion and "to build a sort of underground vault in which to house the library's rare book collection. With surgical precision, new steel and glass units were inserted in and amongst the existing buildings." (from Renzo Piano's project description).
The steel-clad extension, composed of three pavilions and an open plaza, accommodates a new entrance lobby, exhibition spaces, storage areas, new reading rooms, offices, and a 299-seat auditorium, particularly suited to chamber music, at the underground level.
Morgan Library expansion by Renzo Piano Building Workshop; photo Michel Denancé
Model of the Morgan Library expansion; photo Stefano Goldberg-Publifoto
Collection
The collection of The Morgan Library and Museum encompasses drawings, manuscripts, printed books, paintings, and objects of art, including masterpieces such as the Morgan Bible and the Farnese Hours manuscripts; three Gutenberg Bibles; manuscripts by Byron, Poe, Jane Austin, and George Washington; music manuscripts by Mozart, Beethoven, Brahms and Chopin; drawings and etchings by Raphael, Michelangelo, Leonardo da Vinci, Mantegna, Rubens, van Dyck, Dürer, Blake, Turner, and Constable; paintings and sculptures by Perugino, Tintoretto, Memling, and Antonio Rossellino; just to name a few.
The collection of etchings by Rembrandt is one of the largest in the world.
Morgan Library, lobby, artwork storage space, and the 299-seat auditorium; photos Michel Denancé
Another view of the lobby, photo by Susan Sermoneta
The private library of Pierpont Morgan; photo by Sarahtarno
Morgan Library's Gutenberg Bible, photo by Jim Forest
The museum organizes temporary exhibitions – featuring works both from its collection and on loan from other institutions – concerts, lectures, family programs, workshops, guided tours, and various educational activities.
The museum complex includes a shop, a cafe, and a restaurant.
The Morgan Library and Museum is accessible to people with disabilities.
Cover image by Michel Denancé
---
How our readers rate this museum (you can vote)
---
---
---
More in New York City
New York City
---
More about Renzo Piano
Renzo Piano
---
copyright Inexhibit 2021 - ISSN: 2283-5474