KUB-Kunsthaus Bregenz
Karl-Tizian-Platz
,
Bregenz
Vorarlberg
,
Austria
closed on: Mondays, and December 24, 25 & 31 Museum Type: Art
The Kunsthaus Bregenz, also known as KUB, is a museum of contemporary art in the city of Bregenz, western Austria, and one of the most celebrated buildings designed by Peter Zumthor.
Opened in 1997, the museum is located on the Lake Constanz waterfront.
Unlike other Kunsthäuser, KUB has a permanent collection, which consists of works by contemporary Austrian and international artists, including Hiroshi Sugimoto and Ai Weiwei, as well as architectural models and drawings.
The program of the museum mostly features special exhibitions in which the artists are invited to create a dialogue between their work and the architecture of the Kunsthaus.
Thus, many of the works on display at the Kunsthaus Bregenz are specially created for the institution.
Notable contemporary artists (about one hundred, so far) featured at KUB since its opening include Doug Aitken, Ed Atkins, Louise Bourgeois, Daniel Buren, Tacita Dean, Olafur Eliasson, Anish Kapoor, Jeff Koons, Donald Judd, Ed Rusha, Thomas Schütte, Cindy Sherman, Hiroshi Sugimoto, James Turrell, Jeff Wall, and Ai Weiwei.
Kunsthaus Bregenz, view from the south with the gallery building on the left and the administration building on the right. Photo Böhringer Friedrich.
Along with exhibitions, the program of events and activities of KUB also includes public talks, live performances of music and dance, educational activities, guided tours, and special events.
View from Lake Constance. Photo Markus Tretter © Kunsthaus Bregenz
Anish Kapoor, installation view (My Red Homeland), Kunsthaus Bregenz, 2003. Photo: Nic Tenwiggenhorn, © Anish Kapoor, Kunsthaus Bregenz
Thomas Schütte, installation view, Kunsthaus Bregenz, 2019. Photo: Markus Tretter © Thomas Schütte | Bildrecht, Wien, 2019, Kunsthaus Bregenz
Peter Zumthor's building
Designed by Zumthor in the early 1990s, the Kunsthaus Bregenz consists of two separate buildings, one containing the museum's galleries – together with a lecture room, an educational center, storage areas, and technical facilities on the underground levels – and the other housing offices, a library, a cafe, and a book and gift shop.
Both buildings were designed in the typical style of the Swiss architect at the time; they are deliberately very simple in volume and plans while conceptually profound and extremely accurate and ingenious in their use of materials and daylight.
The gallery building is a 26.5×26.5×30 meter (87x87x98 foot) box-shaped construction with six stories, two of which underground.
All floor plans are almost identical, with three reinforced-concrete structural walls that separate the galleries from the circulation space, which is adjacent to the building perimeter and contains two stairwells, a passenger elevator, and a freight elevator.
Cross-sections, and (left to right and top to bottom) plans of the first underground floor, ground floor, first floor, and roof level.
This structural concept frees the facades from load-bearing functions. Therefore, Zumthor encapsulated the entire building with a continuous translucent skin consisting of 710 satin glass panels, thus transforming the facades on the ground floor into giant light-boxes through which the daylight enter the building from all sides.
On the upper floors, daylight transmitted by the semi-transparent envelope pours into the gallery space through a translucent glass ceiling, which also conceals an artificial lighting system that integrates daylight when necessary.
At night, the effect reverses, with the artificial light exiting from inside the museum through its semi-transparent skin transforming it into a large luminous urban object.
The low-carbon building of the museum is cooled and heated by a geothermal system coupled with mechanical ventilation with heat recovery.
Kunsthaus Bregenz, ground floor, Lawrence Weiner, Wherewithal, 2016, installation view. Photo: Markus Tretter Courtesy of Privatsammlung © Lawrence Weiner | ARS, New York | Bildrecht, Wien, 2016 und Kunsthaus Bregenz
Adrian Villar Rojas, The Theater of Disappearance, installation view, Kunsthaus Bregenz, third level. Photo: Jörg Baumann
At night, the museum transforms into a large luminous urban object. Photo: Markus Tretter
© Kunsthaus Bregenz
Zumthor devised the different configuration between ground floor and upper floors – which, up to the luminous false ceiling height, are enclosed on their perimeter by non-load-bearing concrete walls, to provide the latter substantial vertical display space for hanging flat objects like paintings and photographs, while the ground floor, which also has a larger ceiling height, is particularly suitable for displaying large sculptures and installations.
Overall, the Kunsthaus Bregenz expresses a very original approach to museum design; the KUB galleries are neither "white-boxes", neutral and indifferent to what is on display, nor architecturally extreme spaces that overpower the artworks inside them. They are rooms conceived to make art and architecture collaborate and complement one another, which is probably the best thing an architect could do when designing a museum.
One of the two stairwells that connect the six levels of the museum. Photo Austriantraveler.
A close-up of the satin glass facade. Photo by William.
Cover image: Kunsthaus Bregenz, 2016. Photo: Markus Tretter © Kunsthaus Bregenz
---
How our readers rate this museum (you can vote)
---
---
---
More about Peter Zumthor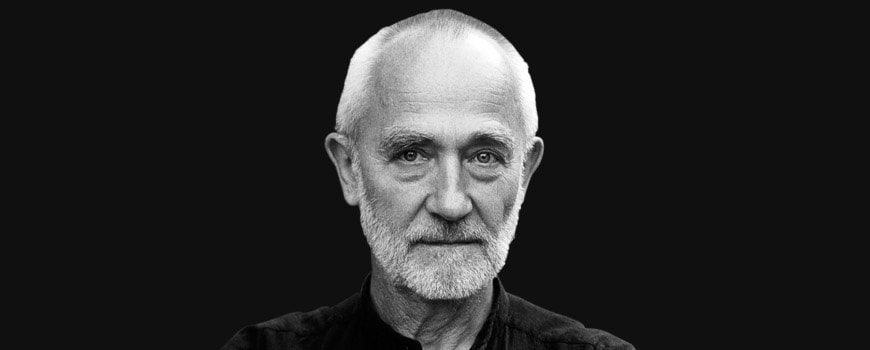 Peter Zumthor
---
copyright Inexhibit 2020 - ISSN: 2283-5474