ICA – The Institute of Contemporary Art, Boston
100 Northern Avenue
,
Boston
Massachusetts
,
United States
closed on: Mondays, Patriot's Day, Independence Day, Thanksgiving, Christmas, and New Year's Day Museum Type: Art
ICA – The Institute of Contemporary Art is an art museum in Boston, Massachusetts, housed in an iconic building designed by American architectural firm Diller Scofidio + Renfro.
Above. the building of the Institute of Contemporary Art in Boston at dusk; photo by emivel2003 (CC BY-NC-ND 2.0).
History and mission
ICA was founded in 1936 as The Boston Museum of Modern Art and a branch of The Museum of Modern Art in New York.
Since its foundation – through, exhibitions, special commissions, and educational programs – the Institute was aimed to present contemporary visual arts and creativity in all its forms- including visual arts, architecture, performance, film, and literature, and to promote emerging artists.
Among the most notable exhibitions organized by ICA: the first display of Pablo Picasso's masterpiece Guernica in the United States in 1940, and seminal exhibitions on Surrealism (1937), Frank Lloyd Wright (1940), contemporary Mexican Painters (1941, including works by Frida Kahlo and Diego Rivera), Le Corbusier (1948), Oskar Kokoschka (1948), Francis Bacon (1951), Egon Schiele (1960), Andy Warhol (1966), Cindy Sherman (1988), and Nam June Paik (1996).
Photo Mike Linksvayer (CC0 1.0).
Photo by Soe Lin (CC BY-ND 2.0).
The iconic building by Diller Scofidio + Renfro
ICA is housed in an iconic 65,000-square-foot building located in the Port of Boston, completed in 2006 after a design by New York-based architect Diller Scofidio + Renfro.
The building is highly recognizable for its dramatically-cantilevered shape and is characterized by large windows providing beautiful views of the port, ample column-free exhibition spaces, and ingenious use of natural light.
Photo by KarmaCamilleon (CC BY-NC-ND 2.0).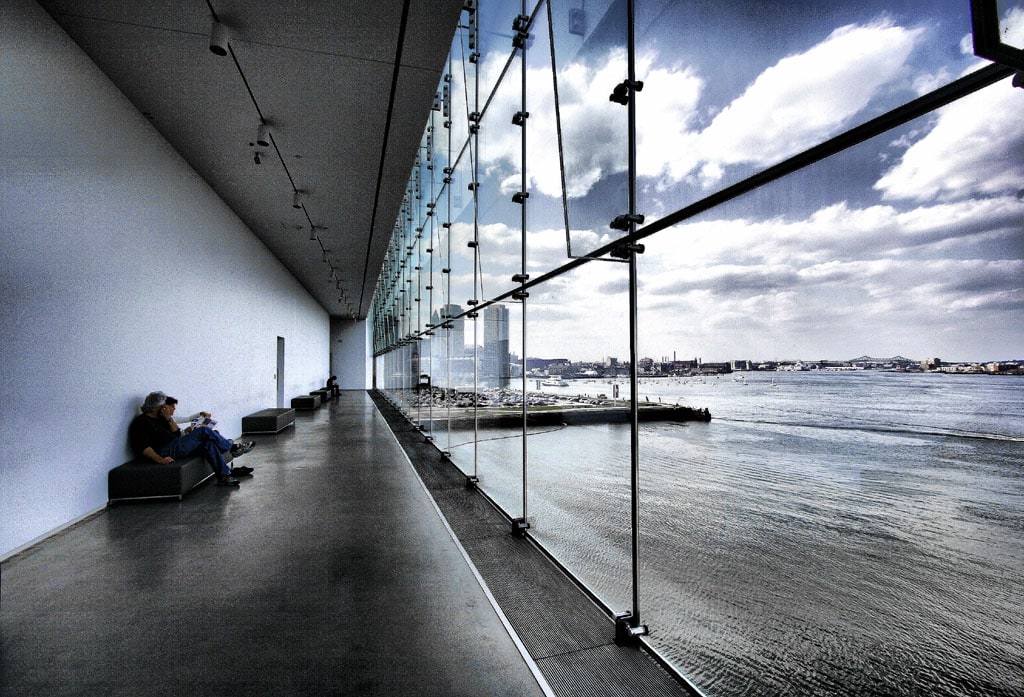 The museum openings provide fascinating perspectives on the port of Boston, photo by hbp_pix
One of the most popular architectural features of the building is the Poss Family Mediatheque, a stepped digital media center protruding behind the cantilever and provided with a large window overlooking the water.
Poss Family Mediatheque, exterior view, photo by Global X (CC BY 2.0).
Poss Family Mediatheque, interior view, photo by Matt Clough (CC BY 2.0).
What to see at the ICA Boston
From 1936 to 2000, the ICA had been a "noncollecting museum" without a collection. In 2000 the museum started its -own permanent collection.
The collection – which reserves special attention to female artists and mostly comprises paintings, sculptures, installations, and photographs – includes remarkable works by Cindy Sherman, Cornelia Parker, Doris Salcedo, Nan Goldin, Louise Bourgeois, Andy Warhol, Ragnar Kjartansson, Glenn Ligon, and Alice Neel, among others.
Every year, the institute commissions one work to an artist to be displayed in a dedicated space, the Sandra and Gerald Fineberg Art Wall.
ICA Boston, gallery view, photo by Anne Helmond
ICA Boston, West Gallery: "Super Vision" exhibition. Photo: Iwan Baan
Installation view, Walid Raad, Institute of Contemporary Art, Boston, 2016. Photo by John Kennard
The activities of the Institute of Contemporary Art encompass temporary exhibitions, public talks, live performances, concerts, film screenings, and educational programs for kids and families.
The museum building includes a 325-seat theater, a digital media center, the Charles and Fran Rodgers Education Center, a café, a bookstore, and a public plaza. The museum is fully accessible to physically impaired people.
---
How our readers rate this museum (you can vote)
---
---
---
copyright Inexhibit 2023 - ISSN: 2283-5474