Fondation Louis Vuitton – Paris
8, Avenue du Mahatma Gandhi - Bois de Boulogne
-
Paris
Île-de-France
,
France
closed on: Tuesdays, and January 1, May 1, May 8 and December 25 Museum Type:
Art
The Fondation Louis Vuitton in Paris is a private modern and contemporary art center and museum, whose iconic building was designed by Frank Gehry.
---
History
The Foundation was established at the initiative of French entrepreneur and LVMH group's CEO Bernard Arnault in 2006 with the aim to "Promote creation in the present by adopting a position of openness and dialogue with artists, intellectuals and the public. Astound visitors by offering a multifaceted activity that informs, exhibits and showcases the works of the 20th and 21st centuries in an exceptional space. Move and surprise the public by exhibiting artists' work in an innovative building, a model of emblematic architecture (…)".
In the same year, the Foundation presented the design of its home, an ambitious building designed by Canadian-born American architect Frank O. Gehry and located in the Bois de Boulogne park on Paris' west outskirts. The Fondation Louis Vuitton opened to the public on October 27, 2014.
---
Gehry's building
The building of the Fondation Louis Vuitton is sited within the Jardin d'Acclimatation, a children and family oriented garden part of the Bois de Boulogne – a 846-hectare public park created in the mid-19th century in the sixteen arrondissement of Paris.
Gehry's design was inspired by both the the traditional 19th century glass-and-steel greenhouse architecture, and by the image of a "sailing ship".
Therefore, the architect conceived a 7,000-square-meter / 75,000-square-foot building whose aspect is characterized by twelve large glass-and-steel "sails" enveloping a core, named "The Iceberg", made in white Ultra-High Performance Fiber-Reinforced Concrete (UHPC).
The Foundation's building contains 11 galleries, storage areas, offices, education spaces, a museum store, a restaurant, and an auditorium / concert hall which can accommodate from 350 to 1000 people depending on its configuration.
A basin was also created around the Foundation in order to emphasize its dynamic forms and vessel-like appearance.
As frequently happens with Gehry's museums, while external facades and internal connection spaces are exuberant and bold-looking, the galleries are rather simple and rational white-box-like exhibition spaces. As in an opera theater, the stage could be small, but the machine which makes the show possible is as gigantic and cavernous as the Jonah's whale belly.
The LVF building leaves no room for mixed feelings; if you like Gehry's style, you'll find it outstanding; if you don't like Gehry, well, you won't like this building too. Either way, it's an architecture that can't leave you indifferent.
Fondation Louis Vuitton, Paris, exterior view from south; photo © Iwan Baan
Longitudinal section, Gehry Partners, LPP
---
Collection and art program
The collection of the Louis Vuitton Foundation is focused mainly on international contemporary art; it comprises hundreds of pieces (the exact number is unknown) – paintings, sculptures, installations, and media-art works – sorted into four categories: Contemplative, Pop, Expressionist, and Music & Sound.
The collection comprises works by recognized European, Asian, African, and American artists, including Marina Abramovic, Jean-Michel Basquiat, Maurizio Cattelan, Tacita Dean, Olafur Eliasson, Alberto Giacometti, Dan Flavin, Ellsworth Kelly, William Kentridge, Yves Klein, Meleko Mokgosi, Takashi Murakami, Nam June Paik, Giuseppe Penone, Sigmar Polke, Gerhard Richter, Thomas Schütte, Andy Warhol, and Ai Weiwei, to name a few.
Along with established artists, the Foundation also presents and promotes the work of emerging, innovative artists, especially from Africa and Asia. Pieces from the collection are usually displayed in changing exhibitions on a rotating basis.
The program of events and activities of the Fondation Louis Vuitton includes special exhibitions, lectures, talks, educational activities and workshops, concerts, music masterclasses, recitals, dance performances, guided tours, and special events.
---
Images
View from north-west; photo © Iwan Baan
The "sails" that form the external envelope of the FLV building are composed of 3,600 curved glass panels in total; photo © Iwan Baan
The Fondation Louis Vuitton at night, and a view from from east with the water mirror which surrounds the building; photos © Iwan Baan
The Grotto gallery on the ground floor with the "Inside the Horizon" installation by Olafur Eliasson; photo © Iwan Baan
The roof terrace; photo Felix Cornu
One of the white-box galleries of the Louis Vuitton Foundation; photo © Iwan Baan
"In Tune with the World" exhibition, April 11 – August 27, 2018; Maurizio Cattelan, La Ballata di Trotsky, 1996; © Maurizio Cattelan
"In Tune with the World", gallery 5, installation view with works by Matthew Barney, Yves Klein and Gerhard Richter © Matthew Barney © Succession Yves Klein c/o Adagp, Paris, 2018 © Gerhard Richter
"In Tune with the World", installation view with works by Takashi Murakami © Takashi Murakami/Kaikai Kiki Co.Ltd – All rights reserved © Fondation Louis Vuitton / Marc Domage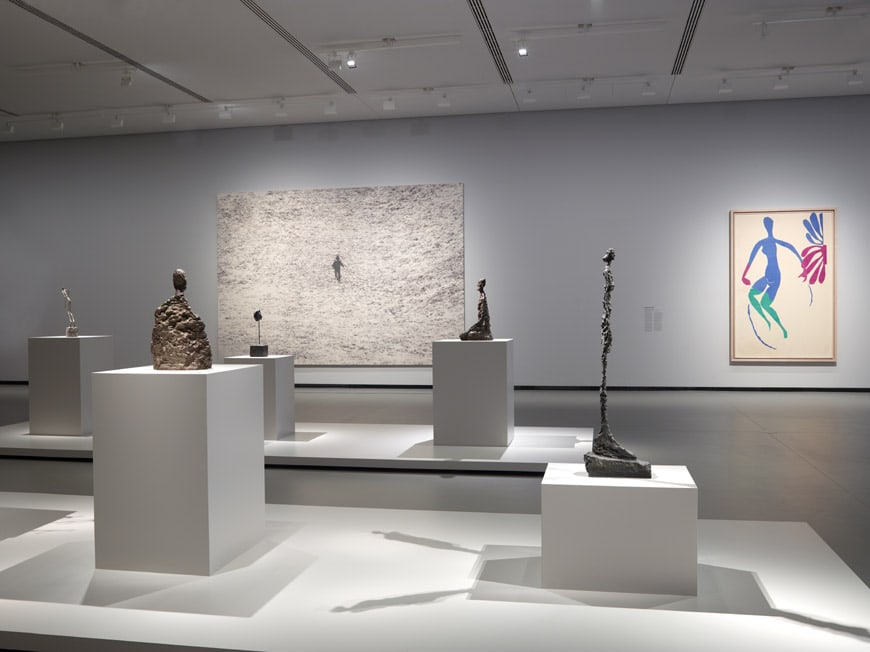 "In Tune with the World", Gallery 1, installation view with works by Alberto Giacometti, Giovanni Anselmo, and  Henri Matisse.© Succession Alberto Giacometti (Fondation Alberto et Annette Giacometti, Paris + Adagp, Paris) 2018 © Giovanni Anselmo © Succession H. Matisse © Fondation Louis Vuitton / Marc Domage
"In Tune with the World", Grotto, installation view with a sculptural installation by Mark Leckey;  © Mark Leckey © Fondation Louis Vuitton / Marc Domage
Cover image: View of the Fondation Louis Vuitton from north; photo © Iwan Baan
All photographs courtesy of Fondation Louis Vuitton, Paris
---
---
What do you think of this museum?
---
More in Paris
Paris