Fondation Beyeler
Baselstrasse 101
-
Riehen
Basel
,
Switzerland
closed on: open 365 days a year Museum Type:
Art
The Beyeler Foundation in the Swiss town of Riehen, near Basel, is one of the most renowned modern and contemporary art museums in Switzerland.
Housed in a famous building designed by Italian architect Renzo Piano, the museum houses the collection founded by gallerist and art dealer Ernst Beyeler (1921-2010), and covering a period ranging from the second half of the 19th century to present day.
Architecture and site
Along with the main building, the museum complex includes also a magnificent garden and Villa Berower, a late-Baroque building which accomodates the Foundation administration offices and a restaurant.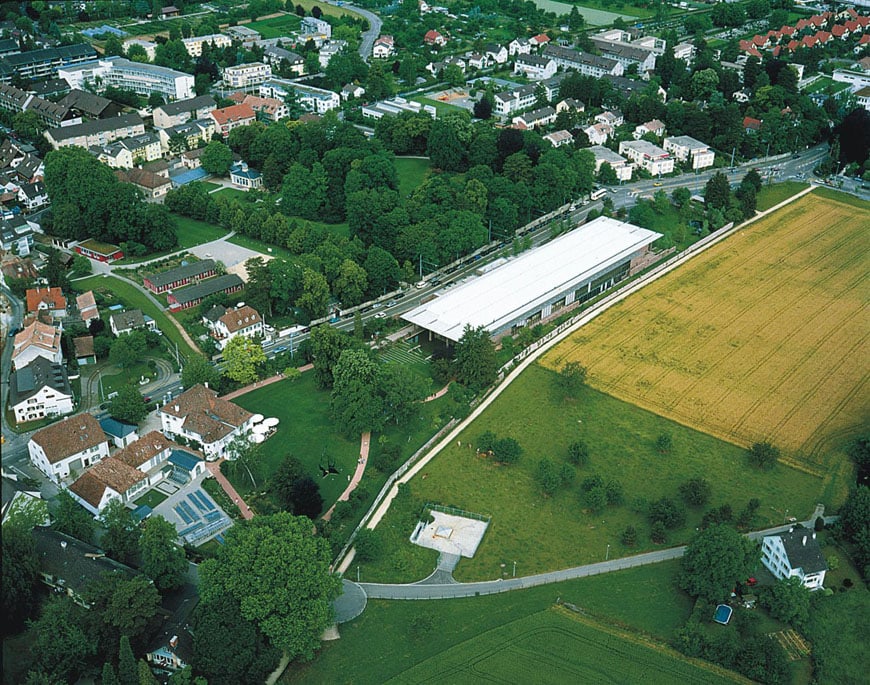 Aerial view of the Beyeler Foundation's complex with the expansion by Renzo Piano, in the center of the photo, and Villa Berower in the lower-left corner; image Niggi Brauning
Completed in 1997, the expansion designed by Piano is a rectangular building marked by four 127 meter / 420 foot long longitudinal walls, made in reinforced concrete and clad in red porphyry stone, which support a semi-transparent flat roof.
The roof, which Piano defined "a machine for zenithal light", includes an ingenious system, composed of adjustable glass slats, conceived to control natural illumination and filter direct sunlight.
Beyeler Foundation, ground floor plan and west elevation; image © RPBW
Photo Michel Denancé
Detail of the glass roof, photo Michel Denancé
Beyeler Foundation, transverse section (partial); image © RPBW
Photo Todd Eberle
The building envelope is mostly made of large glass windows in order to create a relationship between artworks and landscape; a dialogue further reinforced by the addition of a narrow winter garden which borders the exhibition galleries.
Photos Cristian Richters
In 2016, the Beyeler announced an international architectural competition aimed to further extend the museum.
Collection and activities
The collection of the Foundation includes masterpieces by Arp, Bacon, Braque, Cézanne, Chagall, Degas, Dubuffet, Ernst, Giacometti, Kandinsky, Kiefer, Klee, Léger, Lichtenstein, Matisse, Miró, Mondrian, Monet, Picasso, Pollock, Rodin, Stella, Tàpies, Van Gogh, Warhol, just  to name a few. The permanent exhibition,  often renovated in its layout, also features sections dedicated to African, Alaskan, and Oceanic art.
The Beyeler Foundation also organizes major temporary exhibitions; three per year, on average.
Beyeler Foundation, one of the exhibition rooms, photo Michel Denancé
An ensemble of sculptures by Alberto Giacometti, photo Michel Denancé
View of one exhibition room; on the right: painting "Le lyon ayant faim, se jette sur l'antilope", 1898/1905, by Henri Rousseau; photo Todd Eberle
Cover image by Mark Niedermann
All images courtesy of Fondation Beyeler and Renzo Piano Building Workshop
---
---
What do you think of this museum?
---
in-depth articles on Fondation Beyeler
Basel | Gerhard Richter at the Fondation Beyeler
Until 7 September 2014, Gerhard Richter at the Fondation Beyeler. The exhibition of his work is the largest to date in Switzerland .
11 architects for the Beyeler Foundation extension
Beyeler Foundation announced that 11 architects, including Sou Fujimoto, SANAA and Peter Zumthor, have been selected to design extension of the Swiss museum
Basel | Gustave Courbet exhibition at the Fondation Beyeler
From 7 September 2014 to 18 January 2015, the Fondation Beyeler in […]
Basel | Kandinsky, Marc & Der Blaue Reiter at the Beyeler
From September 4, 2016 the Beyeler Foundation in Basel presents a comprehensive exhibition dedicated to the art movement known as "Der Blaue Reiter".
Basel | Paul Gauguin at the Fondation Beyeler
From 8 February to 28 June 2015 the Fondation Beyeler in Basel presents a great exhibition dedicated to Paul Gauguin, with fifty exceptional paintings
Basel | The multifaceted work of Dubuffet at Beyeler Foundation
"Jean Dubuffet – Metamorphosen der Landschaft" (Metamorphoses of Landscape) is the exhibition dedicated to Jean Dubuffet at the Beyeler Foundation in Basel
---
---
More in Basel
Basel
---
More about Renzo Piano
Renzo Piano
---
---
---