Contemporary Arts Center – Cincinnati
44 E. 6th Street
,
Cincinnati
Ohio
,
United States
closed on: Tuesdays, Thanksgiving, Christmas and New Year's Day Museum Type: Art
The Contemporary Arts Center, also known as CAC, is a non-collecting museum in Cincinnati, Ohio. Since 2003, the museum is housed in an iconic building designed by Zaha Hadid, the Rosenthal Center for Contemporary Art.
History
The CAC's origins date back to 1939, when Betty Pollak Rauh, Peggy Frank Crawford and Rita Rentschler Cushman founded the "The Modern Art Society" in Cincinnati.
In the following years, the institution organized major exhibitions focused on contemporary American and international artists, architects, and designers, including retrospectives featuring works by Pablo Picasso, Auguste Renoir, Vincent van Gogh, Paul Gauguin, Georg Kolbe, Willem de Kooning, Juan Gris, and Buckminster Fuller.
In 1954 the institution opened a permanent exhibition space, called The Contemporary Arts Center, at the Cincinnati Art Museum, and ten years later it moves to a new, independent venue in which, in the following years, it organized cultural events focused on the most innovative artistic expressions of the time, including seminal exhibitions dedicated to Pop Art, to Fluxus, to edible art, to body language in the art of the Seventies, to video art, and to the impact of machines upon society and creative means of expression, establishing a wide recognition of the CAC as one of the most lively and innovative contemporary art centers in the United States.
Contemporary Arts Center – Rosenthal Center for Contemporary Art – Cincinnati. Photography © Hélène Binet, courtesy of Zaha Hadid Architects
Zaha Hadid's building
In 2003, the Contemporary Arts Center moved to a new, iconic home designed by the firm led by the British-Iraqi architect Zaha Hadid (1950-2016).
The museum's 91,500 square foot building sits in the corner of Sixth Street and Walnut Street. The peculiar position in the urban context of central Cincinnati led the architects to conceive an element they called "Urban Carpet", a concrete strip which "Leads pedestrians into and through the interior space via a gentle slope, which becomes, in turn, wall, ramp, walkway and even an artificial park space" (Zaha Hadid Architects).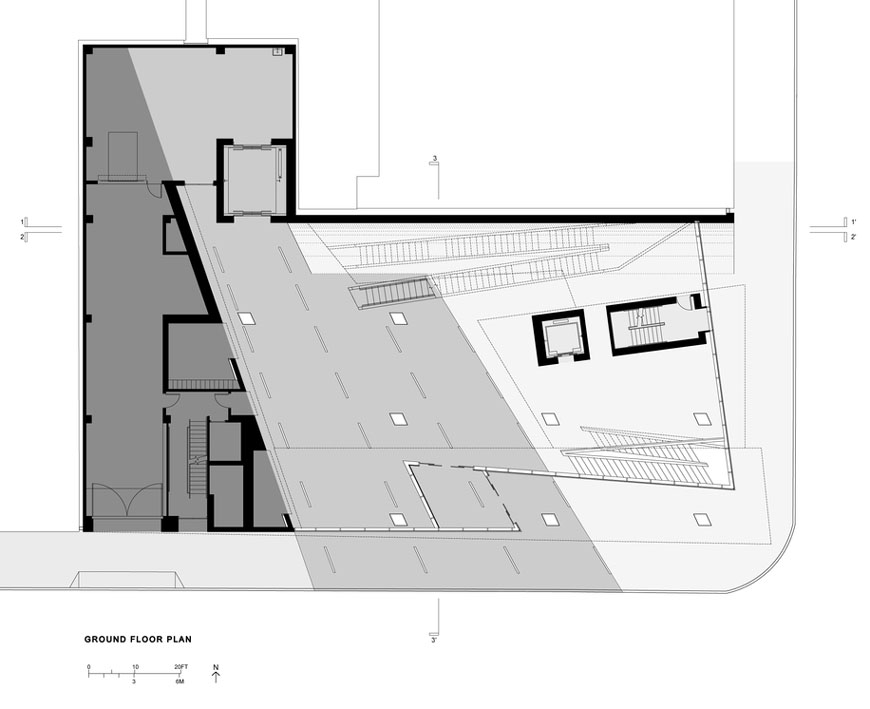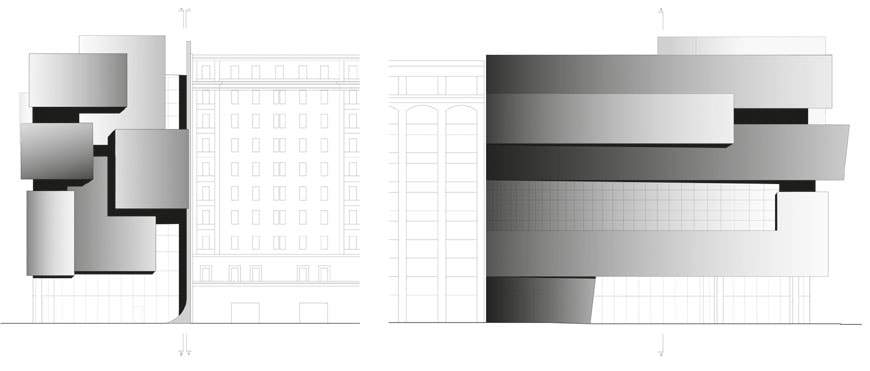 Rosenthal Center for Contemporary Art, architectural model, conceptual painting, ground floor plan, transverse section, elevations; images courtesy of Zaha Hadid Architects
While this fluid "carpet" connects the city with the museum's most public spaces, the galleries were designed as concrete boxes, more private and intimate, instead. "In contrast to the Urban Carpet, which is a series of polished, undulating surfaces, the galleries are expressed as if they had been carved from a single block of concrete and were floating over the lobby space."
On six floors, the new home of the CAC, named Lois & Richard Rosenthal Center for Contemporary Art, contains temporary exhibition galleries, spaces for site-specific installations, a dedicated black box theater for performances, offices, preparation areas, education rooms, a museum shop, and a cafe.
The center also includes a facility, called UnMuseum, specifically aimed to provide art experiences and education to children, schools, and families.
Photo © Hélène Binet
Photo by Timothy Brown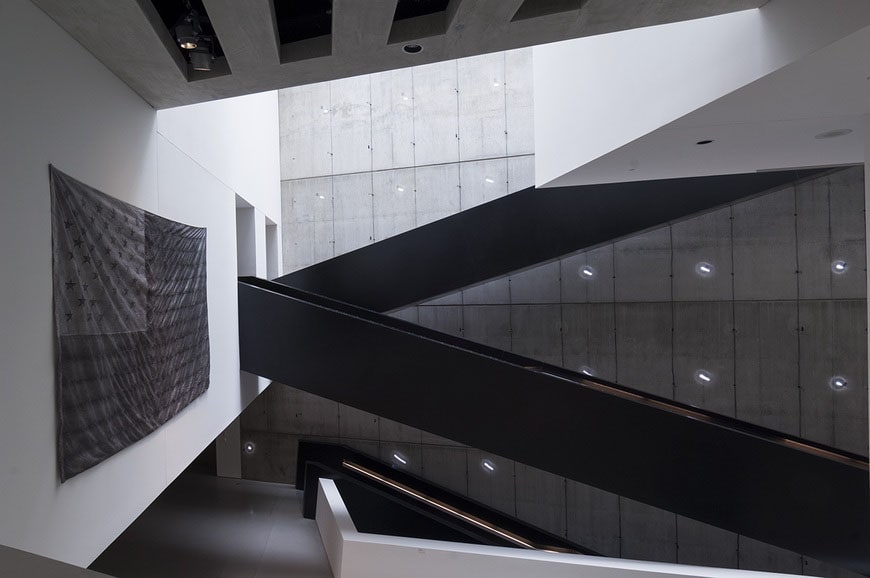 Daniel Arsham, Remember the Future exhibition, 2015, installation view, photo courtesy of The Contemporary Arts Museum, Cincinnati
Program and exhibitions
As already mentioned, the Contemporary Arts Center in Cincinnati does not hold a collection and, therefore, does not have a permanent exhibition.
The mission of the museum is therefore developed through a diverse program of temporary exhibitions, live performances, film screenings, art commissions, talks, creative workshops, educational programs, and special events.
"Daniel Arsham, Remember the Future" exhibition, 2015, installation views, photo courtesy of The Contemporary Arts Museum, Cincinnati
Photo by Luke P. Woods
View of the CAC's lobby, photo courtesy of Zahner
Cover image courtesy of Zahner
---
How our readers rate this museum (you can vote)
---
---
---
More about Zaha Hadid Architects
Zaha Hadid Architects
---
copyright Inexhibit 2022 - ISSN: 2283-5474