Venice Architecture Biennale 2018 | Pavilion of Turkey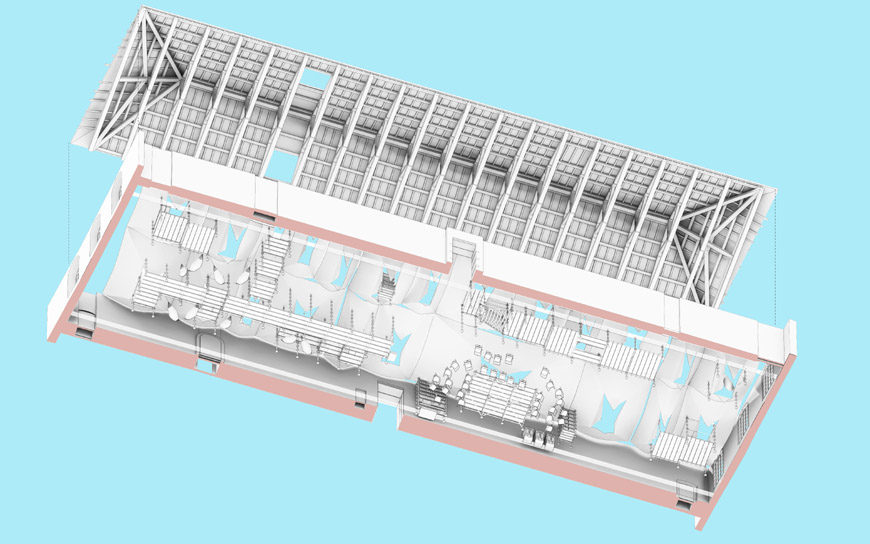 Curated by Kerem Piker and coordinated by Istanbul Foundation for Culture and Arts (İKSV), the Pavilion of Turkey presents "Vardiya"( the Shift 1) at the 16th International Architecture Exhibition of la Biennale di Venezia (May 26 / November 25, 2018)
cover image: the pavilion of Turkey, axonometric view
Located at the Sale d'Armi, (Arsenale) and conceived in response to the theme Freespace, the pavilion is envisioned as a spatial and temporal staging base, providing a participatory platform for workshops, discussions, and meetings.
Piker's curatorial programme will welcome 122 international architecture students, as well as academics, professionals, keynote speakers, and visitors, inviting a diversity of voices to participate in a continuous process of learning and production throughout the twenty-five weeks of the Biennale.
The curator of pavilion "Vardiya" launched an open call for video responses to the questions: Why does the biennial exist? What does the biennial do? For whom does the biennial exist? 452 students from 29 different countries and 70 cities from the USA to China, India to Costa Rica applied for the project. Out of these applicants, 122 international architecture students will be invited to visit the Pavilion of Turkey in weekly shifts as active producers of the evolving exhibition content.
Pavilion of Turkey, the key questions: why does the biennial exist? What does the biennial do? For whom does the biennial exist?
Pavilion of Turkey, the press conference.
The program of "Vardiya" will kick off with video installations through which participating students question the purpose and role of the biennial of architecture, and will continue with 12 workshops run by invited professionals and student groups, with around 50 digital meetings, and with 6 lectures by keynote speakers including an international roster of leading architects.
 Portrait of Kerem Piker, curator of Turkey's pavilion at the 16th International Architecture Exhibition of la Biennale di Venezia.
Kerem Piker was born in Ankara in 1978. He received his B Arch degree in 2001 at Istanbul Technical University and his MSc in Architecture degree in 2004 at TU Delft.
In 2010, he was celebrated as one of "The Best 40 Architects Under The Age Of 40 in Europe" by The Chicago Athenaeum: Museum of Architecture and Design.
Images courtesy of IKSV, Istanbul.
---
---
---
16th Venice Architecture Biennale 2018 – pavilions, program, events
16th Venice Architecture Biennale 2018 – pavilions, program, events
---
More in Venice
Venice
---
copyright Inexhibit 2022 - ISSN: 2283-5474