Three landmark projects at LDF – London Design Festival 2018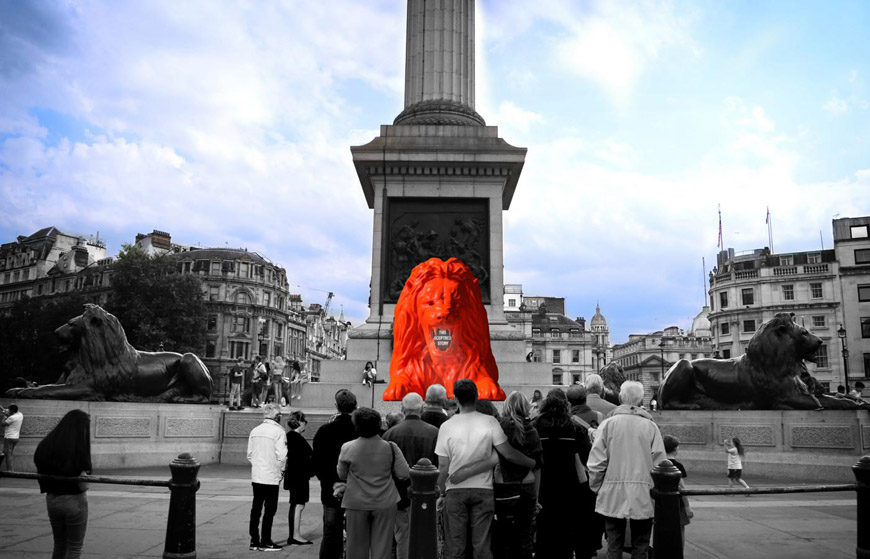 The 2018 edition of LDF – London Design Festival runs in London from September 15 through 23, side by side with the second London Design Biennale which takes place at the Somerset House from September 4 through 23. (London Design Biennale 2018)
Also in the 2018 edition, LDF features a number of "landmark projects" – outdoor thematic installations placed in various locations across London. We present here three of them, that we deem particularly interesting.
From September 18 through 23, Trafalgar Square is the venue of "Please feed the Lions", a multimedia installation conceived by artist and designer Es Devlin and made with the support of Google Arts & Culture.
The four bronze lions which, since 1867, guard Nelson's Column, are joined by a fifth red-colored lion which interacts with the public. He does that by "roaring" words the public suggest him. During the day, such an ever-changing collective poem is displayed on a LED array installed in the lion's mouth, while at night the words are projected both on the lion's body and Nelson's Column.
above and cover image: Es Devlin, Please feed the Lions, Trafalgar Square.
From September 15 through October 1, 2018, the newly-restored Sackler Courtyard of the Victoria & Albert Museum accommodates MultiPly, a temporary pavilion which presents two major problems of our time: housing crisis and climate change. MultiPly, consisting of re-usable walls made from 60 cubic meters of American Tulipwood, is an installation open to the public and an example of modular architecture. The project has been developed by American Hardwood Export Council, Waugh Thistleton Architects, and Arup.
The pavilion is made up of 17 modules composed of 102 cross-laminated timber (CLT) and a number of joints manufactured by the Construction Scotland Innovation Center (CSIC). Cross-laminated timber is an engineered wood which can be used also for the load-bearing structure of buildings. The panels consist of a number of wood layers, perpendicular to one another, and can be used to create high-resistance prefabricated walls with about a 30% reduction in construction times compared to traditional methods.
above: Waugh Thistleton Architects, MultiPly, V&A Museum.
Finsbury Avenue Square is the location of Alphabet. The installation, designed by London-based graphic design office Kellenberger-White, consist of twenty-six chairs, each shaped as a letter of the alphabet, which people can sit on freely. The project, made with the support of British Land, was inspired by the experimental work of László Moholy-Nagy, Marianne Brandt, Wilhelm Wagenfeld, Max Bill, and Hans Gugelot, as well as by projects by Bruno Munari such as 'Seeking Comfort in an Uncomfortable Chair' (1944). The colors of the chairs were chosen from the palette of paints used for industrial metalwork, such as the "International Orange" used for the Golden Gate Bridge in San Francisco and the "Cornflower Blue" of the Middlesbrough's Transporter Bridge.
Above: Kellenberger-White, Alphabet, Finsbury Avenue Square.
London Design Festival
London,15 / 23 September, 2018
---
---
---
More in London
London
---
copyright Inexhibit 2021 - ISSN: 2283-5474