'The Smile', a new mixed-use complex in Harlem designed by Bjarke Ingels Group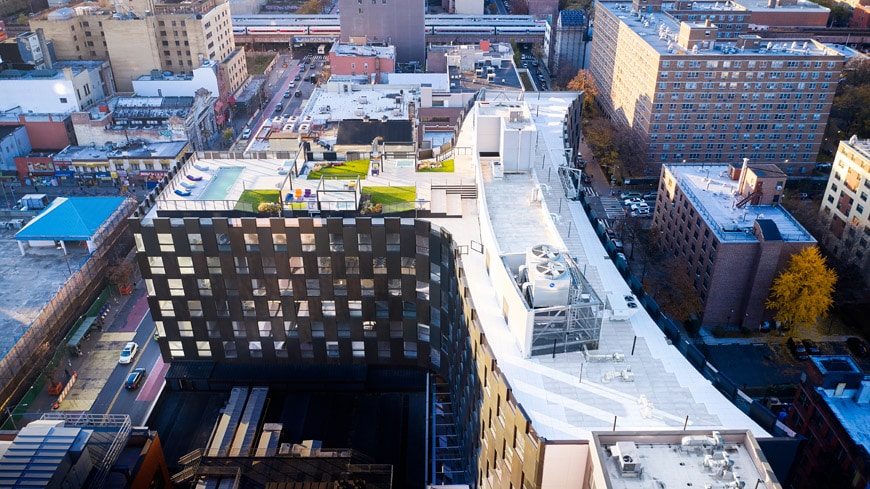 'The Smile', a new mixed-use complex in Harlem designed by BIG-Bjarke Ingels Group
Designed by BIG-Bjarke Ingels Group, 'The Smile' is a mixed-use complex located between 125th and 126th streets in Harlem, NYC. The building houses a street-level nursing school, and housing units on the upper floors, a third of which are affordable to promote the neighborhood's socio-economic diversification.
The particular T-shaped footprint of the building allows for a good dimensional and organizational variety of the individual units and, towards the south, the cantilevered portion of the complex seems to hover above the existing commercial building on 125th street, creating a dynamic shape in the urban landscape.
Also interesting is the course of the facade along 126th street, which gently falls as it rises, softening the hard and linear edge of the street and at the same time improving the direct solar contribution and natural lighting. This choice is a reinterpretation of the famous Zoning Law of 1916, which imposed the construction of towers with volumes sloping upwards to allow light to enter the streets.
Still on the subject of natural lighting, the use of a system of panels for facades laid in a checkerboard pattern allows floor-to-ceiling window openings in each housing unit, guaranteeing open views of the city for all apartments.
The entrance spaces are decorated with vibrant touches of colored concrete that draw inspiration from the neighborhood murals and offer a lively welcome to those entering the building. Internal amenities for residents include a fitness center, media room, relaxation spas, social lounges, and a workspace that overlooks a three-story gallery lit from above.
Rooftop amenities include hot tubs, a swimming pool, and terraces surrounded by spaces for various types of social activities and meetings.
above: The Smile, diagrams, images by BIG-Bjarke Ingels Group
above and cover image: The Smile, photos by Pernille and Thomas Loof, courtesy of BIG-Bjarke Ingels Group
PROJECT DATA
Name: THE SMILE
Program: Commercial
Status: Under Construction
Size in m2: 26000
Project type: Commission
Client: Blumenfeld Development Group
Collaborators: ZDG, Thornton Tomasetti, Cosentini Associates, Milrose Consultants, Eckersley O'Callaghan, Langan, Van Deusen Associates, Aquatectonic Lothrop Associates LLP, Steven Winter Associates, Jaffe Holden, Robert Schwartz and Associates, Fox Rothschild, Lerch Bates
Location New York City, USA
---
---
---
More about BIG – Bjarke Ingels Group
BIG – Bjarke Ingels Group
---
More in New York City
New York City
---
copyright Inexhibit 2023 - ISSN: 2283-5474