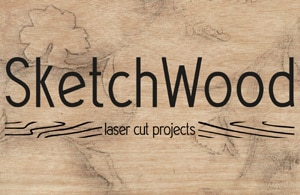 SketchWood by Elena Ferrari
---
Description of the project
The SketchWood Bag project was born from the combination of three essential elements: Love for painting techniques, Research in the new laser cutting field, Passion for noble materials such as wood and leather. The union of these three impetuses has led to the creation of an object that finally carries the artistic creation in everyone's daily life.
Designer's bio
Educated as an advertising graphic designer and illustrator, Elena Ferrari took her first steps in the textile sector as a designer for printed fabrics when, at the same time, she was growing in the field of advertising and web graphics.
Expert of different pictorial techniques and always interested in new technologies, Elena developed her passion for the laser cutting. Thanks to this fascination, she began the designing objects into which her several professional experiences would converge.
objects from SketchWood by Elena Ferrari
---
SketchWood by Elena Ferrari