Architectural Ethnography – The Japan Pavilion | 2018 Venice Architecture Biennale
Place: Venezia
,
Country: Italy
Commissioner: The Japan Foundation
Curators: Momoyo Kaijima, Laurent Stalder, Yu Iseki
The Japan Pavilion at the Venice Biennale 2018, exterior view; photo © Inexhibit
Architectural Ethnography. The Japan Pavilion at the 16th Venice Biennale of Architecture
Curated by Momoyo Kaijima from Atelier Bow-Wow together with Laurent Stalder and Yu Iseki, The Japan Pavilion presents at the 16th Venice Biennale of Architecture an exhibition that explores the relationship between architecture, people, and environment through a collection of architectural drawings and the metaphor of a travel guide.
---
Entitled Architectural Ethnography from Tokyo: Guidebooks and Projects on Livelihood, the exhibition focuses on the concept of "Architectural Ethnography" (developed by Atelier Bow-Wow some years ago), intended as the study of the living condition of people by observing architecture and its environments from a behavioral point of view.
But, why guidebooks are an ideal instrument for that purpose? Kaijima explains this is mostly due to their capability to observe and describe cities and their environment in an original way.
"In guidebooks, an old but new, unique architecture (not ones dominantly defined by an 'architect as a creator') have been reported, from hybrid buildings* within high density of city life to the space used for urban-rural exchange, fitted into their local contexts in Tokyo and throughout the world"  Kaijima says.
the term hybrid building indicates a mixed-use building of a particular functional complexity and in which the different functions are not rigidly separated but interact with one another (Author's Note)
Hence, inspired by the aforementioned guidebook model – already experimented by Atelier Bow Wow in books such as Made in Tokyo (2001) and Pet Architecture Guidebook (2002) – and emphasizing the importance of drawing as a critical tool to explore and understand both architecture and our society, Architectural Ethnography presents a collection of works by forty-two exhibitors (comprising universities, design studios, architects, and artists) expressing in an exemplary way the relationship between architecture, access to environmental resources, and human behaviors.
Works on view range from design specifications and spatial activity charts, to maps of urban hybrids and large studies of rural farming and fishing villages.
The exhibition catalog of the Japan Pavilion at the 2018 Venice Architecture Biennale by Kaijima, Stalder, Iseki; the catalog is published by Toto publishing. Image source: ideabooks,nl
---
The Japan Pavilion's exhibition is composed of four main parts (whose titles shouldn't be taken too literally).
1 Collecting guidebooks and mapping them
2 Analyzing and presenting the expansion of guidebooks and interviews with producers of guidebooks
3 Reporting projects derived from guidebooks with miniature models, and videos
4 Creating a "Yokocho" (a bar and cafe alley typical of Japanese cities), and managing it as a discussion platform for developing architectural and urban theory.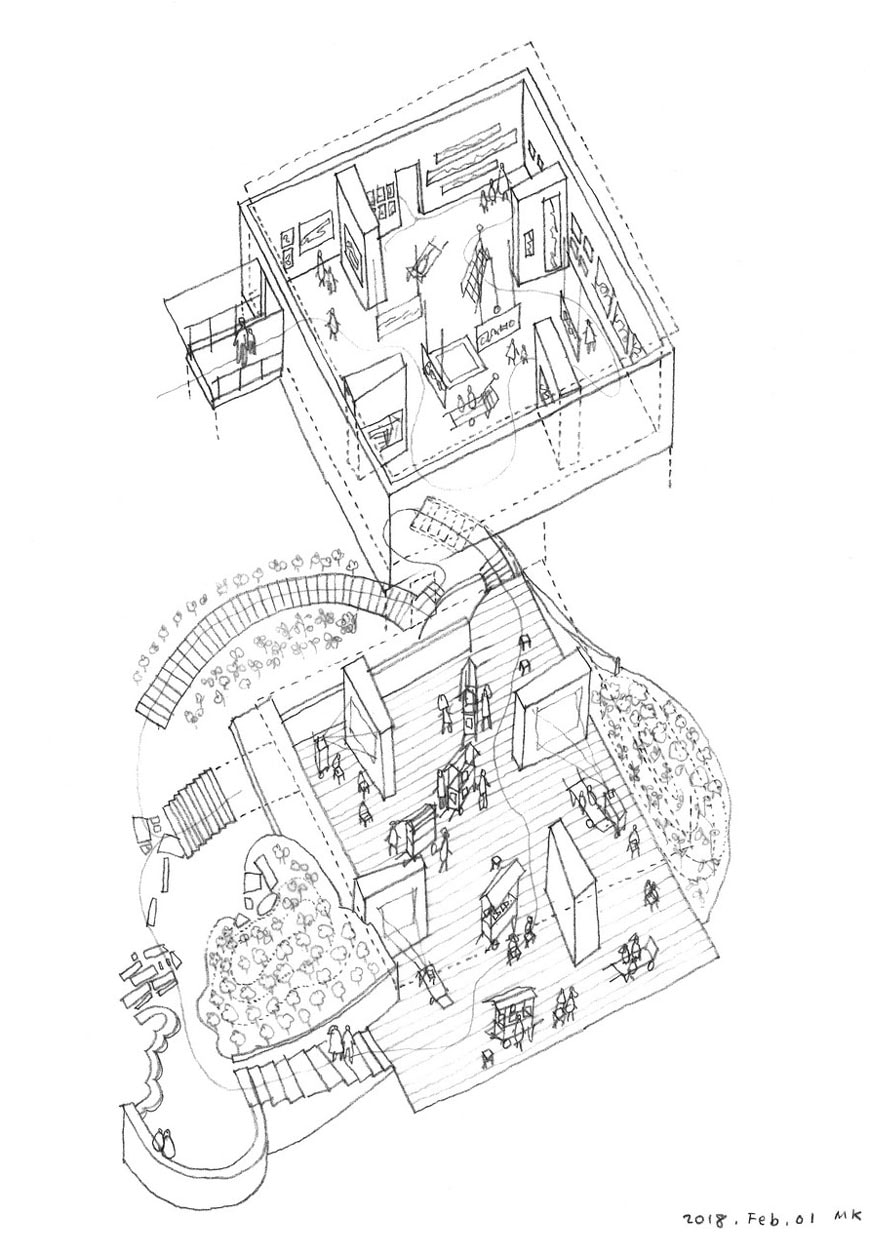 Conceptual sketch of the Japan Pavilion at the 16th Venice Architecture Biennale 2018; image © Momoyo Kaijima
---
During the 16th Venice Architecture Biennale, the Japan Pavilion is also the seat of an international Summer school – organized by the University of Tsukuba (Japan), the University of Queensland (Australia) and the ETH Zurich (Switzerland) – whose students will produce a series of "public drawings" focused on the Biennale itself, investigating and depicting the behavior of the visitors of the Giardini's site, the network of relations created by and gravitating around the national pavilions, and the use that the Biennale makes of public space in Venice.
The Japanese Pavilion provides a number of "magnifying lenses" by which the public can see even the finest details of the drawings on view; the curator invites the visitors to let themselves "get lost" into the pictures; photo © Inexhibit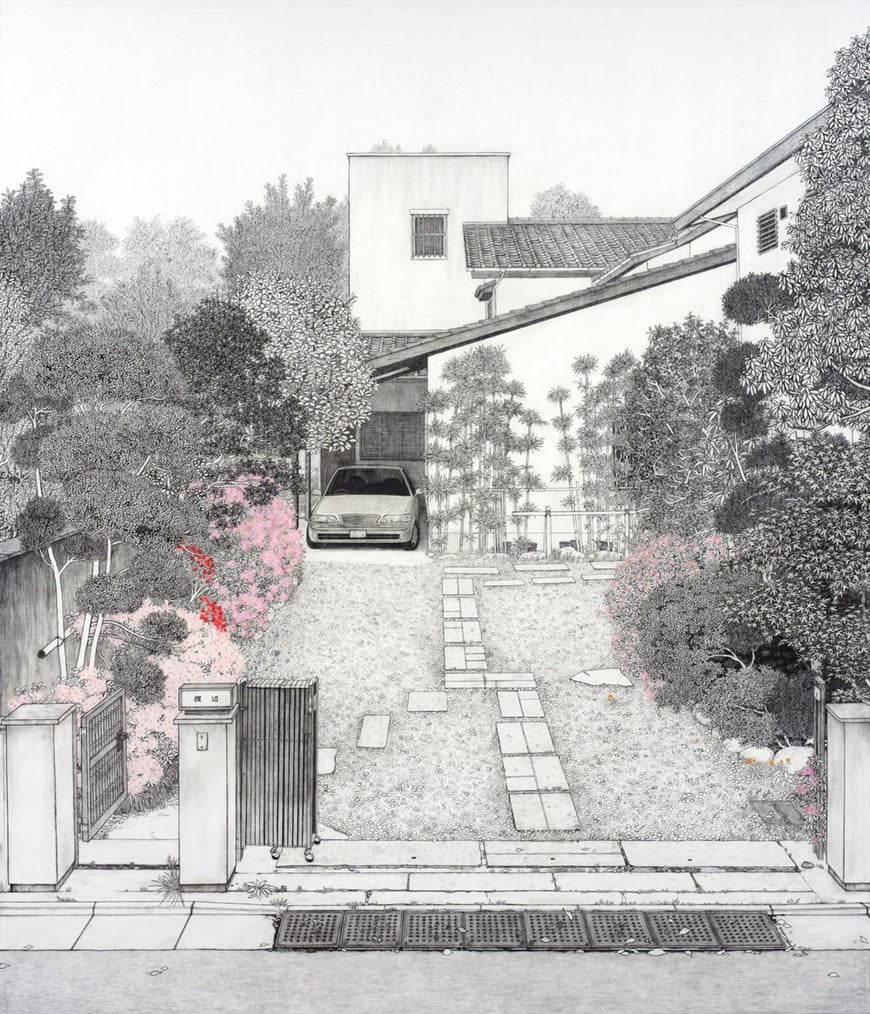 The Japan Pavilion at the 16th Venice Biennale of Architecture, Yukiko Suto, W House – Entrance Side 2010. Image © Yukiko Suto, Courtesy of Take Ninagawa, Tokyo
Architectural Ethnography, Japanese pavilion at the 16th Venice Architecture Biennale, curated by Momoyo Kaijima (Atelier Bow Wow), installation views; photos © Inexhibit
One of the drawings featured in The Japan Pavilion at  2018 Venice Architecture Biennale: image © Éva Le Roi
Two views of the "Yokocho" street reconstruction located on the ground floor of the Japan Pavilion; photo © Inexhibit
---
16th Venice Architecture Biennale 2018 – pavilions, program, events
16th Venice Architecture Biennale 2018 – pavilions, program, events
---
More in Venice
Venice
---
---
copyright Inexhibit 2019 - ISSN: 2283-5474