---
Le Corbusier
Architect, urban planner, visual artist, designer, writer. Though as famous in life as Albert Einstein, Charles-Édouard Jeanneret-Gris (1887 – 1965), better known as Le Corbusier, was a figure very different from what we call today a starchitect.
Born in La Chaux-de-Fonds, a Swiss town in the Jura region close to the French border, in all his life and work Le Corbusier always combined Swiss rigor with more than a bit of Mediterranean spirit, which he inherited from his Romandy's cultural background, admiration for classic and Renaissance art and architecture, and his familiarity with both Paris and southern France, the places where he lived during most part of his professional career.
This combination of different cultural influences – as well as why to define Le Corbusier simply "a master of rationalism" is far from thoroughly describe his personality – comes out, for example, in his post-war works and in most of his paintings.
Actually, the work of L-C mixes together what we call today "modernity", including in it also that technological revolution which characterized the first half of the 20th century, with a profound admiration for art history evident, for example, in the influence by Vitruvius and Leonardo da Vinci on the Modulor.
Le Corbusier, sketch for the Museum of Unlimited Growth, 1931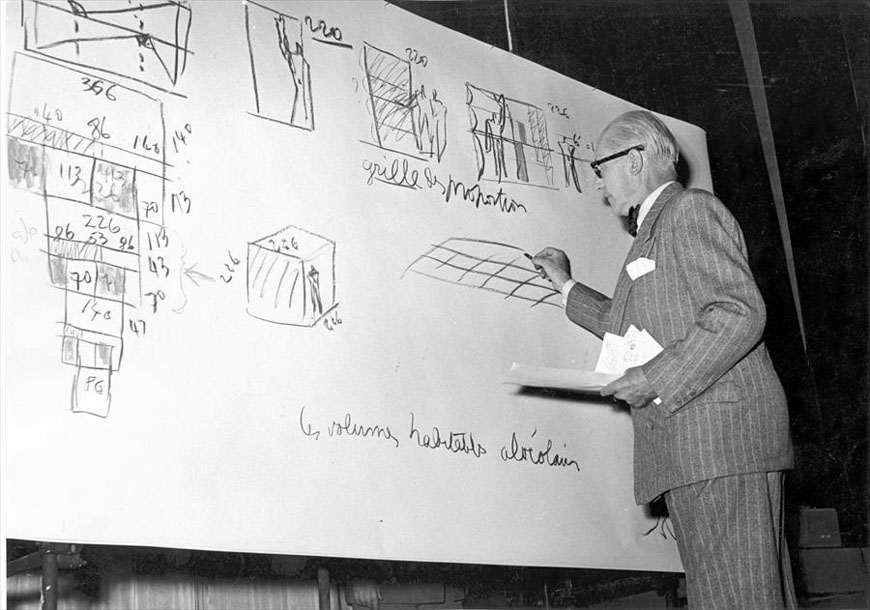 Le Corbusier presenting the Modulor at the Milan Triennale, 1951
Even the surname Le Corbusier (with its variant Corbu, and L-C), tells us something about his real character; the name derives from the French word corbeau (raven) and was actually an allusion to the physical appearance of its owner, gangly and hook-nosed, chosen by himself in the 20s as signature name for his writings and paintings. A touch of irony that perhaps not many expect from a stereotypical, serious Swiss architect. And I guess not many starchitects would accept to be photographed while painting totally naked or kicking time together with a local bartender and some fishermen in a hot summer day in southern France, these days.
Le Corbusier and Albert Einstein meet in Princeton, ca. 1946, F.L.C./ADAGP, Paris/Artists Rights Society (ARS), New York 2014
Le Corbusier, Thomas Rebutato and an unknown man in Rebutato's bar-restaurant in Roquebrune – Cap Martin © Fondation Le Corbusier / ADAGP – Photographer: Willy Boesiger
Currently, there are buildings by Le Corbusier open to the public in France, Switzerland, Germany, the United States, Argentina, India, and Japan.
This page focuses mainly on specific aspects of Le Corbusier's work; for example, by presenting all four museums completed after a design by him, including those rarely covered in other websites, and articles both permanent and temporary exhibitions dedicated the master from La Chaux-de-Fonds.
Cover photo: Gisèle Freund, "Le Corbusier, Paris" (1961) © Centre Pompidou, Guy Carrad © Estate Gisèle Freund/IMEC Images
Le Corbusier at the "plage du Buse" in Roquebrune-Cap-Martin, circa 1964, the architect died while swimming in the same place just one year later, on August 27, 1965; photo: Lucien Hervé © FLC/ADAGP
---
our articles about Le Corbusier
---
---
copyright Inexhibit 2019 - ISSN: 2283-5474