Norwegian Wild Reindeer Pavilion – Viewpoint Snøhetta
Place: Dovre
,
Country: Norway
Text by Riccardo Bianchini
Images courtesy of Snøhetta
Architects: Snøhetta
Client: Norwegian Wild Reindeer Foundation
Year: 2011 (completion)
The Viewpoint Snøhetta pavilion, view from the south-east with the Dovrefjell mountain range in the background. Photo © Ketil Jacobsen
Tverrfjellhytta, Norwegian Wild Reindeer Pavilion – Viewpoint Snøhetta
What is an exemplary design, in architecture? In my humble opinion, most times it is a project in which complexity magically becomes simplicity. A piece of architecture which makes designers say "it was so simple, why didn't I think of that?".
That's exactly what came to my mind when I first saw this small observation pavilion designed by Snøhetta in a remote natural park in Norway.
The pavilion's design was commissioned to Snøhetta by the Norwegian Wild Reindeer Foundation in order to create a small sheltered observation point and a meeting space for the visitors of the Dovrefjell National Park, about 350 kilometers / 220 miles north of Oslo.
The pavilion lies at 1,200 meters / 3,900 feet above sea level, at the end of a one-mile-long hiking trail, in an area which has a manifold significance for Norwegians.
The park, dominated by the mountain Snøhetta (not a pun), one of the highest peaks in Norway, is indeed a place of myths and legends connected to the Dovrefjell mountain range, which marks the separation between southern and northern Norway, it is also one of Europe's last retreats of the wild mountain reindeer.
Photo © Ketil Jacobsen
Photo: Mathias Sønderskov Nielsen
A pack of muskoxen resting near the pavilion in winter. Photo © Roger Brennhagen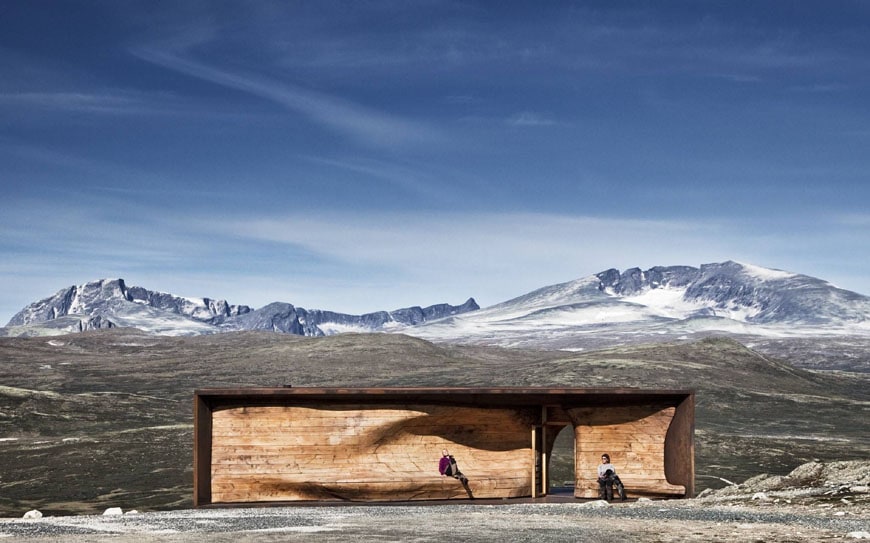 View from the south-east. Photo © Ketil Jacobsen
Completed in June 2011, the 970 square foot building, originally called Tverrfjellhytta
(mountain hut) and later renamed Viewpoint Snøhetta, rests on a small hill and has a north-south orientation so that one side "welcomes" people coming from the trail while the opposite overlooks the Dovrefjell mountain range.
The architectural concept is quite simple. A rigid iron box, open on the south-east and north-west sides, accommodates a fluid, organic-shaped core entirely made in timber. The curvilinear shape of the core becomes a meeting and seating area exposed to the sun on the arrival side, and a protected gathering and panoramic covered space on the opposite side.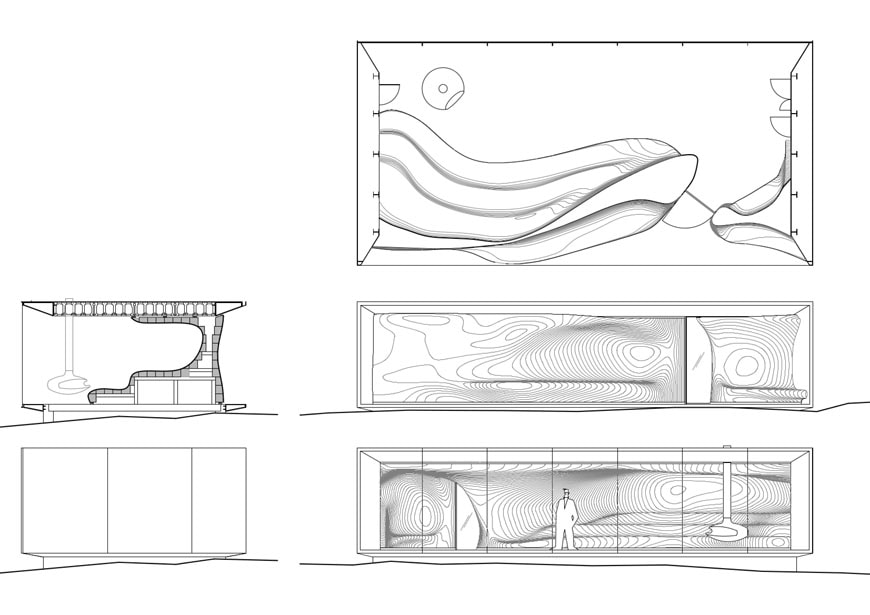 Plan, transverse section, and elevation drawings; courtesy of Snøhetta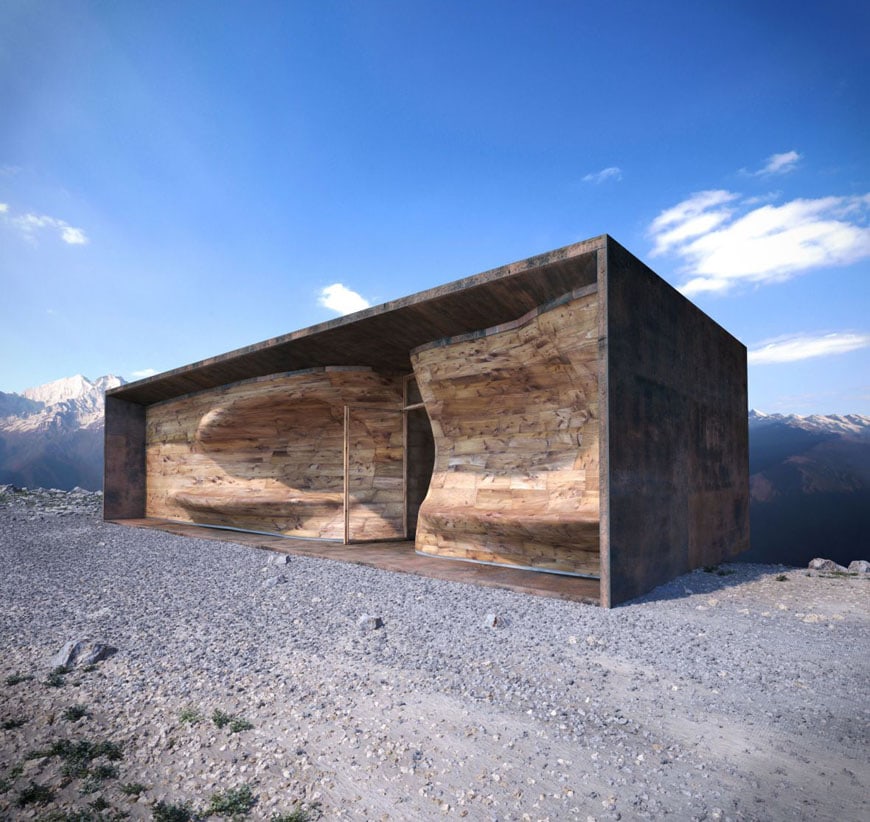 South-east facade of the pavilion; photo © Ketil Jacobsen
North-west facade. Photo © diephotodesigner.de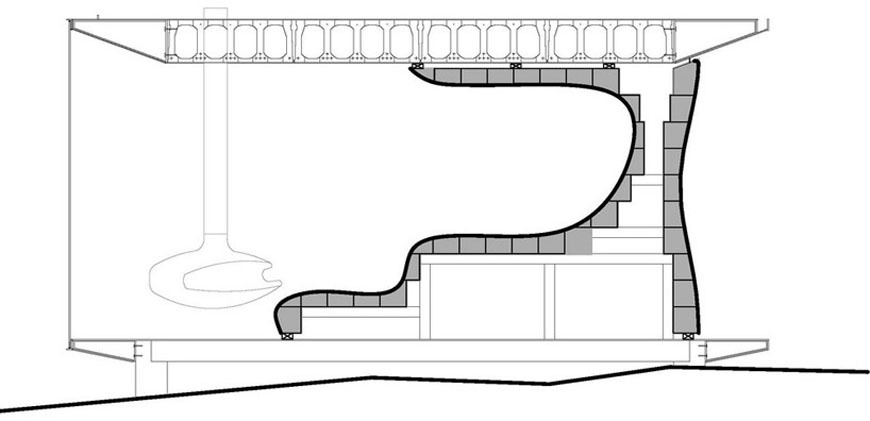 Typical cross section, courtesy of Snøhetta
The box is composed of a steel frame clad with rusted iron plates, while the undulate timber core is made with pine wood blocks pegged to one another and shaped to resemble a stone eroded by wind and water.
The blocks were made by cutting 10×10 inch square beams into curvilinear pieces with 3D CNC milling machines, and assembled through techniques inspired by those of traditional Norwegian shipbuilding.
The surfaces of the north and the south side of the wood core were treated in different ways. The south side, which is directly exposed to weather, has been treated with pine tar, while the northern, which is internal and protected by a glass facade, has been oiled. Oiling also gives the pine wood a warmer tint and silky finish.
South-east wood facade has been treated with pine tar. Photo: Mathias Sønderskov Nielsen
Interior view of the north-west side of the pavilion. Photo © Ketil Jacobsen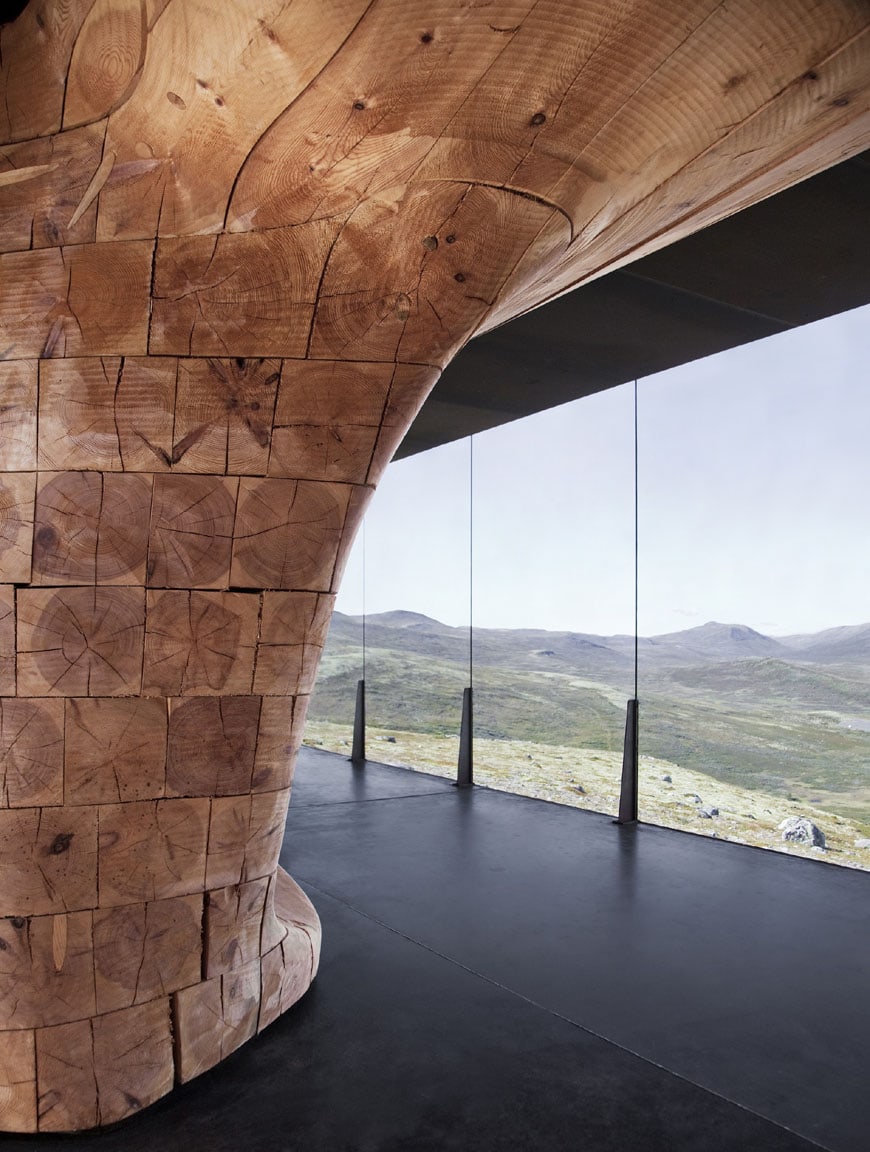 close-up view of the timber core in the interior of the pavilion. Photo © Ketil Jacobsen
A suspended fireplace was installed in the pavilion's interior space to warm it up during the cold season, further emphasizing its character of intimate and protected gathering and contemplation place.
Addendum
In a discussion on Reddit about this article, user Fergi reports a very interesting point, Craig Dykers, founding partner at Snøhetta, talked about during a talk at his alma mater. Dykers revealed that the steel fins at the glass breaks on the north-wast facade were a late addition. Indeed, they were added to reinforce the glazing after several panels were destroyed by muskoxen charging their own reflections.
Photos © Ketil Jacobsen
---
Wood Architecture & Design
Wood Architecture & Design
---
More about Snøhetta
Snøhetta
---
---
---
---
copyright Inexhibit 2019 - ISSN: 2283-5474