Milan | Future Flowers, an installation by Daniel Libeskind
Place: Milano
,
Italy
Event organized by Interni magazine and Mondadori
Future Flowers
Installation by Daniel Libeskind
for Oikos
Future Flowers, an installation by Daniel Libeskind

The lawn of the Farmacia courtyard at Milan University has been "invaded" by a sequence of red "blades" that composes the Future Flowers installation designed by Daniel Libeskind for Oikos.
Conceived for the "Energy for Creative" design and architecture program, Future Flowers is an ensemble of red colored aluminum blades, inspired by the graphic research Chamberworks Libeskind devised as an insight on the true essence of geometry and color. Chamberworks is a set of twenty-eight drawings, the Polish-American architect created in 1983 when he was head of the Architecture Department at Cranbrook Academy of Art in Bloomfield Hills, Michigan.
Daniel Libeskind, drawing from the Chamber Works series, 1983, images courtesy of Studio Libeskind
---
The name of the installation in Milan originates from Libeskind's idea to create an array of intersecting semi-gloss planes, based on a complex pattern of straight lines, whose global appearance somewhat evokes the visual impression, reflections, subtle shadows, and texture of an imaginary bed of intensely red colored flowers of a hypothetical future.
Color is indeed a key element in this installation, which features a particular red tint developed by the architect himself for Oikos and dubbed "Libeskind's red", with which the 1-kilometer-long aluminum blade set has been painted.
---
Future Flowers
Daniel Libeskind for Oikos
Università degli Studi di Milano
Cortile della Farmacia
13 April – 24 May, 2015
Daniel Libeskind, Future Flowers, installation views; all photographs © Inexhibit
---
---
More about Daniel Libeskind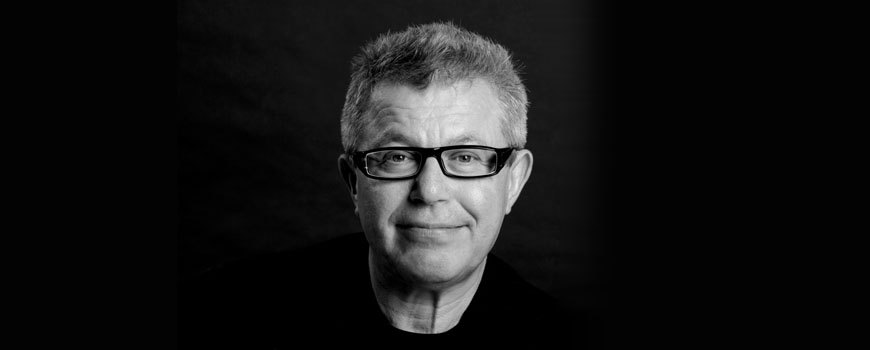 Daniel Libeskind
---
More in Milan
Milan
---
copyright Inexhibit 2023 - ISSN: 2283-5474