London | Yona Friedman – Serpentine Summer House 2016
Place: London
,
Country: United Kingdom
Architect: Yona Friedman, Paris
Client: Serpentine Galleries, London
Text by Riccardo Bianchini
All images courtesy of Serpentine Galleries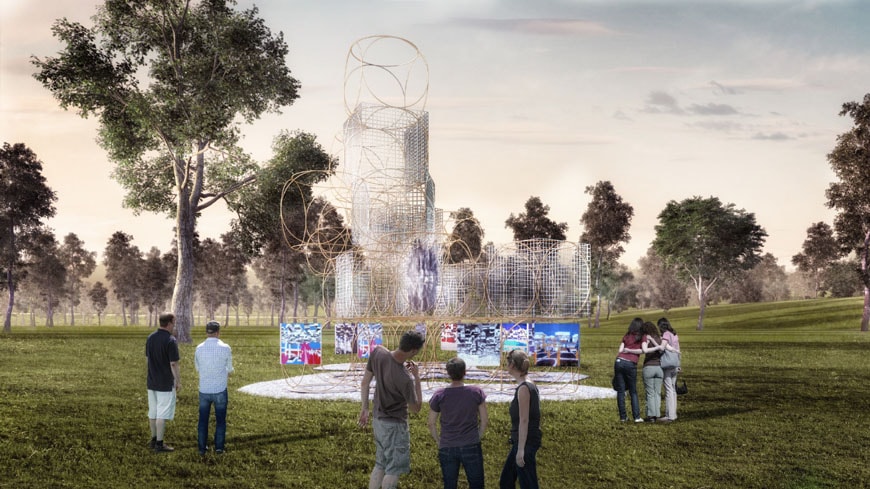 Serpentine Summer House 2016 designed by Yona Friedman; Design render © AECOM
Yona Friedman's Serpentine Galleries Summer House 2016
During his entire career, the work of Yona Friedman (b. 1923) has always been based on the belief that people shouldn't live in predefined dwellings, but rather in "housing of their own design". Therefore, the primary role of architects should be to conceive the conceptual and functional modular framework to support those distinct habitable units, to put them in a correct relationship with one another and, collectively, with the landscape where are situated.
Yona Friedman at work in Los Angeles, USA
This approach originates from the awareness that people will more and more move from a location to another many times in their lifetime – Friedman himself left Hungary for Romania to escape the Nazi persecution against Jews, then moved to Israel and finally to France in 1957 – and leaded to the concept of what he called mobile architecture, namely an architecture which "follows" its inhabitants rather than being fixed and predetermined by architects. This design framework was developed by Friedman in the 1950s and gave birth to his seminal project The Spatial City, a visionary grid-like mega-structure – elevated over the ground and accommodating dwellings, voids, and public areas – which "could enable the growth of cities while retaining the use of land"
Yona Friedman: Drawings of La Ville Spatiale, 1958; Courtesy Yona Friedman Archives, Paris
Yona Friedman: Drawings of La Ville Spatiale, 1958; Courtesy Yona Friedman Archives, Paris
---
The Summer House
Taking his cue from that visionary idea – in his Summer House for the Serpentine Galleries 2016 Summer program in Kensington Gardens, London – Friedman now replicates some of the fundamental concepts and geometric elements The Spatial City was based upon.
Indeed, his proposed structure is composed of an array of cubes, each defined by 6 circles 1.85 meters across and made with thin steel profiles, that can be assembled in different spatial and functional configurations.
Furthermore, some of these cubes can be converted into a modular showcase for artworks or natural elements by adding a polycarbonate enclosure, thus transforming the Summer House into what Friedman defines "essentially a movable museum and exhibition".
Serpentine Summer House 2016 designed by Yona Friedman; (10 June – 9 October); Photo © Iwan Baan
Photo © Iwan Baan
Photo © Iwan Baan
Yona Friedman vigne museum Livio Felluga winery Italy 2014, Photo by Jean Baptiste Decavel
---
---
Where is this? Find it through MYMUSEM search
Serpentine Gallery, London
The Serpentine Gallery at the Kensington Gardens, London, is one of the most important contemporary art centers and exhibition venues in the United Kingdom
---
Serpentine Sackler Gallery, London
The Serpentine Sackler Gallery is a contemporary art gallery in Kensington Gardens, London, refurbished and expanded by Zaha Hadid Architects
---
More in London
London
---
copyright Inexhibit 2023 - ISSN: 2283-5474