London | The "8th Continent" at Trafalgar Square
Place: London
,
Country: United Kingdom
Project by Luzinterruptus
Images courtesy of Luzinterruptus http://www.luzinterruptus.com/
London | The 8th Continent at Trafalgar Square – an installation by Luzinterruptus
The latest performance by Luzinterruptus was presented during the festival "Lumiere London 2016", which took place from January 14 to 17, 2016.
For years now, the Spanish art collective keeps on surprising us with their provoking site-specific installations, devised to attract the public attention on political and social issues, such as freedom of speech, consumerism, and the over-consumption of natural resources, particularly water.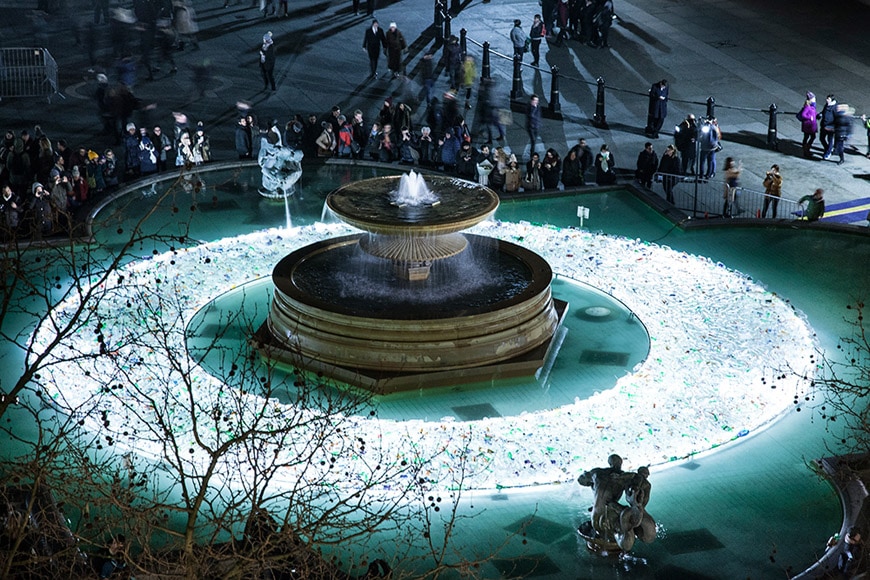 Water is indeed the subject of this installation in London, a re-edition at a urban scale of their project plastic island, conceived to  raise the attention of public opinion and Governments on the so-called "eighth continent"; the unbelievable, yet real, artificial island – slowly moving into the Pacific Ocean and made of trash, 80% of which is plastic – also known as The Great Pacific Garbage Patch.
Luzinterruptus says: "Governments remain passive before this situation either because they lack interest or because they are incapable to solve this problem. They are allowing this huge mass of about 4 million tons of more or less crushed plastic to shape about 22,200 kilometers (13,794 miles) of irregular surface which goes 30 meters (98 feet) deep under the water, and is destroying most of the marine wildlife in the area and transforming the ecosystem."
The hallmark of Luzinterruptus is the use of light, which in their installations – usually located in urban spaces and lasting only a few hours – has both a communication and symbolic function. In this work, particularly significant for the fame and popularity of the public space where it was installed, one of the famous fountains of Trafalgar Square was completely transfigured by a floating ring made of thousands of plastic bottles.
In their project report Luzinterruptus writes: " We initially thought about just filling the fountains with recycled bottles and have them illuminated by the monument's light – this was a quick, cheap solution without technical difficulties but, being such an emblematic space, inevitable technical problems came up so we finally decided to build doughnut-shaped self-illuminated round structures that were to hold the bottles inside, making them inaccessible to the public. They got us 13,000 recycled plastic bottles, many of which had to be thoroughly cleaned as they had been retrieved from trash containers. We also had to put the cap on them so they could float. We were able to fill the first fountain with all this material. For the second one, we asked visitors to give us their bottles. However, we did not get enough bottles so we gave up the idea of filling it, leaving the structure illuminated but empty. We didn't mind this too much and even found this emptiness appropriate…"
At the end of the performance, all bottles were removed and delivered to a plastic collection center for recycling.
Images courtesy of Luzinterruptus http://www.luzinterruptus.com/
---
---
More in London
London
---
copyright Inexhibit 2023 - ISSN: 2283-5474