The cycling revolution – Design Museum London
Place: London
,
United Kingdom
Design Museum
All images courtesy of Design Museum London
Design Museum; Cycle Revolution, installation view, photo by James Harris
The revolution of contemporary cycling at the Design Museum London
Content interaction and sharing are more and more becoming centerpieces of exhibition design and "active participation" by the visitors is now considered imperative by most curators. It has to be said that such an approach is as valuable as the subject of an exhibition relates to social behaviors and their rapid change.
This is exactly the case of "Cycle Revolution", the exhibition currently on view at the Design Museum in London. Given that a museum dedicated to today's design cannot be simply an exhibition of artifacts and everyday objects – it doesn't matter if the furniture, work tools, clothes, or vehicles – are actually meant to describe the transformations of contemporary society, such description is really effective only when objects are representative of people's behaviors and become part of a larger communication project, based on the direct involvement of the visitors.
Shots of professional cycling; photo by Emily Maye
Keim by Arvak bicycle
Cycle Revolution, which focuses on the new lifestyles connected to contemporary cycling, has been an occasion to invite the protagonists of such "revolution" to collaborate on the project. The exhibition, indeed, looks at the different sub-cultures of cycling from the points of view of four "tribes": the "High Performers" – competitive and athletic riders, the "Thrill Seekers" who look for extreme experiences in hazardous environments, the "Urban Riders", modern knights riding on two wheels across the city, and the "Cargo Bikers" who carry out their work on a bicycle.
Each tribe is represented by an advocate who embodies the corresponding lifestyle; for, example the representative of urban riders was selected in the Summer by the Design Museum through a contest entitled "The Ultimate Urban Rider".
Cargo bike advocate Lawrence Brand, photo by Porterlight Bicycles
Halfbike by Kolelinia, a brand founded by architects Martin Angelov and Mihail Klenov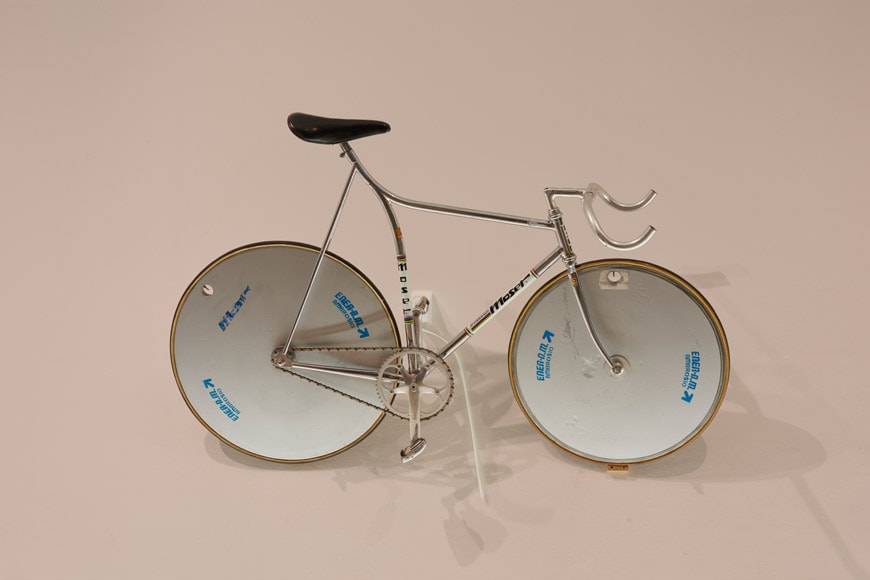 Design Museum; Cycle Revolution, installation views, photos by James Harris
On the occasion of the exhibition, the museum also imagined other modalities of visitor interaction, which include web events running on the Design Museum's social media channels – aimed to collect users' images related to cycling and provide answers to open questionnaires, initiatives, and assemblies like a "Cycle Culture" tour across London, and public presentations of the personal experience by individuals belonging to the aforementioned "cycle tribes".
Cycle Revolution showcases dozens of bicycles, special pieces belonging to famous cyclists, accessories and technical parts, as well as historic photographs and films.
Furthermore, the exhibition presents the experiences of some of the most innovative bicycle manufacturers and designers, depicts the highly-qualified skills behind the production of cycles, and features interviews with many of the protagonists of bicycle-making in the United Kingdom.
Design Museum; Cycle Revolution, installation views, photos by James Harris
Cycle Revolution
Design Museum – London
temporary exhibition
From November 18, 2015 to June 30, 2016
All images courtesy of Design Museum
---
---
More in London
London
---
copyright Inexhibit 2023 - ISSN: 2283-5474