Arte Sella | when art arises from Nature
Place: Borgo Valsugana (Trento)
,
Country: Italy
Associazione ARTE SELLA
President: Giacomo Bianchi
Artistic Direction: Emanuele Montibeller
Musical direction: Mario Brunello
Executive Board:Giacomo Bianchi,Giorgio Boneccher, Antonella Calliari, Miriam Gianesini, Emanuele Montibeller, Laura Tomaselli.
Text by Riccardo Bianchini, Inexhibit
Images courtesy of Arte Sella.
Photos by Giacomo Bianchi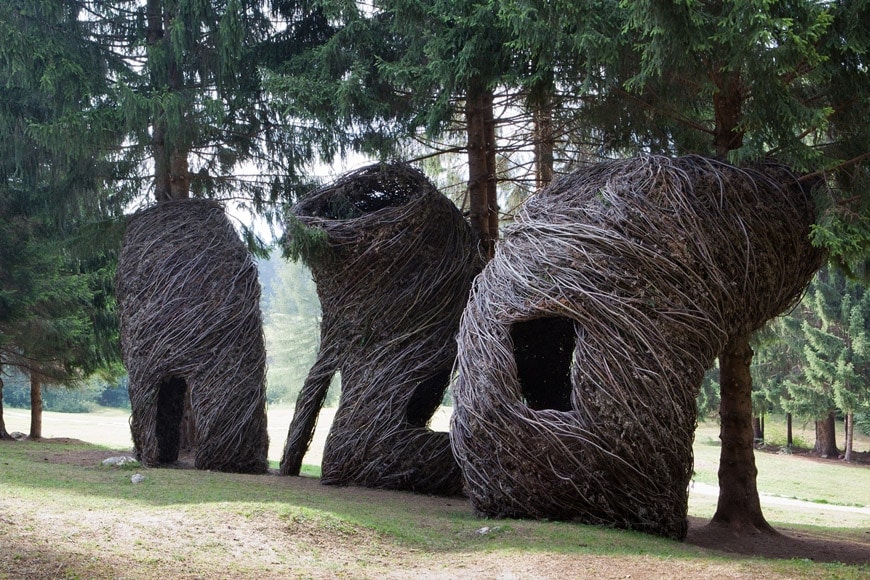 Patrick Dougherty, Tana Libera Tutti , 2011- copyright Arte Sella – Photo Giacomo Bianchi

Arte Sella | When contemporary art arises from Nature
The Arte Sella project has been created in 1986 in Trentino, northern Italy, as an alternative to mainstream contemporary art  networks, with the aim of promoting the relationship between Art and Nature. The project mission is to stimulate artists to make art both into Nature, encouraging them to form a creative alliance with the surrounding Alpine environment, as well as with Nature, by using materials directly collected in the local forest. Over time, Arte Sella has become a research and cultural centre of an International relevance, promoting various forms of creative expression including, along with fine arts, also music, performing arts, photography and literature.
Left: Anton Schaller, Rifugio , 2011 – copyright Arte Sella – Photo: Giacomo Bianchi
Right: Roger Rigorth, Drago , 2013 – copyright Arte Sella – Photo: Giacomo Bianchi
Left: Stuart Ian Frost, A fior di Pelle , 2012 – copyright Arte Sella – Photo: Giacomo Bianchi
Right: Gianandrea Gazzolai, Lo stilo – copyright Arte Sella – Photo: Giacomo Bianchi
The locations where the Arte Sella permanent exhibition takes place are quite far from the ordinary.
ArteNatura is an open-air itinerary spanning along a forest trail, etched into the side of the Mount Armentera, currently featuring 45 artworks, arranged into an "exhibition gallery" where the forest is the backdrop, the groundcover is the pavement and the only lighting source is the Sun. Do you want a seat? No stylish benches or sofas can be found here, but the trunk of a fallen tree could be used instead as an appropriate alternative. By walking along the exhibition itinerary, to glimpse the sometimes subtle presence of the artworks is like playing a game. Many of them are visually imposing and easily perceivable, while others require a more attentive quest to be discovered: huge woven nests resembling fairy dens, towers made of trunks, subtle traces made of cobblestones, "ghost" wolves. Nevertheless all works look like an intriguing kind of creatures living in the forest and having being part of it ever since.
Aeneas Wilder, no title – copyright Arte Sella – Photo Giacomo Bianchi
Roger Rigorth – Wassergehäuse – 2013 – Copyright Arte Sella –  Photo Giacomo Bianchi 
At the end of the trail, the visitors find another venue, Malga Costa, a restored alpine hut used as a permanent exhibition space in Summer. The fascinating artworks located in the building and its surrounding pasture were again conceived with a strong conceptual relationbship with the natural environment; among them, the Cattedrale Vegetale, realised by Giuliano Mauri in 2001 is truly impressive. Numbers can give an idea of this gigantic work:  three naves, 12 metres high, on an area of 1220 square metres; 420 columns; five-hundred brackets; three-thousand woven twigs form the Cathedral framework. Young hornbeams were planted inside the columns, which actually are working as supports for the growing trees until, within 20 years, they will be adult; over time the tree-bracing columns will erode, thus leaving only the trees as a memento of the Artist's work.
Giuliano Mauri, Cattedrale vegetale, 2001- copyright Arte Sella – Photo Giacomo Bianchi
A further venue, the Livio Rossi space, is located in the small town of Borgo Valsugana and since 2006 houses a permanent exhibition space, the Arte Sella central office, a library, a workshop, and educational art space for children and adults.
Roberto Conte, Cerca, 2012- copyright Arte Sella – Photo Giacomo Bianchi
Photo Inexhibit
---
Where is this? Find it through MYMUSEM search
Arte Sella
Arte Sella is an open-air art museum near Trento, among the best in Italy and probably in the whole Europe, which combines nature and contemporary art
---
You may also be interested in...
Gardens of Museums | Sculpture gardens
More in Trentino-Alto Adige/South Tyrol
Trentino-Alto Adige/South Tyrol
---
---
---
copyright Inexhibit 2019 - ISSN: 2283-5474