Venice | Modalities of spontaneous
Place: Venice
,
Country: Italy
Commissioner: Istanbul foundation for culture and art
Design and concept: Alper Derinboğaz
Animation: Candaş Şişman (https://vimeo.com/103460631)
Sound Design: Harun İyicil, Ferit Özgüner
Production Consultancy: Salih Küçüktuna
Digital Maps: Ahmet Ünveren, Zoe Georgiou, Metehan Cem Arabacı
Texts: Ömer Kanipak, Alper Derinboğaz, Enise Burcu Karaçizmeli

Text by Riccardo Bianchini, Inexhibit
Photographs: Italo Rondinella, Andrea Avezzu
Additional photo: Inexhibit
Alper Derinboğaz | Modalities of the Spontaneous
14th Architecture Biennale
Among the key-features of the pavilion of Turkey at the Venice Architecture Biennale (we cover it here), open until 23 November 2014, there is an interesting work by Alper Derinboğaz from Istanbul-based practice Salon Architects.
Derinboğaz's project, entitled Modalities of the Spontaneous, delivers a fascinating analysis of the past, present and future transformations of Istanbul's urban structure.
Starting from the idea that the Turkish largest city has grown "spontaneously" over time, Derinboğaz shows instead how the underlying geographic and socio-economic background shaped such evolution in the last 100 years and possibly will go on to do it in the future.
The exhibition is composed of a 3.15 minutes video and five CNC cut relief panels made in polyurethane and respectively entitled "Topography I and II as an Actor", "New Neighbors", "Concentric Fields" and "Topographic Passages", along with being explicative, all panels are also characterized by a noteworthy visual impact. The first two panels depicts how topography influenced the creation of the upper-class districts in the city, the third the evolution of the Levent neighborhood while on the last two Derinboğaz makes speculations upon how the forces behind the urban morphology of Istanbul could guide the future development of the city.
Pavilion curator Murat Tabanlıoğlu and project coordinator Pelin Derviş, remarked that "(Derinboğaz) project delivers a new way to read the stratification of Istanbul in terms of social and physical thresholds, ridge extending from Taksim to Levent; a bold attempt to decipher the codes of evolutionary character of Istanbul's urbanization adventure."
Photos by Italo Rondinella, Andrea Avezzu and Riccardo Bianchini
---
You may also be interested in...
Arsenale of Venice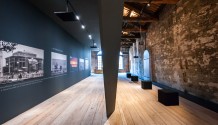 Turkey | 14th Architecture biennale
14th Venice Architecture Biennale | part 1
14th Venice Architecture biennale | part 2
More in Venice
Venice
---
---
copyright Inexhibit 2019 - ISSN: 2283-5474