Place: Place: Chedworth, Gloucestershire
,
Country: United Kingdom
Owner: National Trust
Architectural design and lead consultant: Feilden Clegg Bradley Studios
Tottenham Street, 20 London W1T 4RF
http://fcbstudios.com
Text and images courtesy of: Feilden Clegg Bradley Studios
Photos: John Dawson / FCBStudios / Integral Engineering / National Trust


Photo copyright John Dowson
"Whilst protecting the Roman remains at Chedworth Roman Villa the stunning buildings designed for the National Trust by Feilden Clegg Bradley Studios allows us to create a truly immersive experience and exceptional levels of access for our visitors."
Janet Gough, General Manager, National Trust
"We wanted the Roman archaeology to take centre stage."
Feilden Clegg Bradley Studios
Introduction by Riccardo Bianchini, Inexhibit
This article is focused on the project by Feilden Clegg Bradley Studios for the Roman Villa archaeological site near the village of Chedworth, in Gloucestershire, a site of an exceptional importance for the history of Roman Britain.
The remains of a large Roman villa, dating back to the 2nd century AD and progressively enlarged up to the 4th century, were accidentally discovered in 1864 by a gamekeeper and, since then, are representing one of the most important archaeological sites in England, managed from 1924 by the National Trust. Not many know that, not far from the villa there once was the second most important town in Britannia after London, Corinium Dobunnorum, now Cirencester. The Chedworth villa was probably a farm, lying in the fascinating landscape of the Cotswolds area.
This new building, refusing both the temptation to mimic the remains and that to create an extremely self-imposing architecture at the expense of the archaeological set, is indeed capable to perfectly deal both with the Roman  excavations and with the noteworthy landscape surrounding them. This alchemy is archived with a skilful approach to the architectural forms and to the museum programme as well through an accurate selection of the most appropriate materials.
The final results is a fascinating cultural site where great archaeology, lively educational activities, beautiful landscape and excellent architecture all converge in one single point.

Top: the Roman villa in the Cotswolds landscape, copyright John Dowson
Bottom: The Roman Empire in the 4th century AD, copyright Inexhibit magazine

Project description by Feilden Clegg Bradley Studios
In brief
Chedworth Roman Villa is a Scheduled Ancient Monument set within an Area of Outstanding Natural Beauty in the heart of the Cotswolds. The National Trust appointed Feilden Clegg Bradley Studios as Architects and Lead Consultants to conserve the archaeology and improve the visitor experience of one of Britain's largest Romano-British villas. The site includes over a mile of Roman walls, bathhouses, hypocausts, a water shrine and several mosaics thought to rival those in Pompeii.
Existing Victorian conservation sheds provided inadequate protection for the vulnerable archaeology. Plastic tents, erected as emergency cover from the weather, jarred with the rural surroundings. Access was also very outdated, making it extremely difficult for some visitors to view the mosaics.
Our new conservation shelter, following the line of the west range of the villa, now protects the most significant archaeological remains. A refurbished visitor reception building and a much-needed education centre have also greatly improved the visitor experience.
Photo copyright John Dowson
Concept
The site's rural setting, coupled with our unshakeable conviction that the Roman archaeology should remain the star of the show, inspired our formal and material approach to the new building.
We set out to create a building that provides a neutral, calm setting for the archaeology. Through rigorous detailed design, we worked hard to suppress distracting details – such as gutters and window frames – that might draw attention and represent a degree of visual "clutter".
Top: design Sketeches, copyright Feilden Clegg Bradley Studios
Bottom: photo copyright John Dowson

Context
Our masterplan showed that Victorian efforts at conservation on the site were outdated and that the early conservation shelters simply weren't providing sufficient protection. The National Trust wished us take a fresh look at interpretation and to provide new opportunities for learning and enjoyment.
The brief emphasised that the new buildings should add a new layer to the extraordinary history of Chedworth Roman Villa, from the laying of the first stone in the 2nd century to its rediscovery in Victorian Britain in 1864.
Now our £2.2m project is complete, the Roman remains are better protected by a new shelter in the form of a lightweight, wrapped volume, intentionally neutral and abstract in appearance. Alongside the new conservation shelter, the old Victorian visitor centre has been upgraded and works to the landscape have improved access and enhanced the setting of the villa.
Top: Siteplan, copyright Feilden Clegg Bradley Studios
Bottom: photo copyright John Dowson

Design approach
The new building sits lightly on the existing Roman foundations. The structure is assembled from a kit of parts and is held in place with optimally sized timber frames that didn't require fixings into the Roman masonry of the villa. It holds its own weight and can be easily demounted or adapted as future interpretation and conservation practices change.
An external timber "wrap" is expressive, quite simply, of shelter. It was important to avoid any suggestion of reconstruction of the Roman villa, and the new building boldly celebrates the juxtaposition of new and old.
Visitors are now able to access far more of the site than before, allowing the public to see significant stretches of mosaics for the first time since they were originally discovered. Suspended walkways hang from the trusses, further enhancing the visitor experience by allowing people to walk only a few inches above the floor mosaics, echoing the footsteps of their Roman ancestors.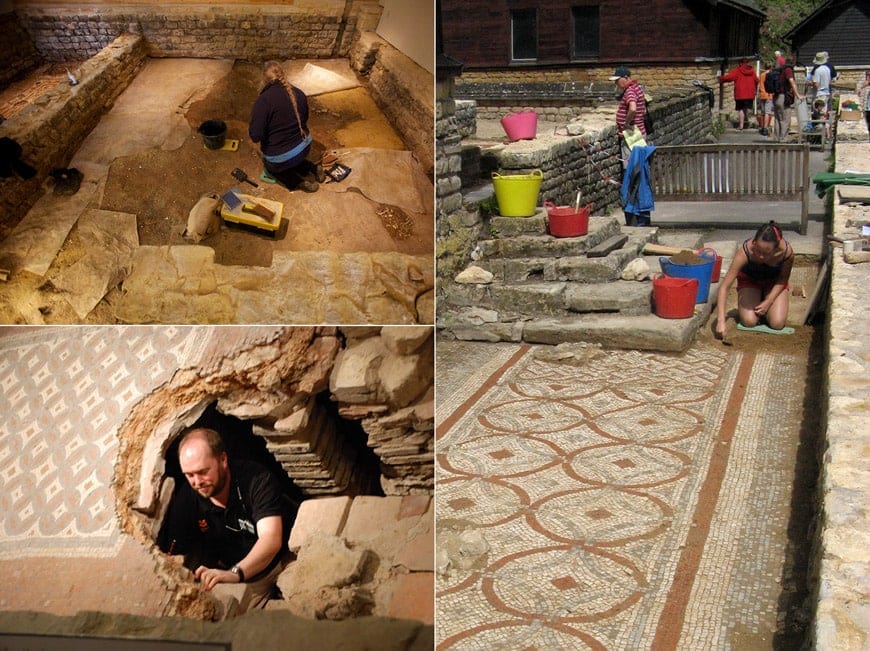 Top: photo copyright John Dowson
Bottom: photo copyright  Integral Engineering & National Trust
Materials
Lime mortar, limestone and timber were the principal connections linking new and old, with concrete limited to only a few historically unimportant places on the site.
The new shelter eliminates the environmental effects that were previously affecting the Roman mosaics with a weatherproofed, black single-ply membrane, clad in larch battens. These battens were sourced by the National Trust and will weather to a colour that harmonises with the local stone. They add a gently uneven texture to the façade and sit sympathetically within the beautiful surrounding landscape.
We implemented sliding timber panels on glazed sections to control solar gain, with carefully angled battens preventing low-level sun from damaging the mosaics. This helps provide a technically stable environment for the villa's archaeology while still enabling visitors to see clearly from both inside and outside the building. Mechanical dampers also maintain stable ventilation levels, allowing the building to "breathe" according to conservation needs.
Top: photo copyright John Dowson
Bottom: photo copyright National Trust

Sustainability
The glulam structure was made using European Larch grown in England, in order to limit the environmental impacts of transportation.  We framed the secondary infill to external walls in European FSC-certified softwood, using plywood sheathing externally for structural rigidity.
All elements of the timber cladding, including the timber "wrap", the sliding shutters, and weatherboarding are also of untreated European Larch, grown on the National Trust's estate in its managed forest at Ashridge in Hertfordshire. It was selected as a UK-grown timber species with suitable natural resistance to decay without the aid of preservative treatments and an estimated lifespan of forty years.
The new education centre re-uses the timber roof trusses and purlins of the two Victorian conservation shelters that we replaced. New, exposed elements forming part of this structure (notably, the columns) are of English Larch, which is stained to match the historic timber. Heating is generated through air source heat pump technology.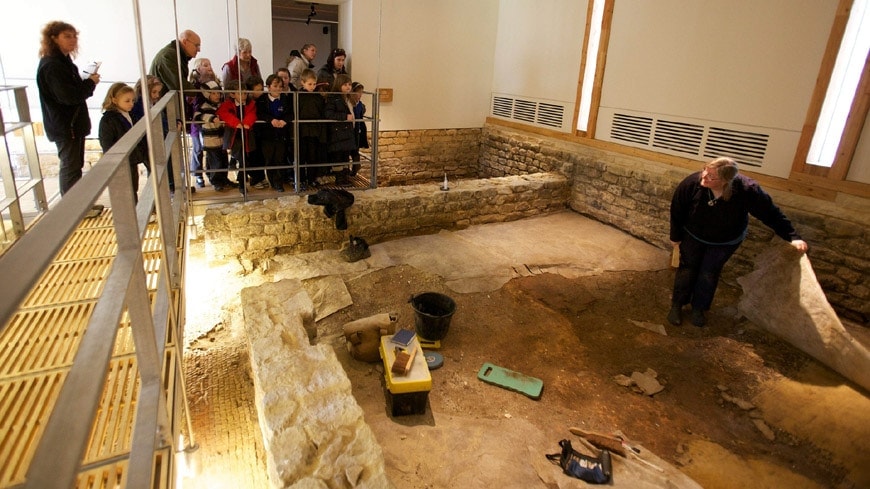 Top and bottom: photos copyright John Dowson
Photo copyright John Dowson
"Mentre al contempo protegge I resti della Villa Romana di Chedworth, il meraviglioso edificio progettato per il National Trust dallo Studio Feilden Clegg Bradley ci permette di ottenere un'esperienza coinvolgente e un accessibilità ideale per I nostri visitatori"
Janet Gough, General Manager, National Trust
"Volevamo che l'archeologia Romana fosse il vero protagonista"
Feilden Clegg Bradley Studios
Introduzione di Riccardo Bianchini, Inexhibit
Quest'articolo è dedicato al progetto dello studio  Feilden Clegg Bradley per il sito archeologico Romano di Chedworth, nel Glocestershire: uno dei più importanti luoghi  per la conoscenza della storia dell'Inghilterra, da quando i resti di una grande villa Romana – risalente al II secolo D.C. e progressivamente ingrandita sino al IV secolo – furono casualmente scoperti da un guardiacaccia nel 1864: da allora quello di Chedworth è considerato uno dei più importanti siti archeologici Inglesi e  dal 1924 viene gestito dal National Trust.
In epoca romana la villa di Chedworth era probabilmente una grande fattoria collocata nell'affascinante paesaggio collinare delle Cotswolds: va sottolineato che, non lontano da Chedworth, un tempo sorgeva la seconda città per importanza della Britannia, dopo Londra, Corinium Dobunnorum ora conosciuta come Cirencester.
Il progetto dello studio  Feilden Clegg Bradley è decisamente interessante sia per l'attenzione rispettosa al sito archeologico che per l'efficacia delle scelte formali e materiche operate.
Lontano da approcci di tipo mimetico così come da scelte formali fine a se stesse, il nuovo edificio, che ha funzioni conservative oltre che di servizio – in quanto centro divulgativo e didattico – si rapporta in modo discreto sia con gli scavi Romani che con la qualità del paesaggio circostante. Quest'alchimia viene raggiunta attraverso un abile approccio che coniuga i requisiti funzionali con le scelte  accurate dei materiali. L'esito complessivo è un luogo affascinante nel quale convergono i ritrovamenti, un insieme vivace di attività didattiche, le qualità paesistiche e l'architettura.

Sopra: la Villa con le Cotswolds sullo sfondo, copyright John Dowson
Sotto: l'Impero Romano nel IV secolo DC, copyright Inexhibit magazine

Relazione di progetto di Feilden Clegg Bradley Studios
Introduzione
La villa romana di Chedworth è un sito archeologico protetto, situato in un area di eccezionale qualità paesistica nel cuore dell'aerea delle Cotsworlds. Il National Trust ha incaricato lo studio Feilden Glegg Bradley del progetto architettonico volto a conservare i resti archeologici e a migliorare l'esperienza di visita ad una delle più grandi ville dell'Inghilterra Romana. Il sito conta oltre un chilometro e mezzo di murature romane, terme, ipocausti, una fontana e numerosi mosaici ritenuti al livello di quelli di Pompei.
I capanni protettivi costruiti in epoca Vittoriana non fornivano una protezione adeguata ai delicati resti archeologici. Le tende in plastica realizzate come protezione d'emergenza dalle intemperie mal si inserivano nel paesaggio naturale circostante e anche l'accesso al sito era  inadeguato, rendendo estremamente difficile ad alcuni visitatori la vista dei mosaici.
Il nostro nuovo edificio , collocato nell'ala ovest della villa, ora protegge la parte più significativa dei resti archeologici. Una nuova area d'ingresso e il centro didattico permettono ora un notevole miglioramento dell'esperienza complessiva della visita.
Foto copyright John Dowson
Concept
La collocazione rurale del sito, unita alla convinzione che l'archeologia Romana dovesse rimanere l'assoluta protagonista, hanno ispirato il nostro approccio formale e materico al nuovo edificio.
Abbiamo così deciso di realizzare un edificio che generasse un contesto il più possibile neutro. Attraverso una progettazione esecutiva rigorosa abbiamo cercato di eliminare tutti gli elementi – ad esempio canali di gronda e serramenti -  che potessero distrarre il visitatore e rappresentare un disturbo visivo.
Sopra: schizzi di progetto, copyright Feilden Clegg Bradley Studios
Sotto: foto copyright John Dowson

Il contesto
Il rilievo planimetrico ci ha mostrato che le opere realizzate in epoca Vittoriana a fini conservativi erano ormai inadeguate e che i ripari protettivi non fornivano più un l'efficacia necessaria. Il National Trust desiderava  che adottassimo un approccio nuovo al tema e fornissimo nuove possibilità di apprendimento e di visita.
Il committente voleva che il nuovo edificio aggiungesse un nuovo livello alla storia straordinaria della villa romana di Chedworth, a partire dalla posa della prima pietra nel II secolo dopo Cristo e dalla riscoperta nell'Inghilterra Vittoriana nel 1864.
Ora che il progetto, del costo di 2,2 milioni di sterline, è stato completato, i resti romani sono meglio protetti da un nuovo involucro rappresentato da un volume leggero, volutamente neutro e astratto nel suo aspetto. Oltre al nuovo involucro protettivo, anche il vecchio centro visitatori di epoca Vittoriana è stato riprogettato ed i lavori sull'intorno hanno migliorato gli accessi e l'inquadramento  paesistico della villa.
Sopra: Planimetria, copyright Feilden Clegg Bradley Studios
Sotto: photo copyright John Dowson

L'approccio progettuale
Il nuovo edificio si appoggia delicatamente sulle fondazioni romane esistenti. La struttura è formata da un insieme di parti prefabbricate, connesse da una griglia di elementi in legno di misura adeguata, in modo da non richiedere fissaggi diretti alle murature della villa. La struttura è autoportante e può essere facilmente smontata ed adattata alle eventuali future esigenze conservative ed interpretative.
Un involucro esterno in legno svolge in modo semplice ed espressivo le funzioni di riparo. Era per noi importante evitare di evocare una ricostruzione della villa Romana, così il nuovo corpo richiama invece una giustapposizione di vecchio e nuovo.
I visitatori ora possono accedere ad un parte assai più ampia del sito ed il pubblico può vedere  ampie parti di mosaico per la prima volta dalla loro scoperta.
Passerelle sospese alle travi migliorano ulteriormente l'esperienza della visita, permettendo alle persone di camminare  pochi centimetri al di sopra dei mosaici, quasi replicando i passi dei loro avi Romani.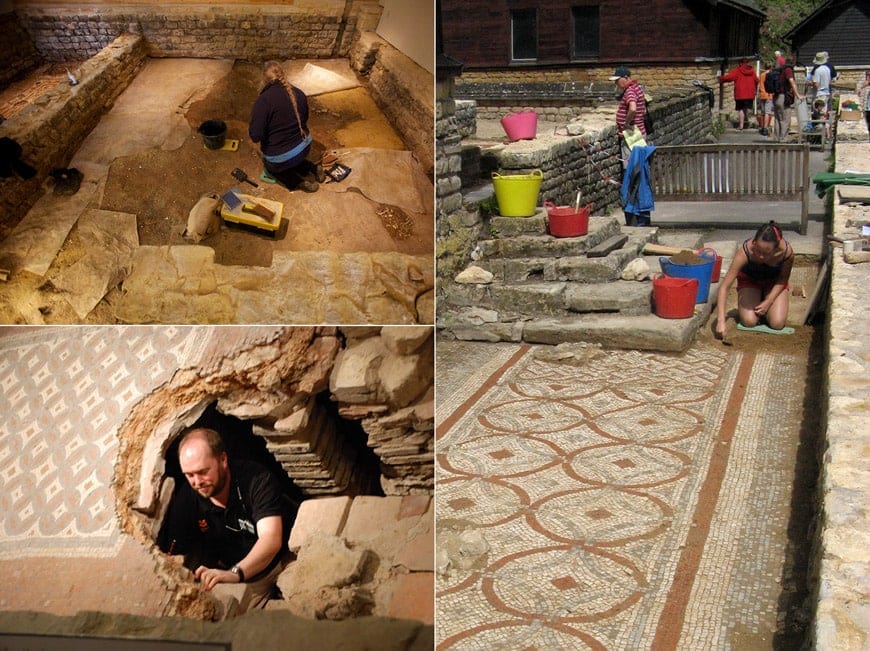 Sopra: foto copyright John Dowson
Sotto: foto copyright  Integral Engineering & National Trust
Materiali
Intonaco d'argilla, arenaria e legno sono stati i principali materiali scelti per collegare antico e moderno, con solo piccoli elementi in calcestruzzo per le parti meno rilevanti del sito.
Il nuovo involucro elimina gli effetti ambientali che in precedenza minavano i mosaici romani, adottando una membrana impermeabilizzante ricoperta da travetti in larice. Questi travetti sono stati forniti dal National Trust e, col tempo, acquisiranno un colore che si armonizzerà con quello dalla pietra locale. Essi danno una tessitura leggermente irregolare alla facciata e si accordano al bellissimo paesaggio circostante.
Abbiamo anche introdotto persiane scorrevoli in legno per le parti vetrate in modo da controllare il soleggiamento, studiati in modo da evitare che il sole basso sull'orizzonte potesse danneggiare i mosaici.
Questo aiuta di a mantenere condizioni climatiche stabili per le parti archeologiche pur permettendo ai visitatori di vedere dentro e fuori l'edificio. Un sistema di griglie meccanizzate mantiene livelli costanti di ventilazione, permettendo all'edificio di "respirare" in accordo con i requisiti di conservazione.
Sopra: foto copyright John Dowson
Sotto: foto copyright National Trust

Sostenibilità
La struttura in legno lamellare è stata realizzata usando larici di provenienza Inglese, così da ridurre l'impatto ambientale connesso al trasporto. I pannelli di tamponamento hanno struttura in legno dolce certificato FSC con le facce esterne in compensato. Tutti gli elementi di rivestimento in legno, incluse le persiane scorrevoli ed i rivestimenti esterni sono realizzati in larice non trattato, proveniente da alberi cresciuti nella foresta di  Ashridge nello Hertfordshire, di proprietà del National Trust. Sono stati scelti in quanto essenza autoctona che non richiede trattamenti protettivi, essendo naturalmente resistente agli agenti atmosferici con una durata d'uso prevista di 40 anni.
Il nuovo centro educativo riutilizza le travi in legno dei due edifici vittoriani che ha rimpiazzato.
Gli elementi nuovi della struttura, come le colonne, sono in larice Inglese, invecchiato in modo da accordarsi con il legno di recupero. Il riscaldamento è ottenuto attraverso una pompa di calore ad aria.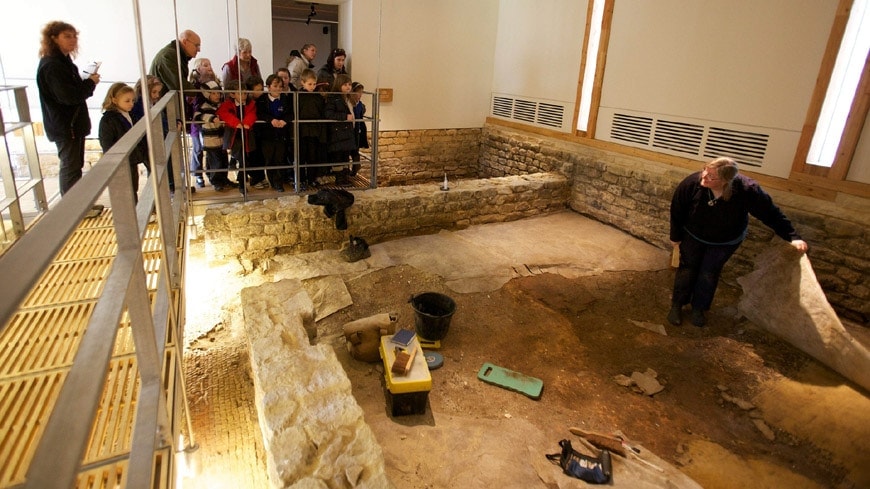 Sopra e sotto: foto copyright John Dowson
.
Thank you for reading us. The Inexhibit team