The Ettore Guatelli Museum – When objects talk
Place: Ozzano Taro (Parma)
,
Country: Italy
Museo Ettore Guatelli
Via Nazionale, 130
Ozzano Taro Collecchio (PR
http://www.museoguatelli.it/
Text by Federica Lusiardi, Inexhibit
Photos by Riccardo Bianchini, Inexhibit
Thanks to Fondazione Museo Ettore Guatelli
"The beauty of the everyday life events we have always neglected and their inner value that we have not recognized, they were disclosed to us by a simple man from the Parma's countryside. His name is Ettore Guatelli." (Werner Herzog, film director)
The Guatelli Museum, Ozzano Taro, Parma
For people believing that a museum's mission is something different from the simple act of preserving and storing findings and that a museum should be able to involve its visitors in a unique and fascinating experience, such kind of magic can be found in the Guatelli Museum of Ozzano Taro, a rural village close to the northern Italian city of Parma.
By entering the museum, you probably will feel literally overwhelmed by objects. Over 60,000 items fill every single inch of any available surface: ceilings, beams, walls, door recesses, window shutters, stairway steps, and landings. Perfectly aligned on shelves or accurately fixed to walls and ceilings, those objects create arabesques, waves, concentric circles and lines running after one another, following the ideas that guided Ettore Guatelli when building up this stunning narration.
The overall effect is that of a "cathedral for objects" made of humble things. Working tools like nails, hoes, pincers, hammers, shoe forms, wheels, and shovels or household goods such as mugs, clocks, glass vases, typewriters or tin cans; they are all displayed in dozens.
The objects have completely concealed the building walls, multi-color towers made of cans, clusters of clocks and bunches of mugs produce the effect of an accessible art installation, even more powerful in the smaller rooms of Guatelli's home. No objects are exposed as a single specimen but rather in a hundred samples, creating patterns that somehow remember the rocaille ornaments of a 16th-century grotto. But here, instead of shells, plaster stalactites or precious incrustations of nacre and gems, such ornaments are made of the humble objects that Guatelli collected throughout his life: disused things that so regain their dignity, used as the letters of an original alphabet aimed to narrate our everyday life.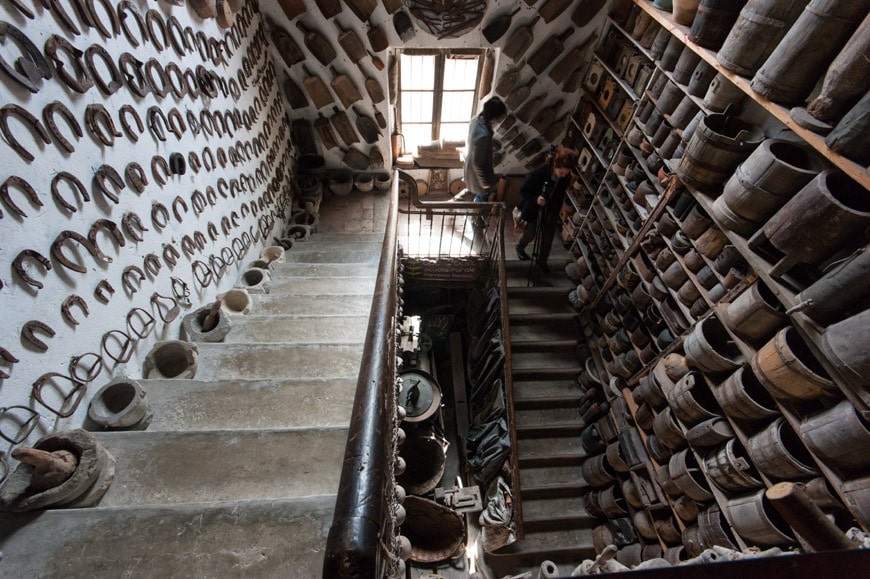 Ettore Guatelli
Ettore Guatelli was born in 1921 to a peasant family in Ozzano Taro, a small village near Parma.
Despite the humble conditions of his family and a sickly health, Ettore received higher education and became a school teacher. Afterward, Guatelli began collecting objects to use in his school lessons. A large number of various things soon invaded all the rooms in his home, where also other members of his family were living. This way, the clocks' room, the pottery landing, and the glasses' room, where once was Ettore aunt's bedroom, originated.
"Thank God, a man collected the rural culture objects and created the largest, the most important, the most interesting and, in my opinion, the most touching of all collections. This man was Ettore Guatelli that, throughout his entire life, has gathered pieces related to agricultural society as well as to peasants' everyday life and collected them with an EXCEPTIONAL open-mindedness without preferring one object to another, and established a museum near Collecchio, in Ozzano Taro." (Federico Zeri, art critic)
Photos by Riccardo Bianchini, © Inexhibit, 2014
---
You may also be interested in...
Museo Ettore Guatelli – Collecchio
---
---
copyright Inexhibit 2019 - ISSN: 2283-5474