MUSIL Rodengo Saiano – Museum of Industry and Labor – Brescia
Via del Commercio, 18
,
Rodengo Saiano
Lombardia
,
Italy
closed on: open Friday through Sunday (afternoon) Museum Type: Science & Technology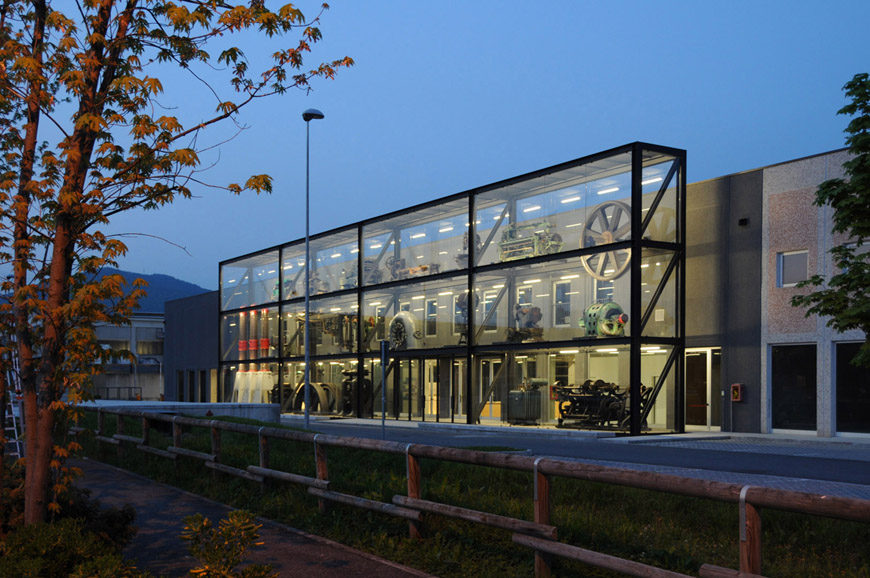 The MUSIL (an acronym for MUSeo dell'Industria e del Lavoro – Museum of Industry and Labor) in Rodengo Saiano is a museum of technology and industrial archaeology near Brescia, northern Italy.
---
Building
Opened in 2008, the Musil Rodengo Saiano is a quite unorthodox museum; it is indeed a research center, and a warehouse open to the public into which the collection of industrial tools and artifacts related to Italian industrialization of the Museum of Industry and Labor of Brescia, whose main building is currently under construction, is stored.
With a floor area of 3,500 square meters (about 37,000 square feet), the museum's building in Rodengo Saiano is a former retail store converted into an exhibition venue after a design by German architect Klaus Schuwerk.
As in a sort of "cabinet of curiosities", the objects are positioned on huge shelves, with the larger ones placed on the floor, organized into thematic sections.
The center also features a special section on film production and cinema equipment. A huge glass case, located on the entrance facade of the building and called Espositore Grandi Reperti (Display for Large Pieces), contains a selection of particularly significant artifacts from the Musil collections.
---
Collections
Dating from the early 20th century to the 1960s, pieces on view include historical vehicles, industrial machinery, original models of thermal power stations and thermonuclear power plants, film projectors, typographic printing machines, electric motors, forging presses, consumer electronic products, computers and calculators, advertising posters, films, photographs, technical manuals, and more.
Along with the storage space, the museum accommodates an entrance lobby, a multi-functional space for conferences and events, a small cinema, administration offices, a restoration workshop, a laboratory for the digitization of old 35 and 16 mm films, educational spaces, and a media library.
The museum is open without reservation all afternoons from Friday through Sunday; all other days of the week, the visit must be booked in advance (see contacts above).
---
Images
Musil Rodengo Saiano, exterior
Views of the warehouse/permanent exhibition
One of the meeting / education rooms
All photographs courtesy of Musil – Museo dell'Industria e del Lavoro, Brescia
Cover image: Musil Rodengo Saiano, entrance facade with the large glass case into which some of the most iconic objects from the museum's collection are on display
---
How our readers rate this museum (you can vote)
---
---
---
copyright Inexhibit 2022 - ISSN: 2283-5474