Galleria Nazionale d'Arte Moderna e Contemporanea – Rome
viale delle Belle Arti 131
-
Roma
Lazio
,
Italy
closed on: Mondays, January 1 and December 25 Museum Type:
Art
The Galleria Nazionale d'Arte Moderna e Contemporanea (National Gallery of Modern and Contemporary Art, sometimes called simply La Galleria Nazionale) is a museum in Rome dedicated to 19th and 20th century art.
---
History and building
The Galleria Nazionale d'Arte Moderna e Contemporanea of Rome was founded in 1883 to celebrate the then recent unification of Italy. Initially housed in the Palazzo delle Esposizioni, in 1915, the gallery moved into the Fine Art Pavilion – built for the 1911 Rome International Art Fair after a design by architect Cesare Bazzani –  close to the Villa Borghese and the National Etruscan Museum.
With a view to create a "temple of the arts", Bazzani designed a neoclassical building consisting of a monumental stairway, an entrance portico, a central structure and two side wings. Bazzani also adopted creative architectural solutions; for example, the generously-sized rooms of the pavilion are naturally lit from above by an array of skylights and provided with large glazed openings on all sides thus offering beautiful views towards open-air gardens and courtyards, and creating an unbroken visual relationship between interior and exterior space.
The architectural complex of the museum currently encompasses, along with the older building, a back wing also designed by Bazzani in 1933, and a pavilion, unfortunately still uncompleted, designed by Luigi Cosenza in 1973 to accommodate the museum's collection of contemporary art.
A project to replace Cosenza's pavilion was developed in 2000 by Swiss architects Diener & Diener, but never built. In 2016, the Galleria Nazionale Director Cristina Collu announced an ambitious 15 million euro project aimed to restore and complete the pavilion, with a view to eventually open it to the public in 2019.
Galleria Nazionale d'Arte Moderna e Contemporanea, Rome, entrance portico; photo source: Rome Today
---
Collection and semi-permanent exhibition
The modrn and contemporary art collection of the Rome's Galleria Nazionale d'Arte Moderna e Contemporanea, one of the largest in Europe, consists of about 4000 paintings and sculptures, as well as 13000 works on paper, dating from the early 19th to late 20th century.
The collection comprises pieces of art by some 170 Italian and international artists, including Umberto Boccioni, Joan Mirò, Lucio Fontana, Felice Casorati, Carlo Carrà, Piero Manzoni, Vincent Van Gogh, Alberto Burri, Antonio Canova, Osvaldo Licini, Man Ray, Giuseppe de Nittis, Amedeo Modigliani, August Rodin, Michelangelo Pistoletto, Georges Braque, Giacomo Balla, Gustav Klimt, Alberto Magnelli, Giorgio de Chirico, Giovanni Segantini, Jackson Pollock, Giuseppe Capogrossi, Renato Guttuso, Silvestro Lega, Medardo Rosso, Joseph Cornell, Dante Gabriele Rossetti, Edgar Degas, Giovanni Fattori, Vanessa Beecroft, Max Ernst, Claude Monet, Paul Cézanne, Piet Mondrian, Hans Arp, and Gustave Courbet.
Entitled Time is Out of Joint, the semi-permanent exhibition on view in the Galleria Nazionale until April 15, 2018 features about 500 works of art – including pieces on loan from public museums and private collections – arranged in a neither in a chronological nor in a thematic sequence, but based on free associations.
The concept behind the exhibition is to create a dialog between artworks on view and the museum's architecture into which "pieces of art move freely into a sort of anarchy which, following a female tradition which I deem I belong to, is not disorder while something that comes before rules".
Interior view of the Galleria Nazionale; photo: Fernando Guerra
---
Programs and services
Along with temporary exhibitions, the Galleria Nazionale hosts seminars, lectures, special projects, open contests, educational programs, and workshops for children and teens.
The gallery's building is completely accessible to physically impaired people.
---
Image gallery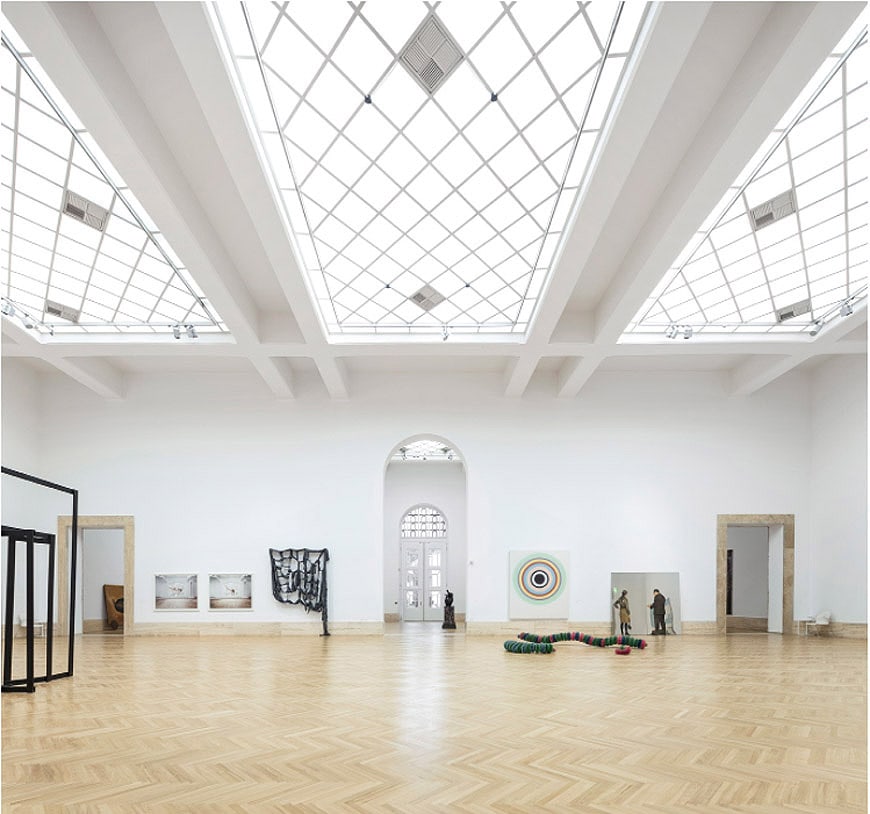 Interior views of the museum's galleries; photos: Fernando Guerra
Time is Out of Joint, installation view; photo: Giorgio Benni
A children's workshop; photo courtesy of La Galleria Nazionale, Rome
Gustav Klimt, The Three Ages of Women (Die drei Lebensalter einer Frau), 1905, oil on canvas; photo: Jean-Pierre Dalbéra
Paul Cézanne, Le Cabanon de Jourden, 1906, oil on canvas; photo: Martin Beek
Lucio Fontana, Concetto Spaziale – Attese, 1961, waterpaint on canvas; photo: Nicolas Vadilonga
Cover image: Galleria Nazionale d'Arte Moderna e Contemporanea, Rome, exterior view; photo: Byron T.
---
---
What do you think of this museum?
---
More in Rome
Rome