The first mobile Volo-Port for air taxis designed by Graft Brandlab
At the Greentech Festival in Berlin, (May 2019) Skyports and Volocopter announced a cooperation to build the first mobile Volo-Port for air taxis.
The German air taxi company Volocopter developed the first fully electronic vertical take-off vehicle that flies autonomously and is accordingly ideally suited for use in urban areas.
Together with GRAFT and Arup, the Berlin agency GRAFT Brandlab won the design competition for a modular vertiport concept.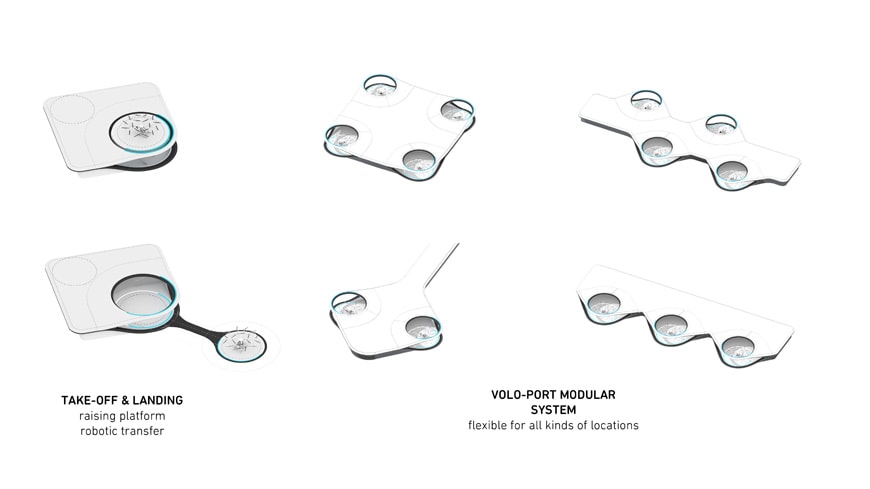 above: Graft brandlab, modular vertiport concept, modular and typological diagrams
The design concept of the Volo-Ports combines lounge, security and departure areas with a hydraulic landing platform that makes it possible to board the Volocopters sheltered from the weather. The result is a flowing space that carefully orchestrates the passengers' experience and contributes to promoting acceptance of three-dimensional passenger transport.
The modular Volo-Ports make it possible to seamlessly integrate this new form of passenger transport into existing urban infrastructure. Possible implementation scenarios include railway stations, airports and unused roof surfaces as well as floating Volo-Ports mounted on pontoons, utilising the free air corridors over rivers and other water surfaces.
Construction of the first Volo-Port will be completed in Singapore later this year.
Graft Brandlab Volo-Port, renderings
About GRAFT
GRAFT was founded in 1998 in Los Angeles by Lars Krueckeberg, Wolfram Putz and Thomas Willemeit. With additional studios in Berlin and Beijing, the hybrid office works around the globe in the fields of architecture, urban development, design and communications and is known for its experimental and multi-disciplinary design approach. Since its founding, the office has undertaken self-initiated projects alongside design commissions, including the SOLARKIOSK and its work as a founding partner of the Make It Right Foundation and with Heimat2.
In 2014, GRAFT's partners founded GRAFT Brandlab together with Linda Stannieder, a communications agency working at the intersection of architecture, design and branding.
Images courtesy of Graft
www.graftlab.com
---
---
---
copyright Inexhibit 2020 - ISSN: 2283-5474