Contemporary craft: some of the 30 finalists of the 2020 Loewe Craft Prize
Contemporary craft: some of the 30 finalists of the 2020 Loewe Craft Prize
Inexhibit publishes the most intriguing works chosen among the 30 finalists of the annual Loewe Craft Prize.
Recently, the jury selected the finalists for the 2020 edition of the prestigious award, and the overall winner will be announced on May 19th. The announcement will be followed by an exhibition of all the works, that will be set up at the Musée des Arts Décoratifs in Paris.
The finalists, hailing from 18 different countries, ranging from newly emerging artists to esteemed leaders in their fields. This year's finalists were chosen by a panel of experts from 2,920 total submissions.
The aim of the Loewe Craft Prize is to disseminate and raise awareness of the work of talented craftspeople, sharing their greatest achievements. The Loewe Foundation aims to support artistic craft and acknowledge leading artisans from around the world at the forefront of their fields. The winning work should reinterpret tradition to make it relevant now and demonstrate the continuing valuable contribution to the culture of our time.
The Prize for the winning piece of work is fifty thousand euros.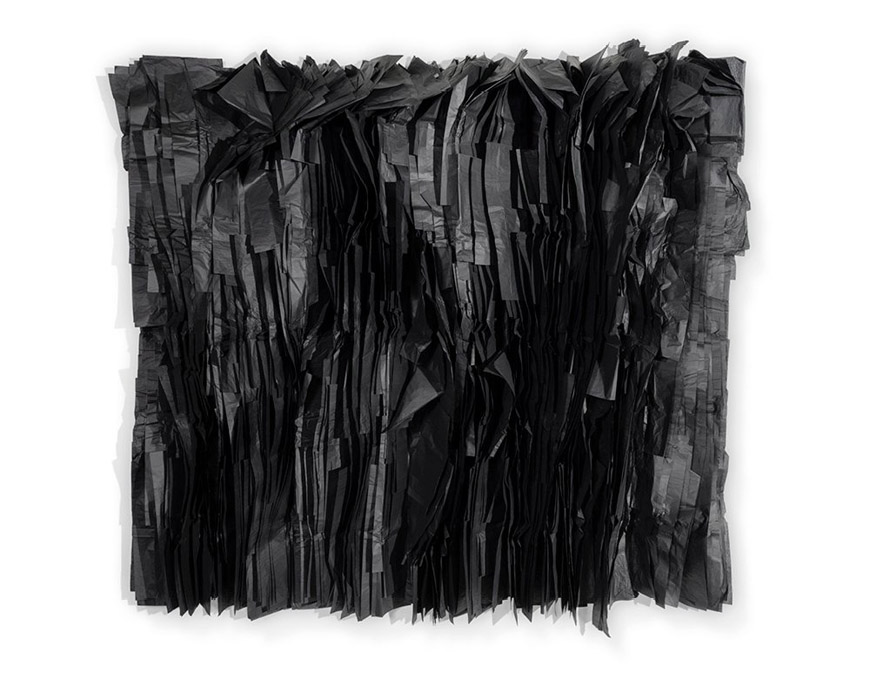 above: Joël Andrianomearisoa, (Madagascar), 'The Labyrinth of Passions'
Materials: Silk paper
Wall sculpture made of strips of black silk paper.
above: Kyeok Kim (Republic of Korea), 'Second Surface'
Materials: Copper wire and gold leaf
Large, web-like sculpture delicately crocheted from copper wire.
above: Sungho Cho, (Republic of Korea), 'Transition of Traces'
Materials: Silver 925
Series of vessels. Thin sheets of silver are cast in a beeswax-lined mold and soldered together.
above: Takayuki Sakiyama, (Japan), 'Chōtō: Listening to the Waves'
Materials: Stoneware
The carved and rippling surface pattern of this stoneware vessel reflects the ebb and flow of the ocean waves.
above: Tobias Møhl (Denmark), 'Black Twill Collection'
Materials: Glass and wood
With this series of vessels, Møhl brings a contemporary Scandinavian design to the 17th-century Venetian glass blowing technique.
above and cover image: Yang Gao, (China), 'Dandelion'
Materials: Bamboo
This piece of furniture is made entirely of the ends of bamboo sticks, meticulously layering each one, to create a form resembling dandelions.
---
---
You may also be interested in...
---
copyright Inexhibit 2021 - ISSN: 2283-5474