Paris | The 5th annual Paris Design Week – 5/12 September, 2015
By FEDERICA LUSIARDI - 2016-08-29
The 5th edition of Paris Design Week takes place in the French capital city from 5 to 12 September, 2015.
For 8 days, Paris welcomes design professionals and enthusiasts by offering a rich program of exhibitions, meetings, installations, special itineraries, and night events.
Above :The bouquet factory explodes, Patrick Nadeau © Maxime Duché.
The installation by Patrick Nadeau is located at "la Rotonde", a building designed by Claude Nicolas Ledoux. La Rotonde, 6-8 place de la Bataille de Stalingrad, Paris (19th arr.)
Above: Furniture designed by Jean Nouvel Design for Y's Yohji Yamamoto.
Y's Yohji Yamamoto, 25 rue du Louvre, Paris (1st arr.)
Above: Screen-shots from the documentary "La Ville durable made in France", Home et Images Productions. The documentary(52 minutes) presents a research on sustainable cities in France.
Publicis Drugstore, 133 avenue des Champs-Elysées, Paris (8th arr.)
Home furniture, design, architecture, fashion, food: Paris Design Week is an itinerary across the proposals of about 300 participants, a map of contemporary creativity marked by galleries, showrooms, hotels and restaurants. For this year's edition, four "districts" have been identified as point of reference:  SAINT-GERMAIN-DES-PRÉS; OPÉRA/CONCORDE/ÉTOILE; MARAIS/BASTILLE; BARBÈS/STALINGRAD. Furthermore, exhibitions and installations take place in museums and landmarks across Paris, such as at "La Rotonde", and at  "Les Docks – Cité de la Mode et du Design" which hosts the young talents' exhibition "Now! Le Off", with proposals by designers from all over the world.
Above:"Now! Le Off", Meduza hanging lights, Olga de Sign © all rights reserved.
Below:"Now! Le Off", left: Aurélie Hoegy, Dancers, © Aurélie Hoegy;  right: Projet S table and bench, Jules Levasseur © Jules Levasseur, co-winners of the jury prize at the Rado Star Prize 2015 competition.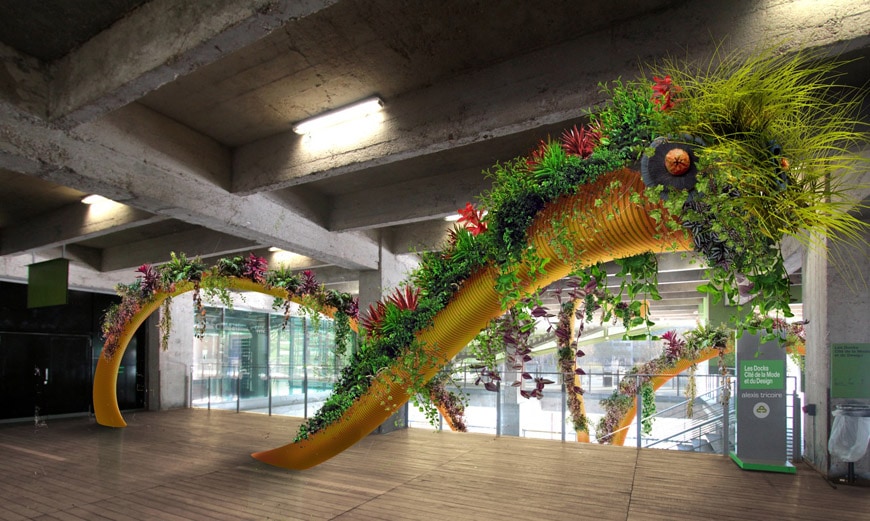 Above:The work « Le dragon à deux têtes » by Alexis Tricoire, installed in the lobby of "Les Docks – Cité de la Mode et du Design". Below: Exterior view of "Les Docks – Cité de la Mode et du Design".Photo © Nicolas Borel.
Paris Design Week
5/12 September, 2015.
http://www.maison-objet.com/en/paris-design-week
---
---
---
More in Paris
Paris
---
---
---
copyright Inexhibit 2019 - ISSN: 2283-5474