"Our Urban Living Room"- Cobe's projects for Copenhagen – on view in Berlin
"Our Urban Living Room" – Cobe's projects for Copenhagen on view in Berlin
Copenhagen is undoubtedly the European city that in the last 30 years has been able to meet the challenge of change, transforming itself from post-industrial capital to one of the most livable cities in Europe, and establishing itself at the forefront of sustainable urban development.
This virtuous model of development is featured in the itinerant exhibition "Our Urban Living Room" (hosted until 29 April 2020 at the Aedes Architekturforum in Berlin) through the work of the architectural Danish firm Cobe, founded by Dan Stubbergaard in Copenhagen in 2006.
"Our Urban Living Room" collects some of the projects carried out in the Danish capital over the past 13 years, including the urban space Israel Plads, the residential highrise The Silo, the Frederiksvej Kindergarten, and the Nørreport Station.
'Our city is our home, and that quality is what underpins the success of Copenhagen today.
The more we care for it – as architects, but more importantly as Copenhageners ourselves – the better we will treat it. The better it is designed, the more people will want to live well in our city and take pride in it. This is not a matter of beauty, elegance or wealth, but a story of social liveability and urban democracy,' says Dan Stubbergaard, architect and founder of Cobe.
Above and cover image: "Our Urban Living Room", Aedes Architekturforum', Berlin, installation views. Photos: Rasmus Hjortshøj – COAST. Courtesy of Aedes Architecture Forum, Berlin
above: Israel Plads – Copenhagen (2008-2014), Cobe and Sweco Architects.
Photo © Rasmus Hjortshøj – COAST. Courtesy of Aedes Architecture Forum, Berlin.
Above: Israel Plads – Copenhagen (2008-2014)
Israels Plads somehow reflects the evolution of Copenhagen: from the market place it became a parking lot in the 1950s. Architectural firm Cobe conceived the new public space as a raised carpet under which a parking lot is hidden.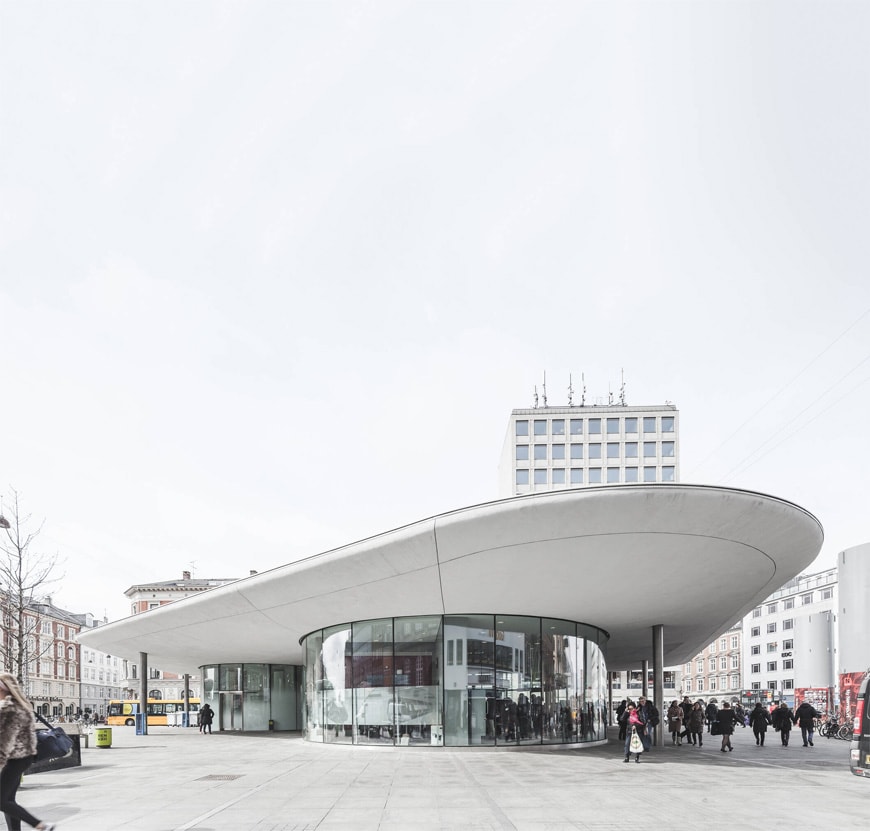 Above: Nørreport Station – Copenhagen (2009-2015)
Denmark's busiest railway station, with over 250,000 people crossing it every day, is now a welcoming public space designed with particular attention to the needs of pedestrians and cyclists. The new station is composed of a series of rounded, floating roofs, mounted on distinctive glass pavilions.
Courtesy of Cobe (https://www.cobe.dk/place/norreport-station)
"Our Urban Living Room"
until 29 April 2020
Aedes Architecture Forum
Christinenstr. 18-19, D-10119 Berlin
https://www.aedes-arc.de/cms/aedes/en
---
---
You may also be interested in...
Ragnarock museum – Roskilde
---
More in Berlin
Berlin
---
copyright Inexhibit 2020 - ISSN: 2283-5474