NYCxDESIGN 2017 | Dutch designers at WantedDesign Manhattan
By FEDERICA LUSIARDI - June 8, 2017
From 20 through 23 May, 2017, seventeen of the most talented Dutch designers will share their vision in a group exhibition entitled "Human Nature" at "WantedDesign Manhattan" during NYCxDESIGN 2017.
Cover: Renate Vos, concrete floor-table lamps. Ph by Siska Vandecasteele.
In the exhibition Human Nature the designers communicate their hopes and fears in response to a rapidly changing world: the works demonstrate a wish to interact, to connect and to grasp time. Through the crafting hands of the designer a moment of mutual recognition is created ; products, materials and technologies are deployed to make a gesture of solidarity, ultimately revealing the designers' human nature.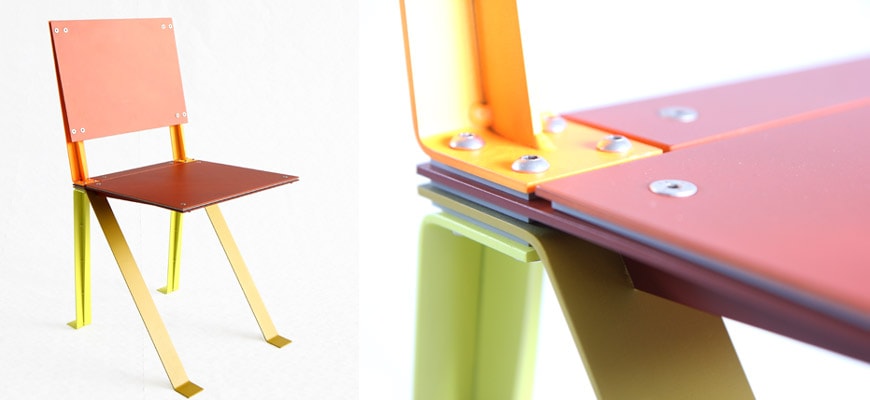 Dimitri Kruithof, Layers coloured chair. Ph. by Dimitri Kruithof
Three themes are developed within the exhibition.
Manmade By Machine: Technology is embraced as a tool to advance our human language, helping designers to convey their thoughts on a completely new level. The natural and the manmade are fluently combined to achieve a new state of matter, letting the audience forget about the manufacturing method all together. Instead, the works within Manmade By Machine arouse wonder and curiosity.
With works by: Design Studio Martens & Visser, Envisions, Studio Plott and more.
Design Studio Martens & Visser, Reflecting Holons. Photo by Bollmann 
Left: Envisions – Iwan Pol. Photo by Ronald Smits
Right: Envisions – Thomas Trum. Photo by Ronald Smits
New Nature: What will the future nature look like? Designers challenge natural processes to behave within human set boundaries and use actual natural phenomena as a tool to create a design. New Nature shows us how designers are eternally inspired by nature, even as the boundary between what is manmade and nature-made is fading.
With works by: Isaac Monté, Aliki van der Kruijs, Renate Vos and more.
Renate Vos: Loev lamps. Ph by Dani Smulders.
Extra Ordinary: By zooming in on everyday human rituals, experiences, objects and materials, the ordinary can be turned into something magical. A glittering installation playfully invites us to become aware of ourselves, our presence and our movement. Eccentric tableware reminds us about the processes that happen in our bodies when we eat. A cheap material turns into the star of the show through clever craftsmanship. Extra Ordinary shows us the unique strength of the designer: seeing the spectacular in the daily life.
With works by: Alissa + Nienke, Daniel van Dijck and Jeroen Wand and more.
Daniel van Dijck, Fragility of Things. Ph.by Fernando Daniel Paluez Magro.
THE PARTECIPATING DESIGNERS ARE: Aliki van der Kruijs, Alissa + Nienke, Creative Chef, Daniel van Dijck, Design Studio Martens & Visser, Dimitri Kruithof, Envisions, Floor Nijdeken, Frederike Top Design, Isaac Monté, Studio Jeroen Wand, Studio Dirk Vander Kooij, LABEL/BREED, Vij5, Nynke Koster, Renate Vos, Studio Plott.
Ventura New York – the Dutch edition
Human Nature
20 / 23 May,  2017
WantedDesign Manhattan; Terminal Stores, 269 11th Avenue, New York
NYCxDESIGN, New York City's official citywide celebration of design, runs from 3 through 24 May, 2017. Spanning all disciplines of design, NYCxDESIGN creates a collaborative platform for cultural and commercial opportunities, elevates established and emerging design practices and increases awareness of and appreciation for design by all audiences.
Hosted in New York City, NYCxDESIGN brings together all the disciplines of design, commerce, culture, education, and entertainment with a full, varied program, including exhibitions, installations, trade shows, talks, launches and open studios.
Info : https://www.nycxdesign.com/
---
---
---
More in New York City
New York City
---
---