M&O Paris, January, 2019 | the "Rising Talent Awards" explores China's design scene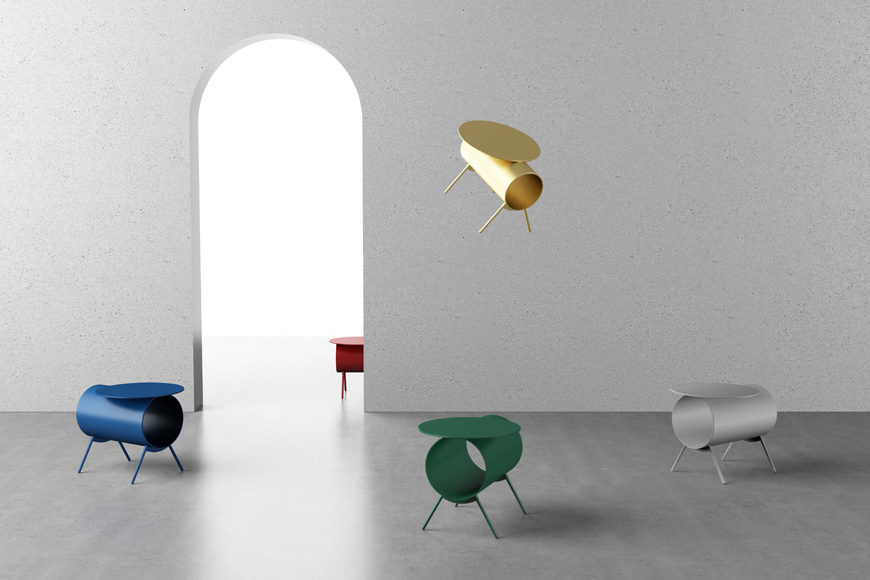 In the next edition of Maison&Object Paris, the "Rising Talent Awards" looks eastwards, exploring China's design scene. Following the success of the United Kingdom, Italy and Lebanon editions, China will showcase its Rising Talents at the Exhibition Centre – Paris Nord Villepinte, from 18 to 22 January 2019.
cover image: Mario Tsai, Pig Side Table
China's burgeoning design scene reflects the country's aim to become a global player in design, creativity and innovation. Life in today's China moves quickly, and the design industry's rapid development reflects wider society's growth and progress. A decade of change is crafting a new Chinese aesthetic, with increasingly higher standards of professionalism and a renewed commitment to good craftsmanship, innovation and quality. This has impacted both how designers see themselves, and also how their work is viewed in China – and around the world.
The six personalities invited by MAISON&OBJET and DesignChain to sit on this year's Rising Talents Selection Jury are: Neri&Hu, Luca Nichetto, Tom Dixon, LIU Xu, QU GuangCi, XING Tong-He.
This year's selection process included five young designers selected by members of the Rising Talents Awards Jury, and one young designer selected via a Call For Entry.
Frank Chou, Chen Furong, Mario Tsai, Hongjie Yang, Ximi Li and Bentu rank as some of the brightest young design powers in the country today. Exemplifying talent, emotional depth and creativity, these six designers bring innovation and energy to their work. Some prefer a China-centric approach, others have absorbed multicultural influences by studying, working and living abroad. But all are committed to forming a new Chinese language of design.
Frank Chou –  Growing up in China's capital city, Frank Chou witnessed first-hand the dynamic changes afoot in his hometown over the past few decades. After graduating from Beijing Forest University, where he majored in Materials Science and Engineering, he travelled between China and Europe, accumulating international industry experience in furniture design, engineering and trade work. In 2012 he set up Frank Chou Design Studio, where he produces elegant, long-lasting, functional pieces which represent contemporary Chinese thinking, yet finely balance the needs of modern Oriental and future Oriental lifestyles.
Above: portrait of Frank Chou; the Middle chair, inspired by the traditional Chinese bamboo chair. Below: the modular Combo sofa.
---
Chen Furong – Founder of lighting, furniture and accessories brand WUU, Chen Furong designs timeless collections which blend handcrafted techniques with a modernist vision.
Born in Zhangzhou, he studied at the Shanghai Institute of Visual Arts, majoring in Integrated Design. After graduation in 2012, he travelled with some friends more than 10,000 kilometres across China, interviewing local creatives for an exhibition called Metaphysics.
Furong founded his Xiamen-based studio in 2014 and later that year participated in Homeland magazine's Artisanship Revival program, where he worked closely with local craft artists in Fuzhou, combining technology with traditional crafts.
Above: Chen Furong's portrait; Axis table. Below: T Lamp series.
---
Mario Tsai prefers to "use less, design better". After graduating from Beijing Forest University where he majored in Furniture Design and Manufacturing, Mario travelled around China and Nepal to experience different lifestyles. He moved to Hangzhou in 2013 where he opened a shop and, in 2014, set up the Mario Tsai Studio. He has since worked with clients from China and Europe, and has participated in furniture fairs globally. Sustainability and material research are key; he is committed to reducing excess material usage and improving both society and the environment through his works which include the aluminium tube-inspired Pig Side Table and the thoughtful Pure Desk.
Mario Tsai's portrait; Pig side table.
---
Ximi Li – Shanghai-based Ximi Li holds a Bachelor of Industrial Design from the China Academy of Art, Shanghai, and a Master's Degree in Furniture Design from the Polytechnic University of Milan. He worked for leading designers Andrea Branzi and Luca Trazzi in Italy and, upon returning to Shanghai joined Neri & Hu, acting as Chief Designer for 6 years. In 2016 Ximi launched independent design studio Ximi Li and furniture brand URBANCRAFT.
Working to create timeless pieces that integrate East and West, Ximi is committed to global cultural fusion, quality and good craftsmanship. URBANCRAFT's product lines include the award-winning stainless steel, leather and oak Jiazhuang ('dowry') dressing table inspired by the traditional Chinese jewellery box.
Above: Portrait of Ximi Li; Mirror Yuan. Below: Jiazhuang ('dowry') dressing table.
---
Bentu – Chen Xingyu founded design brand Bentu alongside Xu Gang, Peng Zeng and Chen Xingguang in 2011. Industrial Design graduate from Guangzhou University, Xingyu works to meet the problems raised by a rapidly developing society, recycling materials that others may deem waste – like coal cinder, construction waste and bone ash – and transforming them into furniture, lighting and accessories. His Guangzhou-based studio is known for experimentation, exploration and innovation, combining environmentally-friendly materials with commercial appeal, an approach which has won numerous awards, including a 2017 Red Dot Design Award. Bentu's latest Terrazzo Collection recycles ceramic waste and also offers hope for a sustainable furniture industry in the city of Foshan, the world's largest ceramic industry hub.
The collection looks to the original texture of terrazzo, and uses concrete, leftover stone aggregate and ceramic waste to make items like the Yuan Plantpot and the Tu and Planet Pendant Lamps.
Above: Portrait of Chen Xingyu;  Planet Pendant lamps
Below: Pin, wall lamps.
Photos courtesy of Maison & Objet
---
---
---
More in Paris
Paris
---
copyright Inexhibit 2022 - ISSN: 2283-5474