Merce Cunningham: Common Time, an immersive exhibition at the MCA Chicago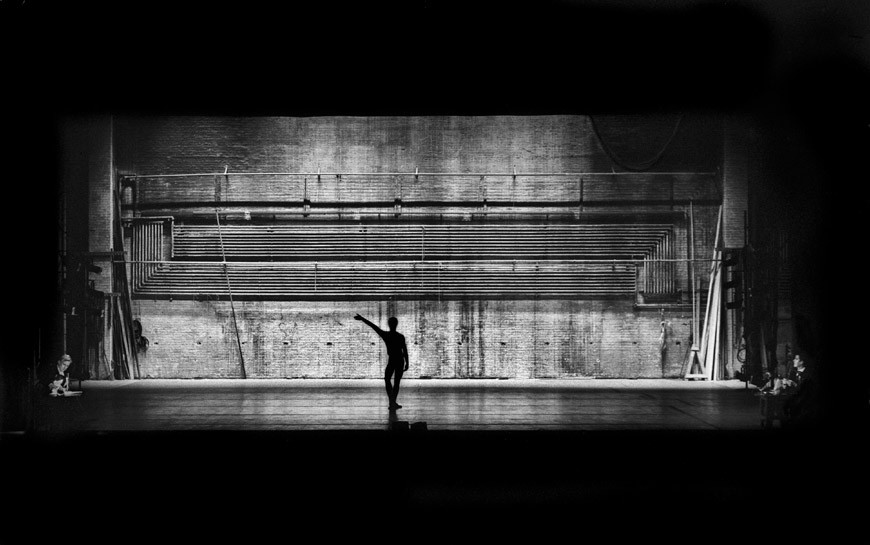 The Museum of Contemporary Art Chicago and the Walker Art Center in Minneapolis together present the largest survey ever of Merce Cunningham and his artistic collaborations in the immersive exhibition Merce Cunningham: Common Time.
cover-image: Merce Cunningham rehearsing How to Pass, Kick, Fall and Run, Brooklyn Academy of Music, 1970. Photo: James Kosty, courtesy of the photographer.
The exhibition, organized by the Walker, runs at both museums concurrently, premiering at the Walker on February 8, and at the MCA on February 11, with performances by international touring companies and former Merce Cunningham Dance Company dancers.
Renowned as both a choreographer and a dancer, Merce Cunningham (1919-2009)
revolutionized dance in the 20th century and continues to influence generations of artists, composers, and choreographers. Exploring what Cunningham described as the "underlying principle that music and dance and art could be separate entities independent and interdependent, sharing a common time," the exhibition showcases Cunningham's multidisciplinary collaborations between leading post-war artists.
Merce Cunningham Dance Company performing Canfield, Brooklyn Academy of Music, 1970
Photo: James Klosty, courtesy of the photographer.
Performance backdrops, costumes, artworks, photographs, documentary video and video installations, sets, and ephemeral immerse viewers in Cunningham's creative activities.
The exhibition highlights partnerships with artists including lifelong collaborator John Cage as well as Black Mountain colleague Robert Rauschenberg and other major figures including Jasper Johns, Robert Morris, and Bruce Nauman, Nam June Paik, Frank Stella and Andy Warhol, all of whom developed work for MCDC.
Robert Rauschenberg, Costumes for Antic Meet, 1958.  Collection Walker Art Center, Merce Cunningham Dance Company Collection, gift of Jay F. Ecklund, the Barnett and Annalee Newman Foundation, Agnes Gund, Russell Cowles and Josine Peters, the Hayes Fund of HRK Foundation, Dorothy Lichtenstein, MAHADH Fund of HRK Foundation, Goodale Family Foundation, Marion Stroud Swingle, David Teiger, Kathleen Fluegel, Barbara G. Pine, and the T. B. Walker Acquisition Fund, 2011. 
Charles Atlas, Still from Merce by Merce by Paik Part One: Blue Studio: Five Segments, 1975–76. © Charles Atlas. Courtesy of the artist and Luhring Augustine.
The exhibition presents a rare opportunity to view innovative and less recognized immersive installations by such artists as Charles Atlas and Ernesto Neto. Special features include a presentation of Andy Warhol's décor for Cunningham's RainForest, made of Warhol's famous helium-filled silver balloons, and Charles Atlas's MC9, which fills one of the MCA galleries with 35 years of clips from Cunningham pieces in a dazzling audio-visual realization.
Installation view, décor forViews on Stage, 2004, in Dance Works II: Merce Cunningham/Ernesto Neto, Walker Art Center, Minneapolis, 2012. Photo: Gene Pittman.
Charles Atlas, MC9, 2012. Installation view, Charles Atlas and Collaborators, BMW Tate Live, The Tanks, Tate Modern, 2013. Edition of 3 and 2 artist's proofs. © Charles Atlas and Tate. Photo: Gabrielle Fonseca Johnson for Tate Photography. 
Merce Cunningham: Common Time
February 11 – April 30, 2017
Museum of Contemporary Art Chicago
220 E Chicago Ave Chicago IL 60611
web-site: https://mcachicago.org/
---
---
You may also be interested in...
---
More in Chicago
Chicago
---
copyright Inexhibit 2022 - ISSN: 2283-5474