London | Visual art beyond vision – "Sensorium" at Tate Britain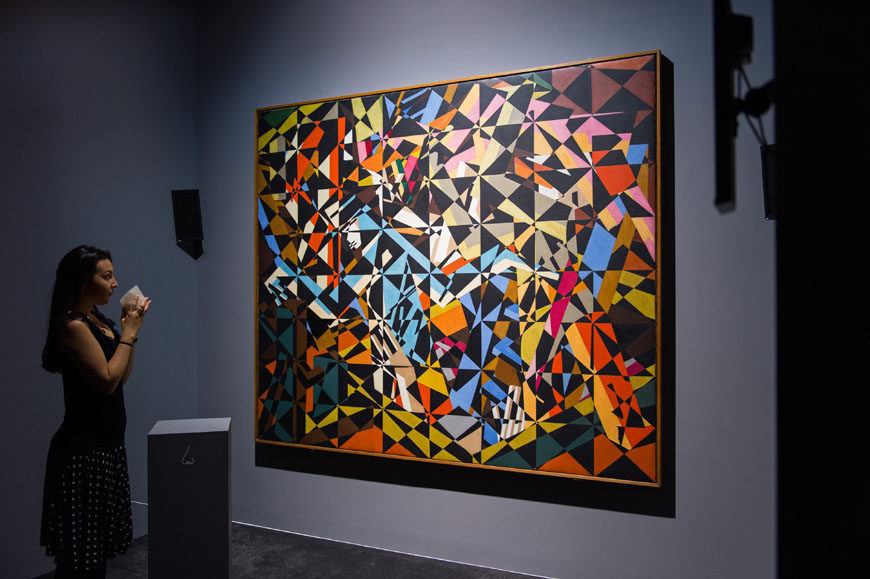 What if a painting could be perceived not only with eyes but with all five senses? How our experience of the artwork would be changed? It would be enhanced or, on the contrary, we will miss that "ineffable essence" that makes a masterpiece?
The revolutionary exhibition Sensorium running at the Tate Britain from 26 August to 20 September 2015, tries to transform this question in a real, tangible, experience.
Cover image: Tate Sensorium with David Bomberg's In the Hold c.1913-4, photo by Joe Humphrys/Tate Photography.
Sensorium, installation view, photo by Joe Humphrys/Tate Photography
The project, conceived by London-based studio Flying Object, is the winner of the IK Prize 2015, established by Tate and the Porter Foundation to promote creative talents in the digital industry.
In the gallery 34 of the Tate Britain, four paintings by Francis Bacon, David Bomberg, Richard Hamilton and John Latham are the cornerstones around which a complex multi-sensory experience develops.
Visitors can "touch", "smell", "taste", "hear", and of course see, each painting by the means of a series of cutting-edge interaction solutions and technologies, aimed to expand their experience and trigger engagement and imagination.
Tate Sensorium with Francis Bacon's Figure in a Landscape 1945, photo by Joe Humphrys/Tate Photography
Touch is obtained through touchless haptics devices produced by Ultrahaptics, based on a new technology originally developed by the University of Bristol that, by using ultrasound, allow people to interact with a touchscreen without actually coming into contact with its surface, while still providing the feeling of touch on hand.
touchless haptics device, photo University of Bristol
Another system, exhaling scents based on flower and plant flavors and triggered by visitor's proximity, has been developed by Flying Object in collaboration with International Flavors and Fragrances perfumers.
Specially-conceived 3D soundscapes are obtained through both directional audio and headphone-based binaural audio systems.
To create a relationship between paintings and visitors' taste, Flying Object collaborated with award-winning chocolatier Paul A Young.
Finally, visitors are invited to wear biometric measurement devices which, by recording their vital parameters, estimate their emotional reaction to the experience.
Sensorium, Tate Sensorium with John Latham, Full Stop 1961 photo by Joe Humphrys/Tate Photography
Featured paintings:
Francis Bacon, Figure in a Landscape 1945
David Bomberg, In the Hold c.1913-1914
Richard Hamilton, Interior II 1964
John Latham, Full Stop 1961
Design team
Flying Object in collaboration with
Nick Ryan; Paul A Young; Odette Toilette; Annette Mees; Cis O'Boyle; and the Sussex Computer Human Interaction Lab team – University of Sussex.
Sensorium
26 August – 20 September 2015
Tate Britain, Gallery 34
www.tate.org.uk/sensorium
article by Riccardo Bianchini, Inexhibit
---
---
---
Examples of digital communication technology in culture and education
Examples of digital communication technology in culture and education
---
More in London
London
---
copyright Inexhibit 2022 - ISSN: 2283-5474