London | Modigliani's masperpieces on view at the Tate Modern
Until April 2, 2018, the Tate Modern stages MODIGLIANI, a comprehensive exhibition bringing together a wide range of his iconic portraits, sculptures and a group of nudes.
cover image: Nude,1917, Oil paint on canvas, 890 x 1460 mm. Private Collection.
Although he died tragically young, Amedeo Modigliani (Livorno,Italy,1884 / Paris, France,1920) was a ground-breaking artist who pushed the boundaries of the art of his time. Including 100 works – many of them rarely exhibited – the exhibition re-evaluates this figure, looking again at the experimentation that shaped his career and made Modigliani one of the greatest artists of the twentieth century.
The exhibition begins with the artist's arrival in Paris in 1906, exploring the creative and culture environments that were central to his life and work.
Inspired by the art of Paul Cézanne, Henri Toulouse-Lautrec and Pablo Picasso, Modigliani began to develop his own distinctive visual language, seen in early canvases such as 'Bust of a Young Woman',1908 and 'The Beggar of Livorno',1909. His circle included poets, dealers, writers and musicians, many of whom posed for his portraits including Diego Rivera and Juan Gris.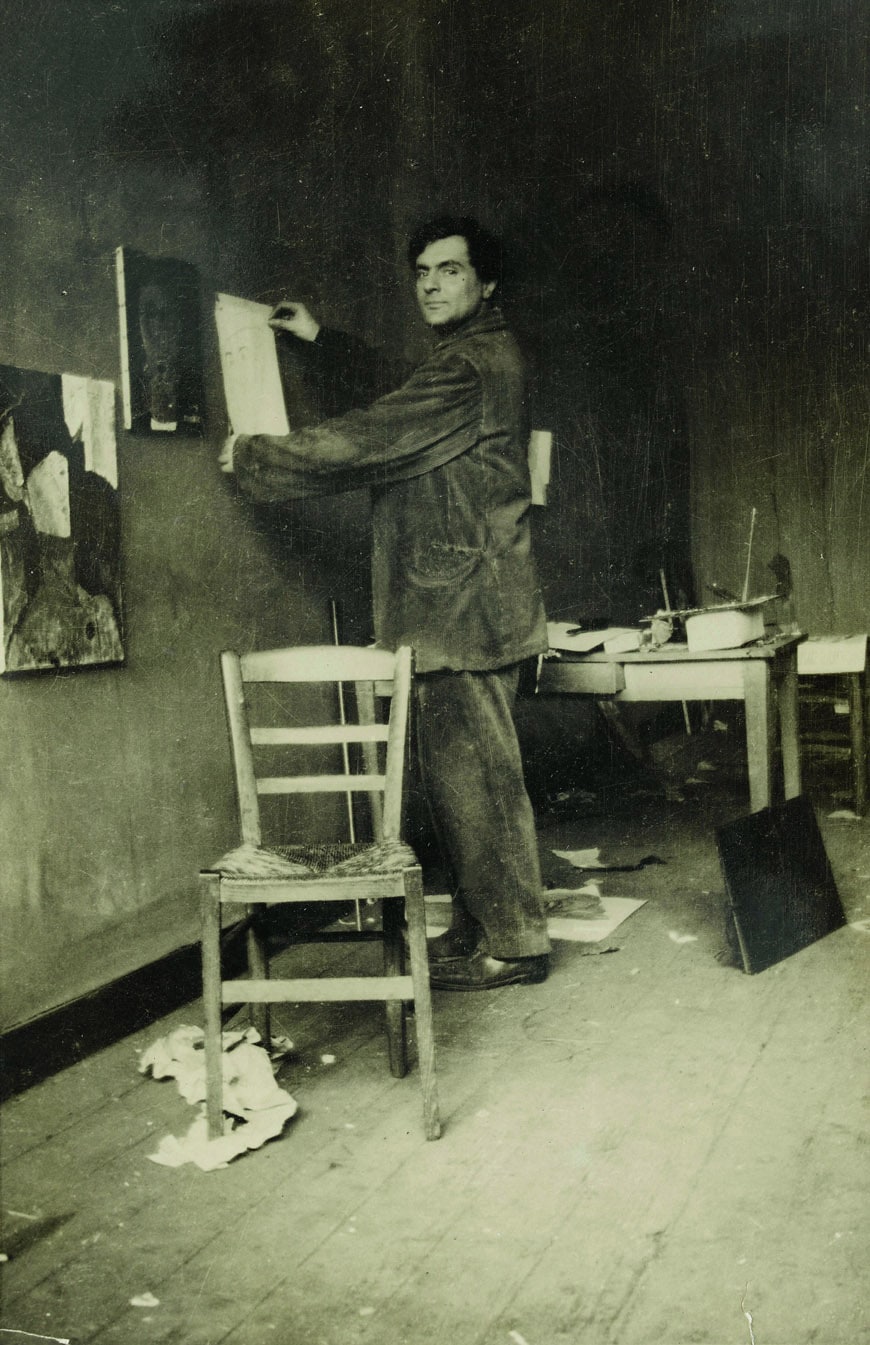 Modigliani in his studio, photograph by Paul Guillaume, c.1915
©RMN-Grand Palais (musée de l'Orangerie) I Archives Alain Bouret, image Dominique Couto.
The exhibition will also reconsider the role of women in Modigliani's work, including editor and writer Beatrice Hastings, who was not simply the artist's lover but an important figure in the cultural landscape of the time.
MODIGLIANI features exceptional examples of the artist's lesser-known sculpture, bringing together a substantial group of his Heads made before the First World War. Although his interests would soon move on, he spent a short but intense period focusing on carving, influenced by contemporaries and friends including Constantin Brâncuși and Jacob Epstein.
Suffering from poor health, Modigliani left Paris in 1918 for an extended period in the South of France, where he adopted a more Mediterranean colour palette and began painting local people, including shopkeepers and children, such as 'Young Woman of the People', 1918, and 'Boy with a Blue Jacket',1919.
The exhibition concludes with some of Modigliani's best-known depictions of his closest circle. These included his close friend Léopold Zborowski, as well as Jeanne Hébuterne, the mother of Modigliani's child and one of the most important women in his life; when Amedeo Modigliani died in 1920 from tubercular meningitis, Jeanne tragically committed suicide. Tate Modern brings together several searching portraits of her from Modgliani's final years.
Portrait of a Young Woman,1918,Oil paint on canvas,457 x 280 mm.,Yale University Art Gallery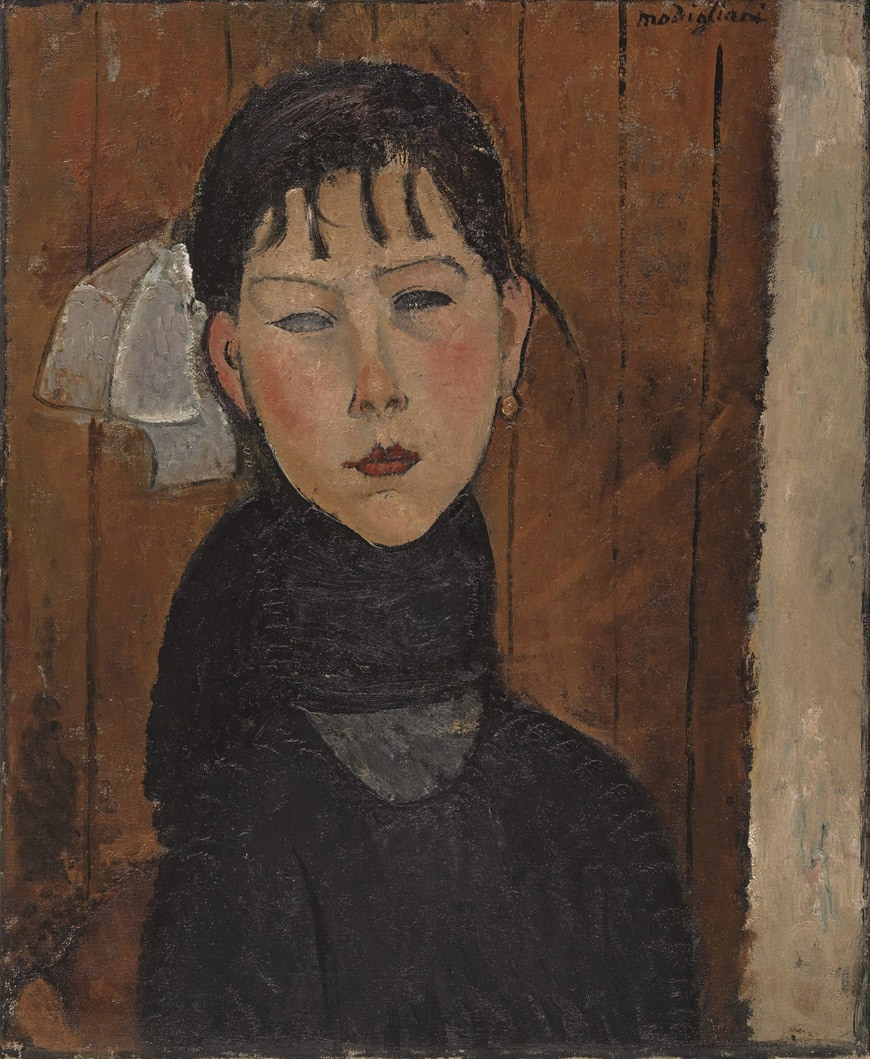 Marie (Marie, fille du peuple),1918, Oil paint on canvas, 612 x 498 mm., Kunstmuseum Basel, Bequest Dr. Walther Hanhart, Riehen, 1975.
Jeanne Hébuterne, 1919, Oil paint on canvas, 914 x 730 mm, The Metropolitan Museum of Art, New York.
MODIGLIANI
[temporary exhibition]
Tate Modern, London
23 November 2017 / 2 April 2018
images courtesy of Tate Modern. http://www.tate.org.uk/
---
---
---
More in London
London
---
copyright Inexhibit 2020 - ISSN: 2283-5474