London | Elytra Filament Pavilion, from May, 2016 at V&A Museum
Victoria & Albert Museum presents "Engineering Season", including major exhibition on Ove Arup and a newly-commissioned garden pavilion designed by architect Achim Menges.
Elytra Filament Pavilion will explore the impact of emerging robotic technologies on architectural design, engineering and making. Inspired by a lightweight construction principle found in nature, the fibrous structures of the forewing shells of flying beetles known as elytra, the Pavilion will be an undulating canopy of tightly-woven carbon fibre cells created using a novel robotic production process.
The Pavilion will grow over the course of the V&A Engineering Season in response to data on structural behaviour and patterns of inhabitation of the Garden that will be captured by realtime sensors in its canopy fibres. At select moments, visitors will have the opportunity to witness the Pavilion's construction live throughout the Season as new cells are fabricated insitu by a Kuka robot.
Menges' and Knippers' institutes at Stuttgart University are pioneering the integration of biomimicry, robotic fabrication and new materials research in architecture and have recently completed several innovative projects in Germany.
Comparison of internal elytron architecture in flying and flightless beetle.
© Dr.Thomas van de Kamp, Prof. Dr. Hartmut Greven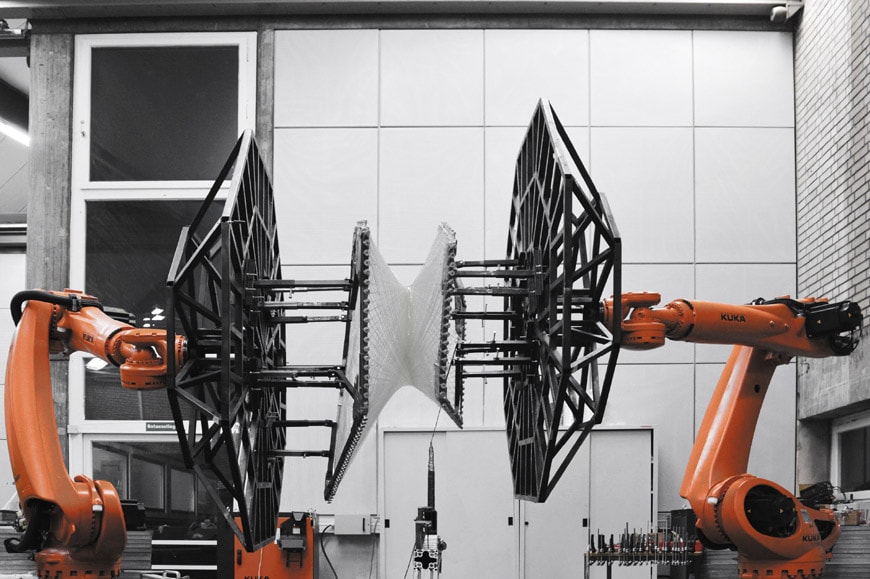 Synchronized robots core-less filament winding. © ICD/ITKE University of Stuttgart
Achim Menges, said: "Remember the impact that the first industrial revolution here in England had on architecture, as strikingly expressed in the Victorian Greenhouse? With Elytra: Filament Pavilion, we aim to offer a glimpse of the transformative power of the fourth industrial revolution currently underway, and the way it again challenges established modes of design, engineering and making. Built entirely from robotically produced fibrous systems, the Pavilion will intensify the visitor's experience of the V&A's Garden by providing a differentiated and evolving space. Its intricate, filament canopy is at the same time architectural envelope, loadbearing structure and environmental filter, which will extend and transform over time."
above and cover image:
Elytra Filament Pavilion, render, V&A – John Madejski Garden,2016. © ICD/ITKE University of Stuttgart
Achim Menges is a registered architect and professor at Stuttgart University where he is the founding director of the Institute for Computational Design. He is also currently Visiting Professor in Architecture at Harvard University's Graduate School of Design. His work based on an interdisciplinary approach in collaboration with structural engineers, computer scientists, materials scientists and biologists and demonstrates an innovative alliance between the fields of architectural design, engineering and natural sciences.
Elytra Filament Pavilion is created by Achim Menges with Moritz Dörstelmann (ICD University of Stuttgart / Achim Menges Architect), Jan Knippers (ITKE University of Stuttgart / Knippers Helbig Advanced Engineering) and Thomas Auer (Transsolar Climate Engineering / TUM).
Commissioned by the V&A, Elytra Filament Pavilion will be on display in the John Madejski Garden from 18 May – 6 November 2016.
images courtesy of Victoria & Albert Museum.
---
---
You may also be interested in...
---
More in London
London
---
copyright Inexhibit 2020 - ISSN: 2283-5474