London | Chrysalis-like Serpentine Pavilion 2015 unveiled
Serpentine Galleries have released the first photographs of the 2015 edition of their famous annual Summer Pavilion in Kensington Gardens, London. 
Since 15 years, the Serpentine pavilion is one of the most popular summer venues in the British capital. This year, the pavilion is designed by Madrid-based architecture firm Selgas Cano.
The 2015 pavilion is a colorful organic structure intended to play with the natural environment of the Royal Garden. The pavilion is indeed constituted by a double skin, realized in opaque and translucent fluorine-based plastic (ETFE). The core of the pavilion will house a gathering space and a cafeteria, while a "secret corridor" runs between the inner and the outer layers. The visitors access the pavilion through various entrance points, each providing a different journey inside the temporary building.
Cover image: Serpentine Pavilion designed by SelgasCano 2015; photograph © Iwan Baan
Images above: Serpentine Pavilion designed by SelgasCano 2015; photograph © Iwan Baan
Serpentine Pavilion designed by SelgasCano 2015  External indicative CGI and Indicative CGI, night © Steven Kevin Howson / SelgasCano
The design, defined as "Chrysalic-like" by Serpentine Galleries Director Julia Peyton-Jones, is clearly conceived to cope with different elements: color, shading, differential transparencies, natural and artificial light; a "liquid" space aimed to become a playful and evidently temporary pavilion, somehow far from the solid architectural appearance of some of the Serpentine pavilions realized in the last years.
Left: Plasencia Auditorium and Congress Centre M Cáseres, Spain 2005/2013, Image © Hisao Suzuki; right: Portrait of Selgas Cano architects, courtesy of Serpentine Galleries, London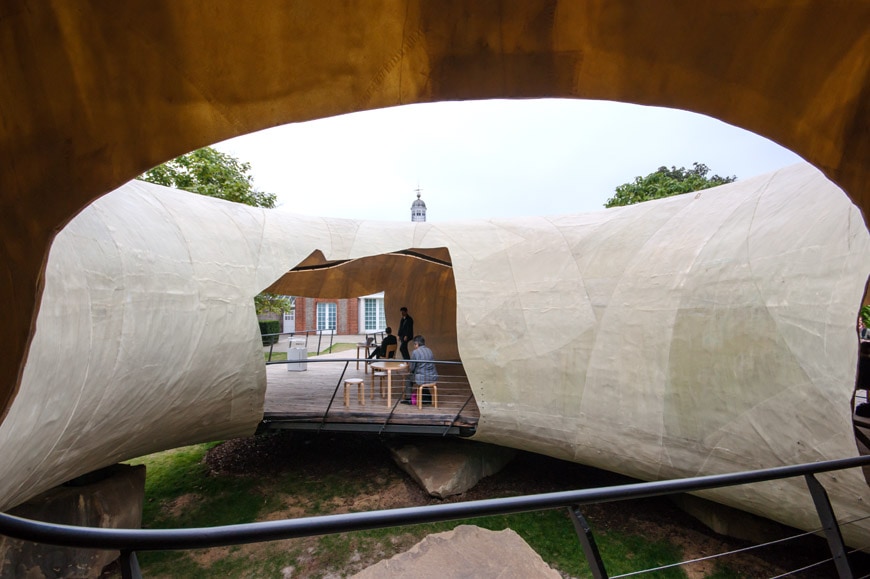 The 2014 pavilion by Smiljan Radić, photo © Inexhibit
---
---
You may also be interested in...
---
More in London
London
---
copyright Inexhibit 2020 - ISSN: 2283-5474