Iconic Bulbo lamp by Castiglioni brothers revives in a new edition by FLOS
Conceived in 1957 by Achille and Pier Giacomo Castiglioni, the iconic 'Bulbo' lamp is brought back to life today in a new edition by Flos.
In 1957 the Castiglioni brothers designed the lamp for an installation at the XI Triennale di Milano – international exhibition of modern decorative and industrial arts and architecture. As usual in the work of the brothers Castiglioni, 'Bulbo' was the result of a clever deconstruction of a light fixture. In fact, the lamp was an essential glass bulb derived from an industrial lamp whose screw base and neck were removed to create a luminous object as poetic as a soap bubble.
In the 1957 original design, when two lamps were connected in series, the internal filament took on a reddish color that made the light warm and suffused. In the 2019 edition by FLOS, the tungsten filament is reproduced with an LED source with the same color and intensity of light as in the original version.
Cover image: Bulbo57 by Achille and Pier Giacomo Castiglioni edited by FLOS, 2019, courtesy of FLOS.
The Bulbo lamps in the congress hall of "Palazzo dell'Arte" in Milan; XI Triennale,1957. Courtesy of Triennale Milano, photo Fortunati.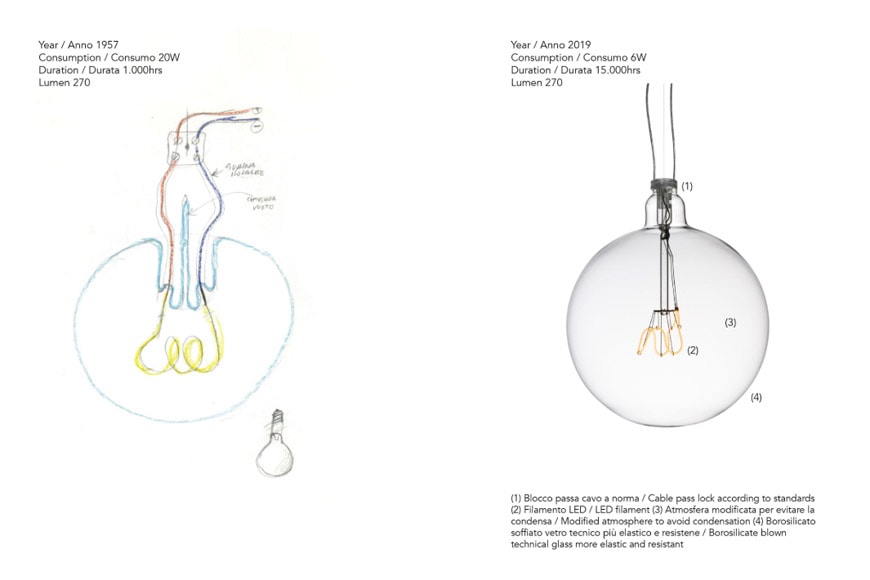 The Bulbo lamp; comparison between the two versions of 1957 and 2019. courtesy of FLOS.
---
---
You may also be interested in...
---
copyright Inexhibit 2021 - ISSN: 2283-5474