Help Arte Sella! Alpine contemporary art park destroyed by storm
Cover image: Riccardo, Federica, and Gea dog visiting Arte Sella in Fall 2015
Arte Sella is an exceptional example of an open-air museum of the union of contemporary art and nature.
Located in a mountain valley, this sculpture park stretching 3 miles along a pine forest in the Trentino / South Tyrol region in Northern Italy is world-renowned for its outstanding and innovative vision of a contemporary art open to all, as well as for its thorough attention to the relationship between nature and humans (you find a link to our in-depth article about Arte Sella below).
Unfortunately, a recent calamitous event struck Sella Valley on October 29, 2018, destroying much of Arte Sella, its forest and its art park.
Maybe you'll have the chance to visit this exceptional place of art and nature (an experience I warmly hope you can do once in your lifetime)  or not, but, believe me, to support an organization committed to make art available art to all – families, children, singles -, and to raise attention to our natural environment,  really needs our help.
An exceptionally violent storm destroyed almost half of the artworks in the art park, together with the entire forest on the South slope of Mount Armentera, Arte Sella's brand new exhibition space opened in 2018, and the art garden of Villa Stroebe, thus leaving the institution in a bad financial situation, not to mention the sad psychological condition.
One of Arte Sella's art installations destroyed by the October 2018 storm. Photo via Trento Today
I have visited Arte Sella three years ago and found there one of the most intriguing and captivating open-air art museums I have experienced in my entire life. I'm truly sad about how such a wonderful place could have suffered such a damage because of the climate change which is now hitting the previously pristine environment of the Italian Alps.
Inexhibit supports Arte Sella.
You can donate by PayPal or by bank transfer: IBAN: IT36W0810234401000041050846 – SWIFT: CCRTIT2T27A
Further information on how to donate are available at
http://www.artesella.it/en/news/2018/help-arte-sella-support-us.html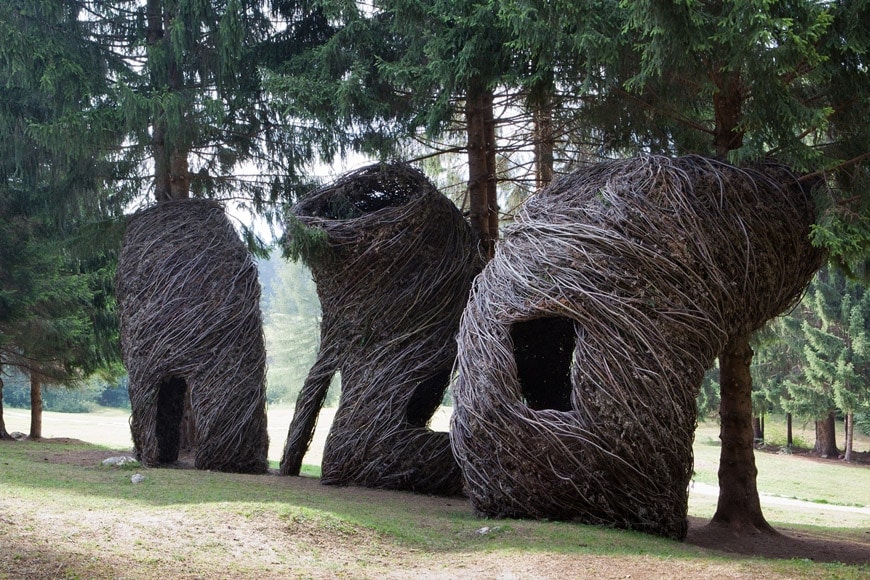 Patrick Dougherty, Tana Libera Tutti, 2011- copyright Arte Sella – Photo Giacomo Bianchi
---
---
You may also be interested in...
Arte Sella | when art arises from Nature
---
More in Trentino-Alto Adige/South Tyrol
Trentino-Alto Adige/South Tyrol
---
copyright Inexhibit 2019 - ISSN: 2283-5474