Future design trajectories from the 2017 Dutch Design Week
By FEDERICA LUSIARDI - November 15, 2017
The 16th DDW – Dutch Design Week, takes place from October 21 through 29, as usual in Eindhoven, the Netherlands.
cover image:
"When Digital Gets Physical" | Adriaan G de Groot
Exhibition . Location: Klokgebouw.
"When Digital Gets Physical" is an ongoing research project exploring applications of digital materials at different scales.
Stretch, the title chosen by the Dutch Design Foundation for this year's edition, is an exhortation, addressed to both designers and design lovers, to go off the "comfort zone" of a design that follows safe and beaten tracks, and rather try to face urgent issues and pressing challenges today's complicated world presents.
The Dutch Design Week – traditionally strongly focused on innovation and experimentation, particularly those by young designers –  is therefore an ideal occasion to take stock of new trends and frontiers of design, beyond a purely business oriented approach.
"Precious plastic container" | Dave Hakkens
Exhibition. Location: De Ontdekfabriek
"…We will show you how it works by making plastic objects on the spot from plastic waste."
DDW – with contributions by single designers and design teams, companies and schools – seems the perfect place to pick the most promising lines of research. In a design panorama which reflects these days' fragmentation and swiftness, with hundreds of new products reaching the market every day, a summary is much needed to get a better view on what sense, if one, design is going to make in the second decade of the 21th century.
Not an easy task, admittedly – given the large number of events, exhibitions, and live performances on program – yet made somewhat more simple by the nice website of the DDW, which provides detailed information and in-depth articles about each participant.
"the future is local" | Bas Froon
Exhibition. Location: Klokgebouw
With a unique manufacturing technique using bio composites, Bas Froon shows new opportunities to bring back industrial production of labour-intensive 'soft' products to local manufacturers. At the Dutch Design Week 2017 he will present his conceptual machine and a first application: a velvety soft and tailor-made baby carrier made of this special and sustainable material.
One of the most lively areas of research is that focused on materials.
There we find projects based on the concept of "circular economy", that is on a virtuous cycle of raw materials which are recycled after their "first life" and re-transformed into new products. This is the centerpiece of  ABN AMRO Hotspot, an exhibition presenting the works of designers and manufacturers who pay a special attention to the recovering and transformation of waste materials, such as Recolored by Jessica den Hartog, a project focused on improving the aesthetic properties of recycled plastic; or the work by the Dutch company Stonecycling which makes building materials from waste. Again, the exhibition Bottle / brick feature the work of bottle-up, a Zanzibar-based foundation which produces objects and bricks made from recycled glass bottles.
"ABN AMRO Hotspot" | ABN AMRO
Exhibition. Location: Philitelaan (in front of Klokgebouw)
image, "Recolored" by Jessica den Hartog
"Bottle /brick" | bottle-up foundation
Exhibition. Location: Klokgebouw
Along the same lines, DDW presents products made from another class of sustainable materials, the so-called "bio-based materials", bio-composites and bio-plastics used in the fashion industry, for manufacturing disposable tableware, and for the production of paints and materials for the building industry. The exhibition Bio-Boost! by Material Sense LAB, for example, showcases designs by the De Waart Amsterdam Academy of Architecture based on XYHLO, a natural bio-finish coating for outdoor applications obtained from the Pullulans Aureobasidium fungus, which dissolves into the environment at the end of its cycle of life; a second project by the same academy makes use of paper pulp to create architectural cladding elements and building materials.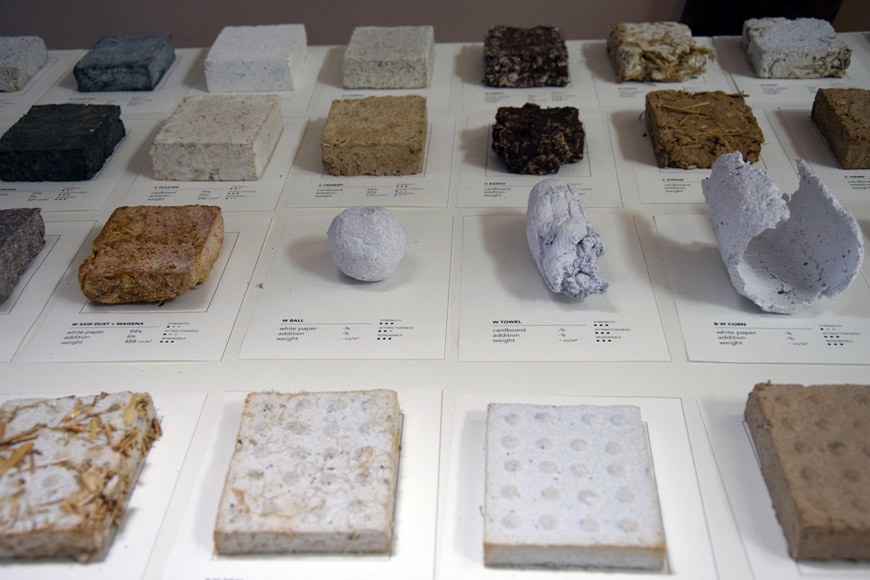 Bio-Boost! | Material Sense LAB
Exhibition. Location:Yksi Expo
images: samples material experiment and XYHLO biofinish facade
Designing Sousteinable Interventions | Bauhaus Universität Weimar
Exhibition. Location:Veem
image: Luzie Deubel, rain coat made from bio-degradable waterproofing applications for paper.
ReZign furniture label | Design studio Planq
Exhibition. Location: Piet Hein Eek
photo: Denim chair. Chair with seat covered in recycled jeans fabric
Another interesting area of research is that of social oriented design, with projects aimed to mitigate the effects of policies which increasingly reduce welfare spending, or are committed to improving precarious and unsatisfying living conditions.
In general, such designs propose solutions based on technology and skill-sharing tools, for example in the healthcare and personal care sectors, for local production of goods (Bas Froon's micro-molding machine conceived for manufacturing sustainable woven objects locally), or – more simply, designs aimed to make our everyday life a bit better, such as a kit/app for creating a social garden.
The "Design meet local government" exhibition presents three projects developed by as many design teams, selected by "Initiate" and "Dutch Design Foundation", which feature innovative apps which cope with three social issues that Dutch cities have to deal with daily: young people in debt, unemployed people in need of social mobility, and overweight children.
United Matters | Collective from Central Saint Martins
Exhibition. Location: Veem
United Matters | Collective from Central Saint Martins
Exhibition. Location: Veem
image: Anne Vaandrager , 'Independent Labour'. "independent labour" by Anne Vaandrager investigates the consequence of the privatization of the National Health Service in the United Kingdom and proposes a home birth kit comprising all appropriate tools and information.
United Matters | Collective from Central Saint Martins
Exhibition. Location: Veem
image: Florian Wegenast , Open garden
Design meet local government |  VNG / Initiate, innovatieprogramma van de VNG
Exhibition. Location: Klokgebouw
image: The game 'Challenge Accepted' is a serious game that supports obese children into changing their behaviour in a fun way. The game challenges children in the real world and is an extension of the obesity coaching program GO! Developed by Oooh Studio.
The quest for a closer relationship with the natural environment is still a popular field of research. Designs aimed at living in harmony with our planet ranges from tools and accessories which create a "domestic nature" – such as the light fixture which, exploiting the properties of some plant species, purifies and improves the air quality in our homes – to innovative proposals for sustainable mobility, to more friendly communication systems aimed at public transport users.
Foliage Filter | Eduard van Vliet , Alissa Rees, Louise Cohen
Exhibition. Location: Studio van der Zandt
Quilt Garden | Studio Carolijn Slottje
Exhibition. Location: Gallery of Piet Hein Eek.
Gloowing roots | Piet Hein Eek
Exhibition. Location:Piet Hein Eek studio
Designing for Passenger Experience |  Essense – Service Design
Based upon understanding the needs of your passengers and the business' goals, the development of a holistic and strategic vision for the optimal journey can be achieved, resulting in customer experience excellence.
Exhibition. Location: Klokgebouw
Ocycle | organized by Ocycle
Exhibition. Location | Velosoof.
DDW – Dutch Design Week 2017
Eindhoven
21 / 29 October , 2017
www.ddw.nl/en
---
---
---
---