Florence | "Ai Weiwei. Libero" an exhibition across Palazzo Strozzi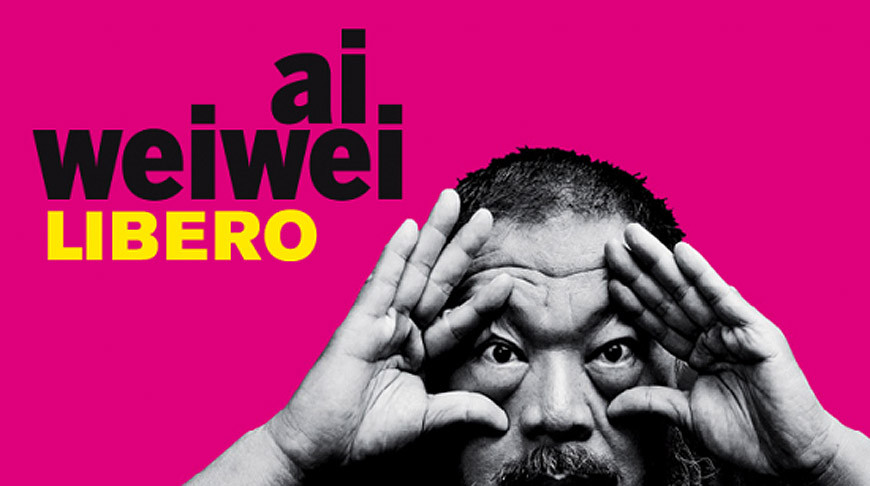 From September 23, 2016 through January 22, 2017, Palazzo Strozzi in Florence presents "Ai Weiwei. Libero".
The exhibition is the first major retrospective in Italy dedicated to one of the world's most influential contemporary artists. A dissident artist with a leading voice, Ai Weiwei is known world-wide as much for his challenging contemporary art practice as for his political activism.
A series of new and major works of Ai Weiwei will be displayed throughout the spaces of Palazzo Strozzi, from the façade of the building and the courtyard, to the piano nobile and the Strozzina Gallery (Center for Contemporary Culture at Palazzo Strozzi).
above: Reframe, installation, 2016. PVC, polycarbonate, rubber
650 x 325 x 75 cm each. Courtesy of Ai Weiwei Studio
Reframe, 22 rubber dinghies for the façade of Palazzo Strozzi, is Ai Weiwei's iconic new installation involving two of Palazzo Strozzi's façades: twenty-two large orange rescue dinghies, grafted onto Palazzo Strozzi's windows, draw the public's attention to the fate of refugees who place their lives in jeopardy every day by crossing the Mediterranean to reach Europe.
The installation, a product of the artist's personal involvement and commitment as an activist in the refugee humanitarian crisis, offers the city of Florence a major opportunity to use culture to focus attention on the migrant issue.
As one could expect, the most traditionalist Italian art critics complained that "Ai Weiwei has vandalized" the historical Palazzo Strozzi, commissioned by the Medici family to Benedetto da Maiano in the 15th century, and that "this is not art, it's only a provocation".
above: Stacked, 2012. Bicycles, steel, rubber. cm 571 x 1214,7 x 733,9.
Courtesy the artist and Galleria Continua, San Gimignano/Beijing/Les Moulins/Habana
above: Refraction, 2014. solar cookers, kettles, steel. cm 222,5 x 1256,5 x 510,6.
Courtesy of Ai Weiwei Studio
Ai Weiwei. Libero
(temporary exhibition)
23 September 2016 / 22 January 2017
Palazzo Strozzi
Florence
more info: http://www.palazzostrozzi.org/mostre/aiweiwei/?lang=en
images courtesy of Palazzo Strozzi
---
---
You may also be interested in...
---
More in Florence
Florence
---
copyright Inexhibit 2021 - ISSN: 2283-5474