The 5 finalist designs (2 museums) for the 2017 Mies van der Rohe Awards
By FEDERICA LUSIARDI - February 15, 2017
The Mies van der Rohe Foundation in Barcelona has announced the 5 finalists of the renowned European Union Prize for Contemporary Architecture – Mies van der Rohe Award.
The five designs, selected by a jury composed by Stephen Bates, Gonçalo Byrne, Peter Cachola Schmal, Pelin Derviş, Dominique Jakob, Juulia Kauste and Małgorzata Omilanowska, are:
Kannikegården in Ribe, Denmark – Lundgaard & Tranberg Architects 
The brick clad volume hovers above the city floor to expose an open ground floor with a 1000-year-old brick ruin integrated within.
Above and cover image: Lundgaard & Tranberg Architects, Kannikegården, Denmark.
© Photo Anders Sune Berg
Ely Court in London, UK – Alison Brooks Architects.
Ely Court is a 44 dwelling residential development within the South Kilburn Estate Regeneration Masterplan in the London Borough of Brent.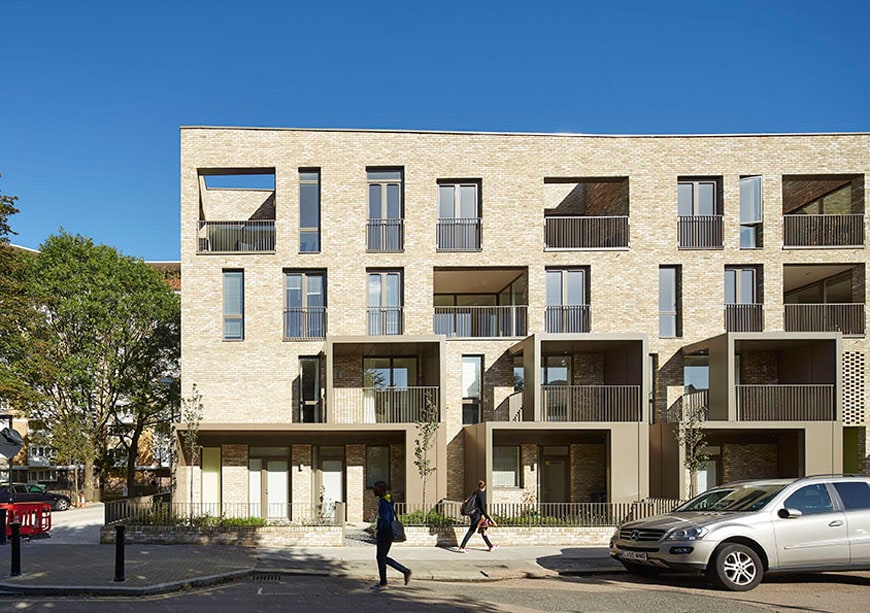 Alison Brooks Architects, Ely Court, UK. © Photo Paul Riddle
deFlat Kleinburg , Amsterdam, The Netherlands – NL Architects
De Flat is an innovative renovation of one of the biggest apartment buildings in the NL called Kleiburg, a bend slab, 400-meter-long and 10 + 1 story high. with 500 apartments.
NL architects, deFlat Kleinburg, Amsterdam.© Photo Stijn Spoelstra
The Rivesaltes Memorial Museum – Rudy Ricciotti
Designed by architect Rudy Ricciotti and agency Passelac & Roques, it is a 240-meter-long monolith buried in the ground, built in the site of a former military and internment camp in southern France which houses a memorial dedicated to a 70-year-long history of forced displacement of populations.
Rudy Ricciotti / Passelac & Roques, Rivesaltes Memorial Museum, France.
© Photo: Kevin Dolmaire
Katyn Museum, Warszava, Poland – BBGK Arkitekci
Katyn Museum commemorates a painful episode of Polish history which took place during the World War II when over a twenty thousands of Polish military officers and state officials were brutally murdered by the Soviet Secret Police.
BBGK Arkitekci, Katyn Museum, Poland. © Photo JuliuszSokołowski
The Jury will visit the 5 works in April. The Prize Winner and the Emerging
Architect Winner will be announced in Brussels on May 16.
The Award Ceremony will take place on 26 May 2017 at the Mies van der
Rohe Pavilion in Barcelona.
---
You may also be interested in...
40 finalist works for the 2017 Mies van Der Rohe Award announced
---
More in Barcelona
Barcelona
---
---
---