"Design on Air" exhibition at CID – Grand Hornu, Belgium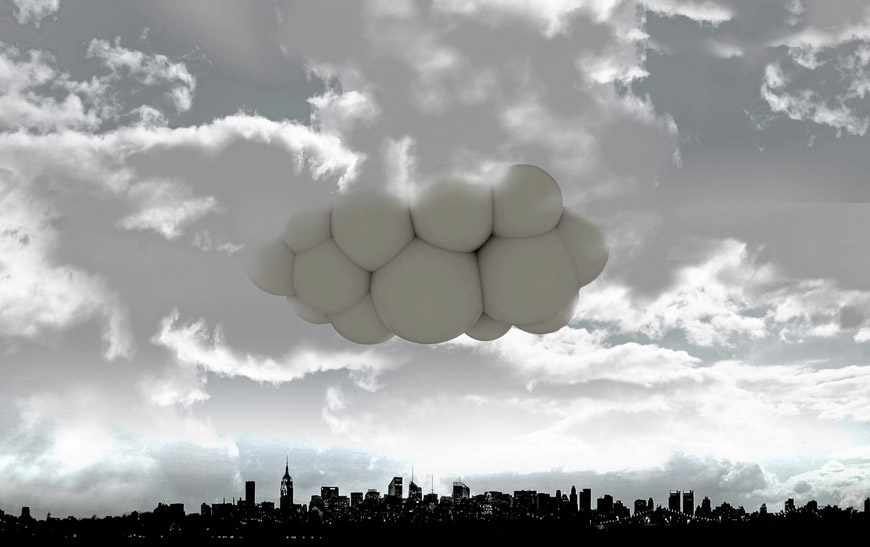 Until 13 October 2019 the CID – Centre d'Innovation et du Design at Grand-Hornu, in Belgium, presents the exhibition "Design on Air".
cover image: Tiago Barros, Passing Cloud Street View © Tiago Barros. A visionary and provocative project by Tigo Barros for the slow transport of passengers. (https://tiagobarros.pt/Passing-Cloud-1)
The exhibition explores the relationships between design and air, the most ethereal, and at the same time the most essential of the four traditional elements. But in our Anthropocene age, it is also becoming an increasingly threatened resource. How are designers reacting to this? How do they deal with air? What does air mean to them?
'Air not only forms the object of study in chemistry, physics, and biology; it has always been an important inspiration in art, literature, and philosophy. We wanted to know what this means in design,' explains curator Chris Meplon. 'At the moment, some important thinkers regard air as a powerful metaphor for our times. The lightness, the fleeting, floating, multiple character of air all express how we experience the world in the 21st century.'
Also, the scenography designed by interior designer Benjamin Stoz is comprised of modules that allow air to circulate freely. Nothing is strictly demarcated.
A total of 80 projects have been selected, from established international names to young talents from Belgium and abroad, from one-offs to mass-produced designs.
Here follows the six approaches followed in the exhibition.
1. FILLED WITH AIR – Air As Filling.
2. FORMED BY AIR – Air as a production technique.
3. CLEAN AIR – The need for healthy air
4. MOVING AIR – Cooling, energy, and sound.
5. AIR FOR SAFETY – Air as a protective cocoon.
6. IN THE AIR – Air to float in: balloons, bubbles, and clouds
Design in Air, installation view. © dbcreation © stoz.design © CID
Maarten de Ceulaer, Mutation Club Chair © Maarten de Ceulaer (https://www.maartendeceulaer.com/series/mutation-series)
Theo Moller, Ingo Maurer & Team, Blow me up, 2017 © Ingo Maurer.
The inflatable tube Blow Me Up by Theo Möller, Ingo Maurer & Team is flexible to use: you can lean it against a wall, fasten it to the ceiling or wall with small hooks and nylon cords. It comes wrapped up in a box and is pumped up by the user.
(https://www.ingo-maurer.com/en/products/blow-me-up)
Sarah Daher & Eva van Strien, Air culture Lab, 2015 © Siavash Maraghechi
(https://www.evavanstrien.nl/work/air-culture)
Oskar Zieta, Plopp, 2018 © Oskar Zieta © Bartek Janklewic
(https://www.zieta.pl/plopp-family)
Nendo, Blown Fabric, 2009 © Masayuki Hayashi. Nendo created blown-fabric for Tokyo Fiber '09 Senseware, an exhibition intended to convey the possibilities of new materials developed with Japanese synthetic fiber technology. (http://www.nendo.jp/en/works/blown-fabric-2/)
Jun Kamei, Amphibio, 2018 © Jun Kamei. AMPHIBIO is a 3D printed amphibious garment which function as a gill. (http://www.junkamei.com/amphibio)
Images courtesy of CID – http://www.cid-grand-hornu.be/en/
Design on Air
Until 13 October 2019
CID – (Magasin aux Foins) Site du Grand-Hornu
Rue Sainte-Louise, 82 – 7301 Hornu – Belgium
Design in Air, installation view. © dbcreation © stoz.design © CID
---
---
---
copyright Inexhibit 2021 - ISSN: 2283-5474