CRA unveils GUIDO, the world's first self-driving bar unit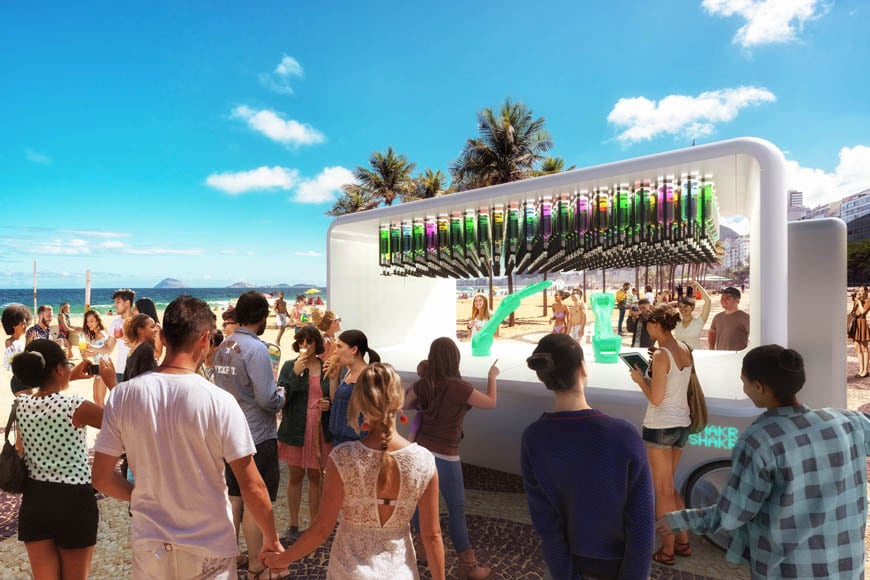 International design and innovation office CRA – Carlo Ratti Associati presents "GUIDO", a concept for a driverless robotic cafe.
GUIDO has been developed for Makr Shakr, the world's leading producer of robotic bartenders, and aims to propose new on-demand ways to enjoy leisure in cities. GUIDO can move around autonomously on wheels thanks to self-driving technology. It is made of a unit featuring two mechanical arms that can precisely prepare and serve any drink combination in seconds.
An app will allow anyone to book it and wait till GUIDO comes to where they are – almost like in drink-hailing mode. When it arrives, you can order a drink with the app, and the robotic bartender will source the cocktail's components from the bottles atop the counter and craft your drink. The system will be able to verify people's ages through their IDs and let them pay via mobile phone.
This project continues CRA's long-time interest in autonomous mobility.
Recently, CRA's master plan for an innovation district on the ex-site of the Expo Milano 2015 included streets and roads designed for a future of exclusively self-driving vehicles. Furthermore, the Senseable City Lab at MIT, directed by Ratti, has done extensive research into the way self-driving will change the urban experience, from designing Roboat, a self-driving boat piloted on the Amsterdam canals, to studying the impact of future shared mobility models. In a paper published in Nature in spring 2018, a team of researchers led by Ratti addressed the "minimum fleet" issue by calculating that a city's mobility demand could be satisfied with a central dispatching system that would allow a 40% reduction in the number of taxis needed.
CREDITS | GUIDO
A project by CRA-Carlo Ratti Associati with Makr Shakr
Status: Concept
CRA team: Carlo Ratti, Giovanni de Niederhausern, Saverio Panata
Renderings by: Gary di Silvio (CRA) with Carlo Turati and Marco Conte (Makr Shakr)
 Images courtesy of CRA – Carlo Ratti Associati
---
---
You may also be interested in...
---
copyright Inexhibit 2020 - ISSN: 2283-5474