Milan Design Week 2020 – COS presents a collaboration with ecoLogicStudio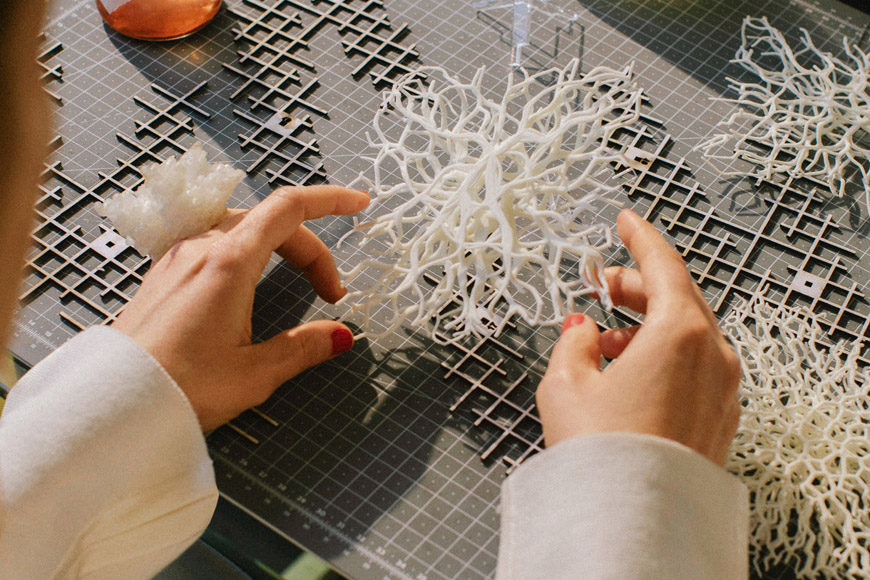 COS returns at 2020 Milan Design Week to present a collaboration with ecoLogicStudio

London-based fashion brand COS will return to this year's edition of Milan Design Week to present a collaboration with architecture and urban design practice ecoLogicStudio.
COS and ecoLogicStudio's upcoming installation seeks to augment the interaction between the natural world and the built environment, presenting an interactive structure that bridges design and science. The immersive experience is brought to life through innovation which incorporates a diverse group of photosynthetic organisms. The work will explore the concept of circularity with new ways of incorporating biotechnology into the urban realm. While highly innovative, the installation draws inspiration from the rich history of the Palazzo which will host it and from Leonardo da Vinci's studies on water turbulence which leads to the conception of Milan's canals' system. The installation itself will remove carbon from the atmosphere, as a result of the photosynthetic process it enables and will provide the context to investigate the multiple uses and benefits of micro-algae within the Palazzo Isimbardi's walled garden.

The installation will be open to the public from the 21st to 25th of April, 2020 at Palazzo Isimbardi, Corso Monforte 35, Milan.
above: images courtesy of COS
About COS
Since 2007, London-based fashion brand COS offers high-quality fashion collections comprised of wardrobe staples as well as reinvented classics, in keeping with the brand ethos of modern, timeless, functional and tactile design. Inspired by the arts, COS uses traditional methods and new techniques to form understated collections made to last. Committed to both timeless design and innovation, COS collaborates with established and emerging artists, galleries and creative studios. Since 2012, COS has presented innovative collaborations with artists, designers, and architects in Milan during Salone del Mobile. Past collaborators include Gary Card, Bonsoir Paris, Nendo, Snarkitecture, Sou Fujimoto, Phillip K. Smith III, and Arthur Mamou-Mani, in addition to Studio Swine, whose COS installation New Spring, won the Milano Design Award for Most Engaging Exhibition during Milan Design Week 2017.
COS, Installation for Sou Fujimoto, 2016 Milan Design Week. Image courtesy of COS
COS, installation for Studio Swine, 2017 Milan Design Week. Image courtesy of COS
above: COS, 'Conifera', installation for Arthur Mamou-Mani, 2019 Milan Design Week.
'Conifera' was a site-specific work, made from 3D-printed bioplastics bricks, installed at Palazzo Isimbardi during the 2019 Milan Design Week. Image courtesy of COS
About ecoLogicStudio
ecoLogicStudio is an architectural and urban design studio pioneering the integration of living systems in the built environment. Co-founded in London in 2005 by Claudia Pasquero and Marco Poletto, the studio has built an international reputation for its innovative projects ranging from the small-scale artistic installations to architectural pavilions and to large scale eco-masterplans. The work of ecoLogicStudio has featured at the most important Architectural Biennales, including Venice (2008, 2010, 2016, 2020), World Expos (Milano and Astana) and international art museums such as the Centre Pompidou in Paris 2019 and the Mori Art Museum in Tokyo, 2019.
above: ecoLogicStudio, 'La Fabrique du Vivant-HORTUS XL' © NAARO.
Courtesy of ecoLogicStudio
above: Synth.Etica, conceived by architectural and urban design firm ecoLogicStudio in a partnered consortium with Urban Morphogenesis Lab – UCL and Synthetic Landscapes Lab – University of Innsbruck, has been presented in Dublin during the week of Climate Innovation Summit 2018.
Synth.Etica is an urban curtain that captures CO2 from the atmosphere and stores it in real-time: approximately one kilo of CO2 per day, equivalent to that of 20 large trees.
Designed to be integrated into both existing and new buildings, it is composed of 16,2 x 7-meter modules, each one functioning as a photobioreactor — a digitally designed and custom made bioplastic container — using daylight to feed the living micro-algal cultures and releasing luminescent shades at night.
Image courtesy of ecoLogicStudio. More info at http://www.ecologicstudio.com/
---
---
You may also be interested in...
---
More in Milan
Milan
---
copyright Inexhibit 2021 - ISSN: 2283-5474