Milan Design Week 2019 | COS + Mamou-Mani present "Conifera" 3D-printed installation
Fashion brand COS and London-based French architect Arthur Mamou-Mani joined forces to create Conifera, a site-specific work made from 3D-printed bioplastics bricks installed at Palazzo Isimbardi during the 2019 Milan Design Week.
Digitally designed and fabricated, Conifera consists of seven hundred interlocking modular bio-bricks, 3D printed from a mix of wood and bioplastics.
"Each bio-brick is made from fully compostable resources printed in the form of interlocking structural lattices, optimizing material use and allowing light to permeate the structure as visitors travel through the installation."
One of the largest structures made with this method to date, the installation flows through the courtyard and into the garden of the 16th-century Palazzo Isimbardi in central Milan.
Aimed to bridge architecture and nature, Conifera was designed using an open-source parametric modeling software and made through a fused-filament 3D printer. The name Conifera originates from the conifer tree (Douglas fir) pulp used for the material mix, together with polylactic acid (PLA), a renewable polymer made from starch, vinegar, and glycerine; at the same time, it is possibly also a reference to the truncated pyramid form of the bricks of which the installation consists.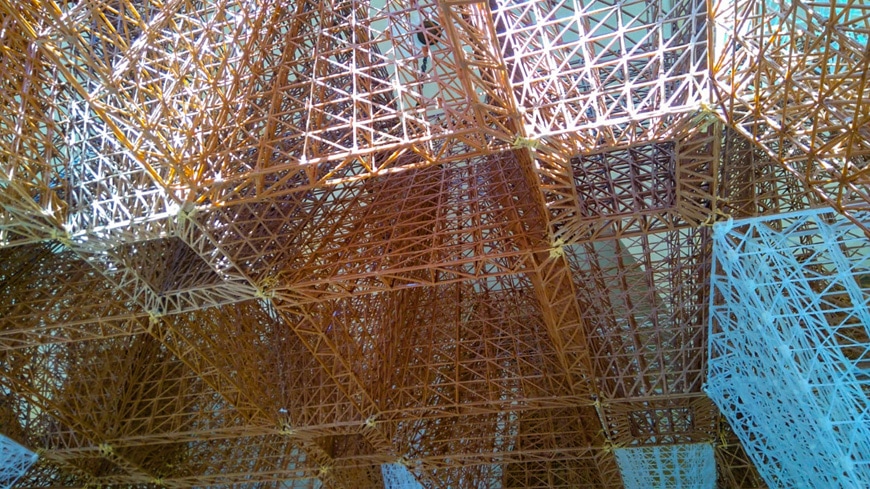 All photos © Federica Lusiardi / Inexhibit
---
Conifera will be on view at Palazzo Isimbardi, Corso Monforte 35, Milan, from 9 through 14 April 2019
---
---
---
More in Milan
Milan
---
copyright Inexhibit 2023 - ISSN: 2283-5474