Brazil – Piuarch presents a modular system for urban spaces in São Paulo
Designed by Italian firm Piuarch, "Espaço" is a modular system that will be presented in San Paulo at Expo Revestir, the largest fair in Latin America dedicated to architecture and design.
Piuarch's system is an example of an architectural strategy aimed to rejuvenate marginal urban spaces through small-scale projects that could encourage the participation of local communities.
The system can be used within void spaces of infrastructure, it can occupy small empty areas between buildings, extend pedestrian areas, or "creep" into the halls of public buildings.
"Espaço", consisting of geometric elements made in plastic, can be configured in different ways to form benches, tables, supports, containers in which to grow vegetables, paved areas, info kiosks, and more. Their bright, fuchsia and orange coloring, transforms the system into an easily recognizable urban landmark.
A 90 square-meter installation made with "Espaço" will be set up at the Transamerica Expo Center for the Expo Revestir fair.
At the end of the event, the installation will be moved into a school in São Paulo, possibly as the first element of a future larger city-wide network.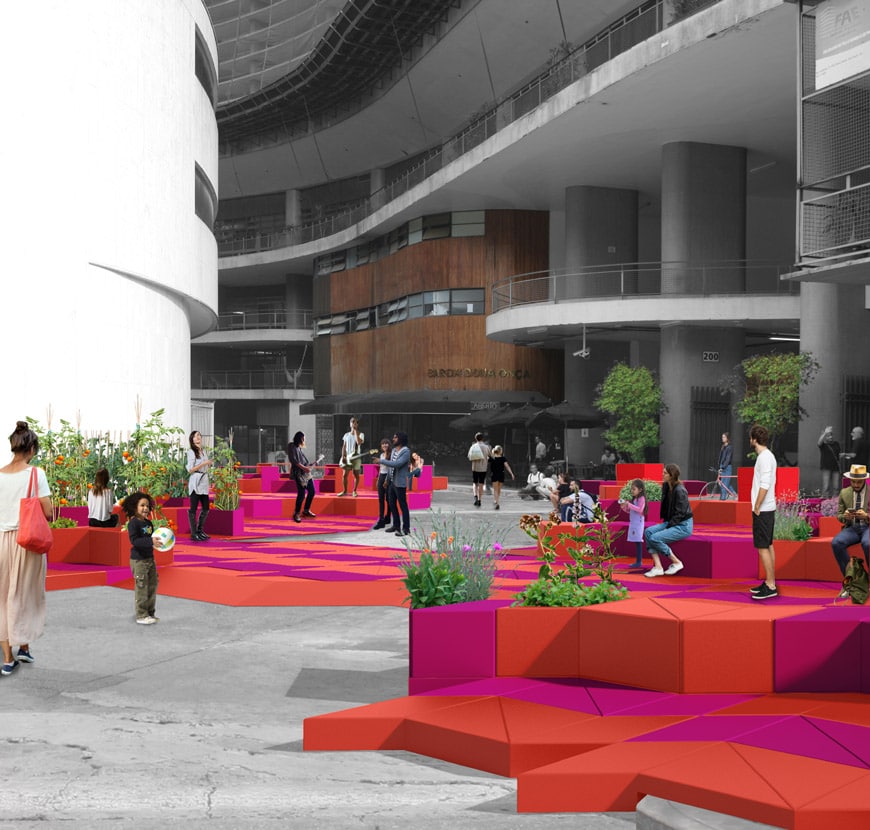 "Espaço"
Transamerica Expo Center – Expo Revestir
São Paulo – from March 13 through 16, 2018
images courtesy of PIUARCH SRL – MILANO – www.piuarch.it
---
---
---
copyright Inexhibit 2019 - ISSN: 2283-5474