BIS, the first International Art Biennale of Saint Paul de Vence
If you will be in the French Riviera this August, we strongly suggest you pay a visit to Saint Paul de Vence. This year, this small medieval town – renowned for its art workshops and galleries, as well as for being the hometown of the famed Fondation Maeght – is the venue of the first edition of BIS – Biennale Internationale Saint-paul de Vence, a brand new biennial of contemporary art.
Those who had visited either Saint Paul de Vence or the town of Vence nearby outside the summer season, well know that – despite their huge success as touristic destinations – they nevertheless retain a special charm which still echoes the presence of those great artists who once resided here, such as Marc Chagall, Henri Matisse, and Pablo Picasso.
The Art Biennale od Saint Paul de Vence – which is open from June 9 through August 31, 2018 – features thirteen public artworks by acclaimed international artists, a selection of pieces by young emerging artists, site-specific commissions, conferences, jazz concerts, and art talks.
Installations and sculptures – by Jan Fabre, Vincent Barré, Antony Gormley, Vladimir Skoda, Henk Vish, and David Nash, among others – appear unexpectedly behind a street corner, in a petanque court, or on Saint Paul's beautifully preserved medieval walls "leaning" against the gorgeous background of the Provence landscape.
More information about how to visit the Art Biennale of Saint Paul de Vence are available on the biennial's official website at https://www.bis-art.com/
Cover image: Jan Fabre
, L'Homme qui porte la croix, 2015, Bronze silicone, 
394 x 200 x 100 cm.; photo © Inexhibit
---
Pictures of the 1st Art Biennale of Saint Paul de Vence
Henk Visch, Du livre du matin, 2018, bronze, H 210 cm; photos © Inexhibit
Gabrielle Conilh de Beyssac, Rocking, 2014, Cor-Ten steel, 140 x 160 x 0.4 cm; photo © Inexhibit
Vincent Barré, Deux anneaux cannelés, 2009, Aluminum, 105 x 102 x 100 cm, 145 x 100 x 95 cm; photo © Inexhibit
Antony Gormley, Big switch, 2014, cast iron, 295 x 59 x 50 cm; photo © Inexhibit
Vladimir Skoda, Une seule direction?, 2004-2009, carbon steel, mirror-polished stainless steel,  145 x 195 cm; photo © Inexhibit
David Nash, Torso, 2011, bronze, 196 x 94 x 61 cm; photo © Inexhibit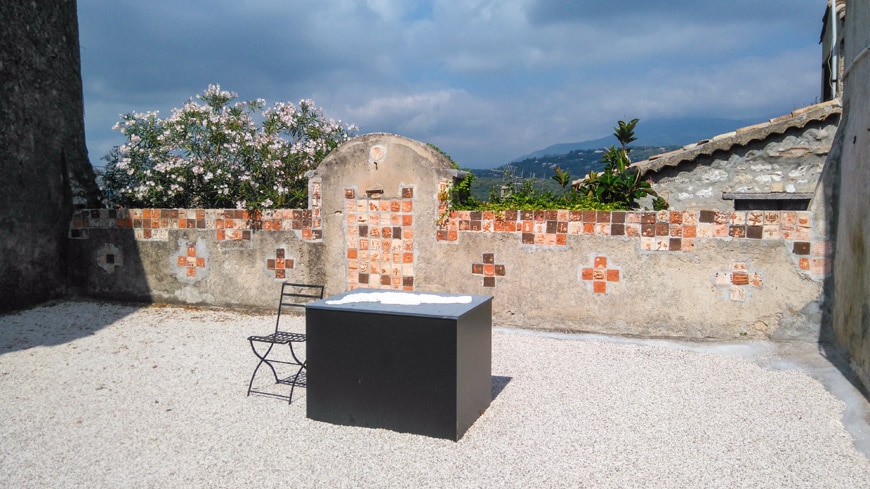 Isabelle Giovacchini, Geomancie, 2018, marble, salt, paint and resin on a bluestone base, wood, 87 x 112 x 82 cm.; photo © Inexhibit
Jan Fabre
, L'Homme qui porte la croix, 2015, Bronze silicone, 
394 x 200 x 100 cm.; photo © Inexhibit
---
---
---
More in Nice and the French Riviera
Nice and the French Riviera
---
copyright Inexhibit 2020 - ISSN: 2283-5474