Biennale Architettura Sneak peek. Behind the scenes of the 17th International Architecture Exhibition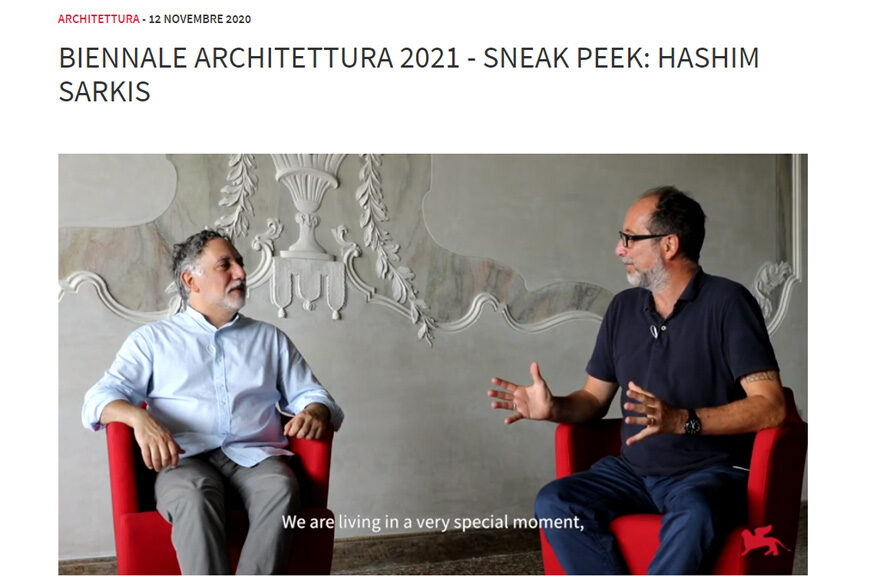 May 2021 is still far away, but the Venice Biennale anticipates some of the contents of the 17th International Architecture Exhibition that will take place from 22 May to 21 November 2021. 'Biennale Architettura Sneak peek' is the new digital project with podcasts, videos, and unpublished images leading up to the 17th International Architecture exhibition entitled 'How will we live together?' curated by Hashim Sarkis.
A new video-interview with Hashim Sarkis, conducted by the architectural historian and critic Luca Molinari, starts the project. Unique videos and images of what we will see in the 2021 edition will follow. This is a unique opportunity to "peek" at the exhibition, with a daily schedule on the website of La Biennale di Venezia and its digital platforms (Twitter, Facebook, Instagram, YouTube) that will alternate between the contributions of the invited participants and those of the National Pavilions at the 17th International Architecture Exhibition.
The videos and images will answer five questions posed by Sarkis to all the participants:
How can we answer the question How will we live together? today, and how do we also involve an audience that is not specialized in the issues of architecture?
How did your team collaborate in the project and how can the role of the architect be defined as that of a convener?
Every architectural space inspires new social arrangements and relationships: how do you represent that relationship in your project?
How does your project relate to the scales (Among Diverse Beings, As New Households, As Emerging Communities, Across Borders, As One Planet) identified in the Exhibition theme?
The Biennale Architettura has been postponed to 2021 due to the global health emergency still underway. It may be too soon to describe the impact of the pandemic on architecture, on the Biennale, on the projects and on the theme of the exhibition. But beyond that, what do we expect from the Biennale Architettura 2021, given the many challenges that Venice has faced in recent years at the global level?
"Over the coming few months – stated Sarkis – we will be releasing a series of sneak peeks of the projects, laying out a bridge that leads us towards the inauguration of the Exhibition".
The video-interview with Hashim Sarkis
---
Images from the 16 th International Architecture Exhibition, Venice, 2018.
Photos © Inexhibit
---
---
---
How will we live together? 17th International Architecture Biennale, Venice
How will we live together? 17th International Architecture Biennale, Venice
---
More in Venice
Venice
---
copyright Inexhibit 2023 - ISSN: 2283-5474